'Given the nature of our jobs, getting infected is a constant fear we all face.'
'The most we do is follow all the rules strictly and pray that we don't get infected.'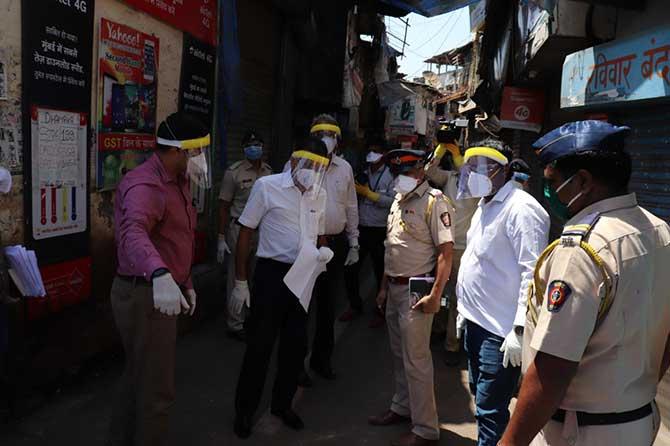 Prasanna D Zore/Rediff.com speaks with three senior police inspectors from the Mumbai police force to find out the challenges the city's policemen face, how they deal with them, while maintaining law and order in hotspot zones where COVID-19 positive patients keep increasing Mumbai's tally every day.
---
Ramesh Nangare, Senior Police Inspector, Dharavi police station, north central Mumbai
The first challenge is Dharavi's population density and its population which could be around 12 to 15 lakh.
Add to this the fact that people don't have washrooms or toilets within their houses.
80 per cent of these people use public toilets for which people have no alternative but to step outside their homes.
Many residents here are bachelors, who don't cook food by themselves and many houses are without kitchen facilities.
Considering the way these slum clusters are built or designed, it is very rare for people to get exposed to early morning direct sunlight, or fresh air, because of which many people suffer from different ailments.
These people have to regularly visit their doctors for which again they have to step out of their homes.
Despite these challenges we have been successful in convincing people to stay indoors. While most of the residents here are doing it voluntarily, at times we have to use mild force to make them stay indoors.
Keeping in mind the huge population of the size of Dharavi it is to the credit of people here as well as all of us -- the police, the local volunteers, the doctors, other health workers -- that till the other day (May 22, when Nangare spoke with Rediff.com) we had only 750 COVID-19 positive patients.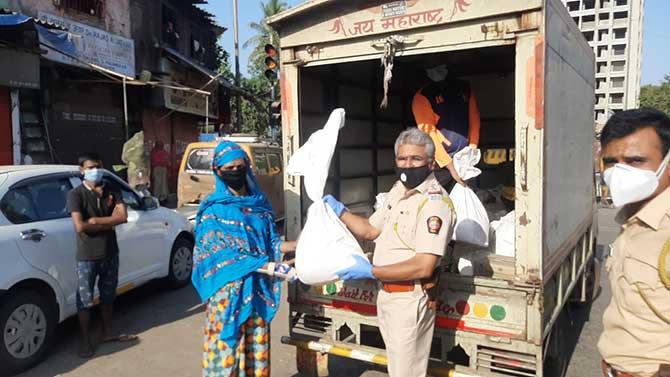 At times we use mild force, but thankfully the majority of the residents here are quite cooperative.
We use the public address system regularly to emphasise the benefits of social distancing and locking down selves inside homes.
We also had to provide food packets and rations to thousands of people in Dharavi with the help of local civic administration, NGOs, etc.
The police here have distributed over one lakh sanitisers, two lakh face masks.
We have been regularly running recorded clips at all religious places to stress why social distancing and the lockdown is necessary for containing the spread of COVID-19.
We play these clips even while patrolling in the area.
We have distributed masks, hand sanitisers and hand gloves to all our policemen working in my jurisdiction.
If somebody is not well then that cop is asked to take rest at home and arrangement is made to replace such personnel.
It is voluntary for all the cops here to take hydroxychloroquine 200 tablets.
If they agree, then they take two tablets on the first day of starting the course and then one tablet each in subsequent weeks for up to next seven-eight weeks.
For almost one month now, I have not been going home and working out of a hotel in the area. So, in a way, I am always available when needed for security purposes.
It is a good sign that the number of positive patients from Dharavi is gradually decreasing. Till about few days ago, the figure stood at 50 for the whole day, then there were just 9 positive cases on May 19, 20 on May 20, and 31 on May 21.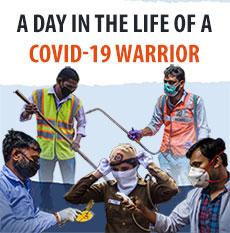 ---
Dinesh Kadam, Senior Police Inspector, Byculla police station, central Mumbai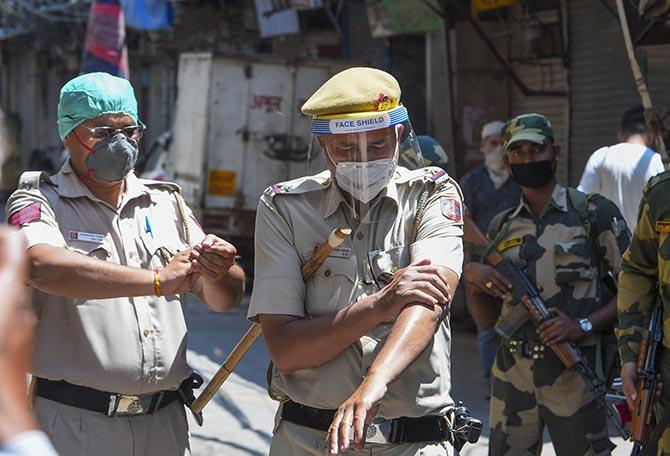 We have to take the lead at two places: One at the police station while on work; the other when we go home after our duties.
On duty, the main challenge is to figure out if those stepping outside their homes are doing so out of genuine reasons or if they are lying to us.
Many people know that police allow them to let go if they tell them they are going to purchase medicines. We have no choice but to trust what people tell us.
Earlier, even people from inside containment zones would step out citing such reasons. In such cases, there is always a chance that they could spread the coronavirus when they come out of their homes.
Now, we have local volunteers who handle the situation by providing medical and essential supplies at their doorstep.
We have to constantly keep engaging with people who come out of their homes for whatever reasons.
Unfortunately, I have seen many people lowering their face masks while talking to the police. They are still not getting used to the idea of covering their mouths and faces while talking to others.
That is a big danger that my people have to handle on a daily basis.
We now caution people from some distance not to lower their face masks while talking to us or anybody else. They are adjusting and adapting to this new reality.
While there are many slums under my jurisdiction, there are quite a few big hospitals here too. Due to which, a large number of positive patients come here for treatment.
We also have the city's oldest vegetables market in my jurisdiction where people come to buy vegetables.
Every time we meet these people, we keep reminding ourselves that they are out there because of their genuine needs and it is our duty to ensure that they keep safe distance even as we ensure we protect ourselves from getting infected.
During our daily parades we check if each of our policemen on duty has a sanitiser bottle; inside the police station they have to mandatorily drink boiled water kept in an electric jar. We ensure we have spare gloves, sanitisers, masks inside our patrolling vans.
Every day during the parade we keep repeating the same instructions to make sure everybody understands the environment in which we are working and they take adequate measures to take care of their own selves.
When they reach home, there is always the fear that what if we are unknowingly positive and spread it among others at home and among neighbours. We have to be very careful not to do that.
They have been instructed to directly go to the bathrooms and take off their uniforms and other belongings there and wash them with hot water and step out only after a hot water bath.
They not only maintain social distancing, but keep their face masks on even while talking to family members. They have separate dishes, glasses, for food and drinking water.
Many people in my police station have preferred to stay at alternative rooms provided by us and keep away from home till the situation improves.
Perhaps, because we follow these safety measures to the tee you will see that while many of our policemen have tested positive, not even one of their family members has tested positive for COVID-19.
Fortunately, six out of the nine policemen who tested positive have turned negative now, and resumed their duties. Three are still under institutional quarantine, but very stable and they too will resume work after discharge.
While under my jurisdiction we have two red zones, we are fortunate not to have red plus zones. We have trained volunteers in these two zones about their duties and what they must do while at work.
Sinc, we have appointed local volunteers in these two zones, we (the police) are not required to be present their all the time.
We go there only to make announcements over public address system to create awareness and explain why social distancing and maintaining strict vigil is important.
My entire staff should have all the information about how to handle people while on duty, how they should protect themselves, their families and people when they are at home or on duty.
Each one of us knows exactly what their duties and responsibilities are. Unless they know what exactly are their duties and responsibilities, only then will they be able to spread the message among the people they meet.
Percolation of this message to the cops who work at the ground level was very important and we ensured that it has happened and the results are there for everybody to see.
The biggest pressure all of us here face is not to pass on the infection to other people or to someone in the family. That is our biggest challenge till date. Since we work among people we do not know if we are infected or not.
Fortunately, we have been successful in not passing on the infection to other people in the family till now.
My orderly too had tested positive. What can we do at such times?
Given the nature of our jobs, getting infected is a constant fear we all face. But we don't have any control over it.
The most we do is follow all the rules and regulations strictly and pray that we don't get infected.
Till May 22, 66 people from Byculla have tested positive for coronavirus.
---
Milind Gadankush, Senior Police Inspector, Mahim, north central Mumbai
Most of us work 12-hour shifts during which we come into contact with lots of people from within and outside containment zones.
There are more than 1,500 police quarters (flats) in my jurisdiction, the biggest such buildings under any Mumbai police station.
Because of the nature of our duties we come in contact with many positive patients and in turn we too get infected.
12 of our cops have tested positive, but all of them have recovered.
Two-three cops who tested positive a few days ago are still in hospital, but stable. Most of these cops are between 35 and 40 years of age.
We have strictly advised cops above 55 to stay at home.
Being in charge of the Mahim police station I have to make at least one visit to the containment zones in my area. Recently, both these containment zones have been declared open zones after the 15-day quarantine period was completed.
In the containment areas, we would make arrangements for all the essential requirements of the residents. We would have locally trained volunteers perform the job of home delivery of essential goods to the people when they were under containment zone restrictions.
We ensure that all public toilets in slums undergo sanitation at least three-four times a day and have told people not to crowd such facilities.
It is good to see, even if this is out of fear, people in the slums cooperating with the police and civic authorities.
Mahim has registered about 260 positive cases till May 22 from across slums, residential societies, chawls, police quarters.