'After days of waiting in uncertainty and anguish, I was finally going home.'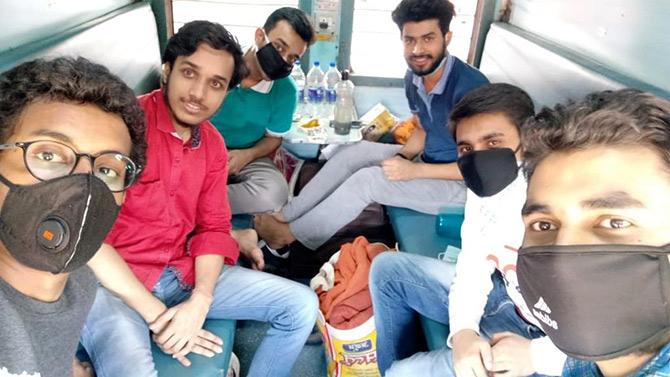 After being refused entry into their home state for several weeks, Bihari students stranded in Kota finally left on Monday.
Suman Kumar, 19, an IIT-JEE aspirant from Darbhanga, tells Archana Masih/Rediff.com about his journey home.
We received a phone message on May 1 that all Bihari students will be sent home by May 6. It was sent by the district magistrate of Kota and said we would individually receive a message about our departure date.
I got a message on the 3rd evening that a train for my district would be leaving from Kota station the next morning.
Words can't express the happiness I felt on seeing the message.
After days of waiting in uncertainty and anguish, I was finally going home. Students from almost all other states had be called back. Only students from Bihar were left behind.
In my PG (paying guest accomodation in Kota) of 22 students, only two of us from Bihar had been left. The rest who belonged to other states had all gone home.
The trains had been arranged district wise. On May 3, a train had left for the districts of Begusarai, Barauni, Gaya.
On May 4, our train left with students from Darbhanga and Madhubani districts. A train also left for Patna on the same day.
The Bihari students were being sent home over 3 or 4 days.
The reporting time at Kota station was at 7 am. I had packed all my belongings because I am not going to return to Kota now.
I was so excited that I couldn't sleep.
Two weeks back, we had to fill an online form with our details mentioning our home district in Bihar. Some students didn't know about it and hence hadn't filled that form.
When news came that a train was leaving on May 3, many of those who had not received the phone message also landed up at the station.
Only those who had received the message could board. For the rest, another train was arranged later that day.
So the following day, when we received the message, it was made clear that only those who received the message could come to the station, no one else.
All this was done to ensure that a large crowd did not assemble at the station.
I took an auto and went to the station.
Three km before reaching the station, the police checked our mobiles to see if we had that message from the Kota DM and only then allowed us to move ahead towards the station.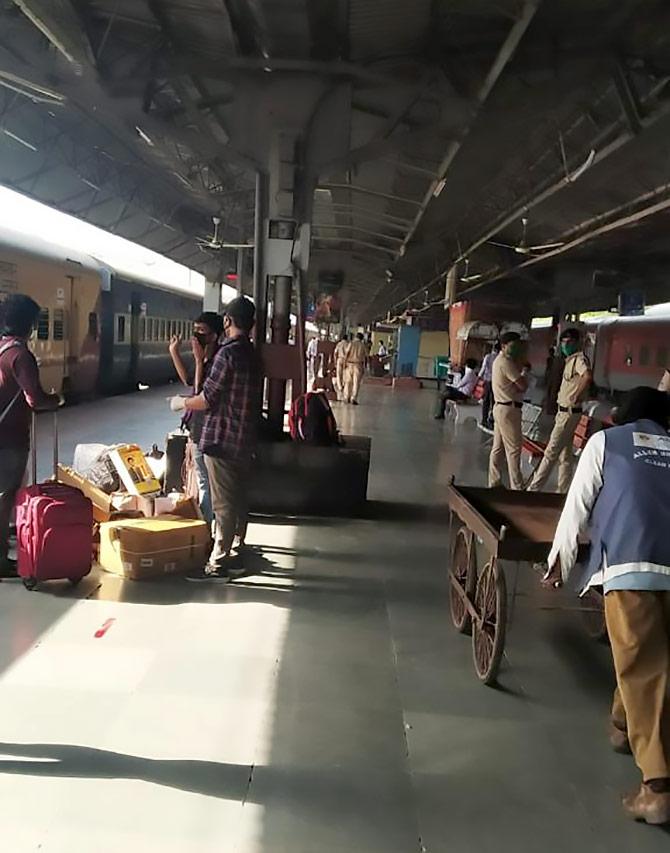 Once we reached the station, the police again checked that message on our phones. The message was like the ticket. It said that the Darbhanga bogies were from S1 to S11 and Madhubani from S12 to S32.
Darbhanga students had to report at 7 am and we were seated inside the train at 8 am.
Madhubani students had to report at 9 am.
The train was already at the platform when I arrived. Only students from Darbhanga and Madhubani were at the station. We did not have to pay for our journey.
To maintain social distancing, the 8 sleeper-cubicle was occupied by 6 of us. They gave us breakfast as soon as we got in -- poori, sabzi, Lays chips, chocolate and two bottles of water.
The train left at 12 noon. We could not get out of the compartment after we sat inside. We were wearing masks and gloves.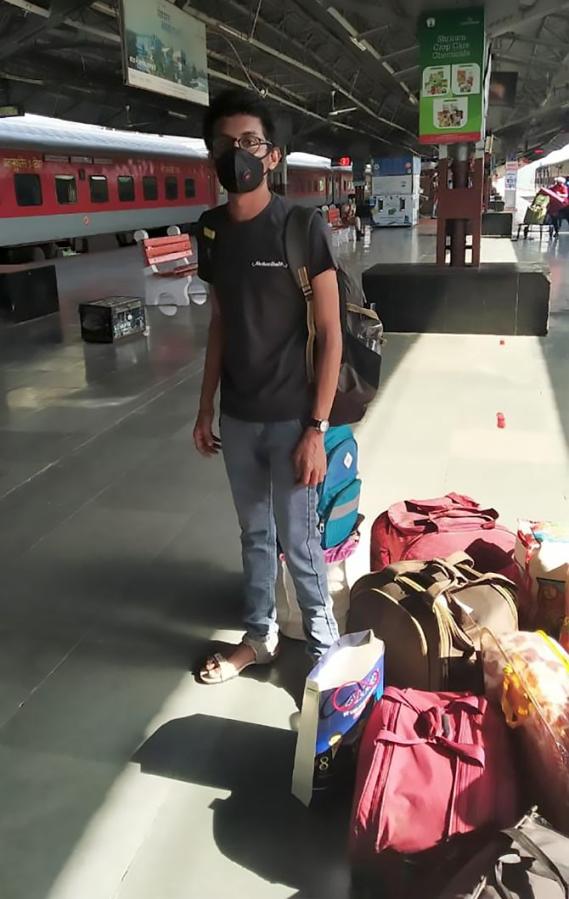 I did not know the other students, barring one boy from my mohalla in Darbhanga. We all chatted a little and since we hadn't slept properly the night before, we mostly slept through the journey.
We didn't feel like studying. We were very happy after days of mental tension and sadness that we were finally going home.
It was like a weight had been removed from our shoulders.
The train went non-stop till Kanpur. It stopped at Kanpur junction at around 9pm and dinner was served to us. We were given biryani and water.
When the train left Kanpur, it only stopped at my hometown Darbhanga at 8 am on Tuesday.
We could not get off the train all at once, but were made to disembark compartment by compartment.
There were banners on the platform welcoming us back! It felt so nice.
The journey and welcome was very well organised. There were social distancing markers made on the platform concourse.
When we got off the train, our temperature was taken and hand sanitisers was given to us. After that we were given breakfast of poori-sabzi, one mithai and a water bottle.
Our hands were stamped with 21 days home quarantine mark. From the station we were taken by a bus to a college building nearby. We had to give details like address and mobile number etc.
Our guardians were asked to come to the college ground to pick us. My bhaiya had come came to pick me. His details were also taken there.
I have been told not to go out of the house and no one from outside can enter our home.
I am staying in one room and maintaining social distancing from family members.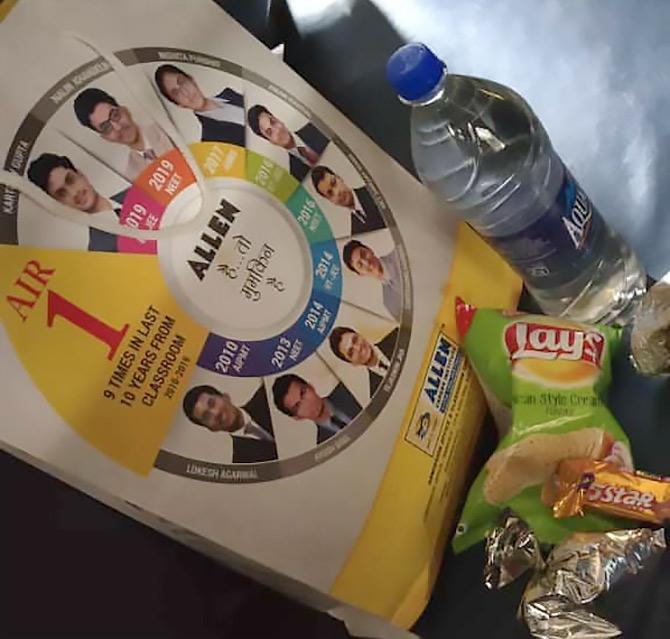 Now that the date of IIT-JEE entrance has been announced, I will be appearing for the exam from my home centre in Darbhanga.
My coaching institute in Kota was very helpful during the time we were stuck in the town. We have been receiving questions on the WhatsApp group and online classes are also going on.
I will stay home and study now. Mummy toh ekdum khush ho gayi humko dekh ke (My mother was overjoyed to see me).
SEE: The train with students arrives at Darbhanga station.
Production: Rajesh Karkera/Rediff.com, Aslam Hunani/Rediff.com