Away from the limelight, Jeevika Didis are silently fighting the coronavirus in rural Bihar.
M I Khan reports.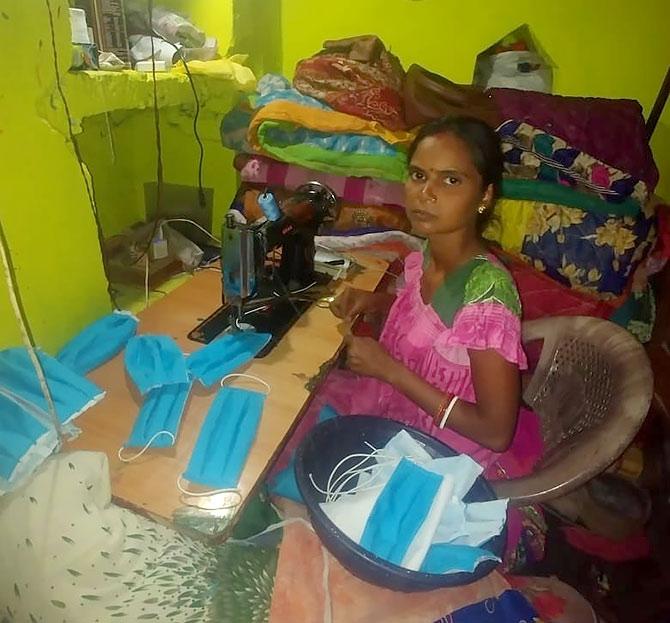 Have you heard of Bihar's Jeevika Didis?
They have been quietly contributing to the state's fight against the coronavirus pandemic.
Sanju Devi, Rekha Kumari, Pinki Devi, Munni Devi and Shabina Khatoon are just five of the hundreds of Jeevika Didis who have been working long hours making masks, providing essential items through their small rural retail shops and cooking food for the poor, including trapped migrant workers, by launching Didi Ki Rasois.
At a few places, Jeevika Didis are teaching villagers to make natural sanitisers and sanitise their homes and villages by using the cheapest items available.
They are called Jeevika Didis since their self help groups have been formed under Jeevika, the Bihar government's rural livelihood programme.
Unlike doctors, nurses and other health staff, they may not be in the forefront of the war against COVID-19. But their contribution is making a huge difference.
As on April 9, Jeevika Didis from nearly 2,000 self-help groups, mainly comprising of women in villages, have made 520,000 masks in the state.
"They are making masks, which are an essential product in these times, in bulk," says Balamurugan D, who heads the Jeevika programme in Patna.
Impressed by their quality, the South Bihar Power Distribution company has bought 54,000 masks for its staff.
Jeevika recently completed an order of 2,500 masks for a district hospital.
Banks, NGOs and other government agencies have also placed orders for masks made the Jeevika Didis.
Anisha Ganguli, Jeevika's district programme manager for Sheikhpura, says dozens of Jeevika Didis are engaged in this task.
In Sheikhpura, Jeevika Didis got an order for 20,000 masks from the state electricity department.
"Each Jeevika Didi earns Rs 250 to Rs 400 a day making masks. They earn more if they make more masks," says Ganguli.
Rekha Devi, whose husband lost his source of livelihood, says she was also without work for days until she started making masks. "This saved us from starving," she says.
"We are making masks in bulk for the common people to protect them from the coronavirus infection," she adds. "There is a high demand for it as masks are not available in the market."
"Our masks are of good quality and cost effective compared to the costly masks in the market," says Sanju, who works from her home at a village in Patna's Phulwari Sharif.
"Most of our other work has stopped," she adds. Making these masks has helped us earn a livelihood and feed our families during the lockdown."
Pinki Devi and Shabina Khatoon have been making masks at their homes in Nalanda, Bihar Chief Minister Nitish Kumar's home district.
"Our job is a small one," says Pinki, but they are proud of what they do. "We are also creating awareness against the coronavirus infection."
Shabina, who has been making masks with three other Jeevika Didis at her home in Rajgir, not far from the excavated ruins of the ancient Nalanda University, says she is educating villagers about the dos and don'ts in the fight against the coronavirus.
Umashankar Bhagat, Jeevika's district programme manager for Nalanda, says a large number of Jeevika Didis have volunteered to make masks and engage in awareness campaigns to combat the spread of the virus.
The mask has been of immense use in rural areas, he adds.
"In Nalanda alone, dozens of Jeevika Didis have made 20,000 masks for the district administration. They have also sold nearly 7,000 masks to village heads (mukhiyas), social organisations and local leaders," says Bhagat.
Buying a mask in the market can cost anywhere between Rs 40 and Rs 50. The mask made by a Jeevika Didi costs Rs 15.
"We provide them with the raw material to make the masks," he says.
Bhagat reveals that after the national lockdown was announced, some Jeevika Didis were worried about their livelihood.
"It was a big challenge for us as well to help them earn some money," he says.
Which was when some Jeevika Didis came forward with the idea of making masks, which were in high demand.
"We immediately agreed to help and provided them with samples and raw materials."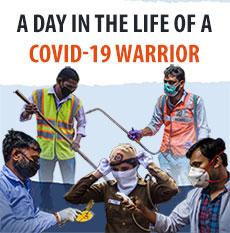 According to official figures, there are more than 900,000 self-help groups in Bihar in which Jeevika Didis work at the grassroot level in thousands of villages.
They play an important part in mobilising women from their respective villages.
The Jeevika programme was launched by the state government with World Bank assistance in 2006.
Jeevika promotes rural livelihood and enhances social and economic empowerment of the poor, particularly women.
Bihar's Rural Development Minister Shrawan Kumar says district magistrates across the state have been directed to provide raw material to the self help groups to help the Jeevika Didis make masks.
"They are doing excellent work," says Kumar.
The masks made by the Jeevika Didis will ensure no one leaves their home without wearing one, the minister adds.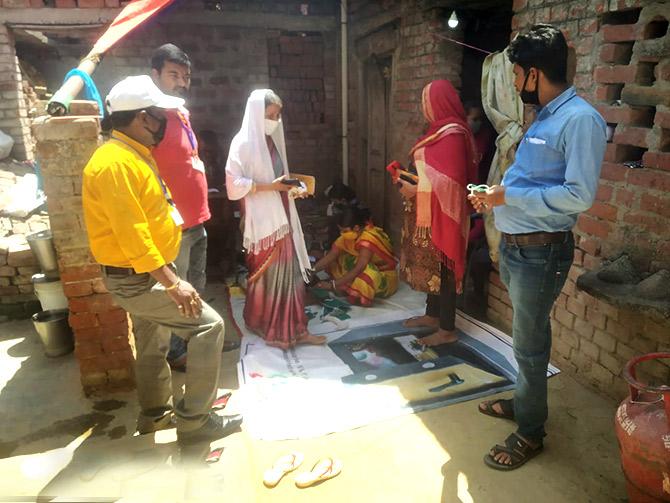 Munni Devi, a Jeevika Didi, runs a small shop thanks to the Rural Retail Mart set up by Jeevika at the block headquarters.
There are 18 such marts in the state that provide essential items to Jeevika Didis at wholesale prices, which they then re-sell for a small profit.
Munni, for example, has been delivering essential items, including food grain, to villagers at their doorstep during the lockdown.
Hundreds of Jeevika Didis like her, who run small shops, have become important links in helping the distribution of essential goods.
Some Jeevika Didis run centres that provide cooked food (Didi ki rasoi). With the cooperation of the health staff in over 12 districts, they provide free meals to patients undergoing treatment in hospitals during the lockdown.
To run this effort, they have received help from different sources.
Jeevika provided them with LPG cylinders and utensils.
The local administration and health department provide space, electricity and water.
Some local people give them rice, pulses, flour, vegetables, oil and spices to make food for free distribution.
Jeevika Didis are also teaching villagers how to make natural and herbal sanitisers for personal use.
At the Ibrahimpur panchayat, which falls under Patna's Naubatpur district, a group of Jeevika Didis successfully train villagers to make herbal sanitiser by using tulsi, neem, camphor and phitkari (potassium alum).
"We are teaching villagers to make a herbal sanitiser at home itself. The chemical sanitiser is costly and there are reports of duplicate products in the market," says Hemanti Devi.
They also teach villagers to wash the floors of their houses with bleaching powder and to sanitise nearby areas by spraying bleach mixed with water.
This is how Jeevika Didis help others while sustaining themselves during the lockdown.