Prasanna D Zore/Rediff.com reports how Mumbai's civic administration, the Brihanmumbai Municipal Corporation and the Mumbai police have divided the city into 'Containment Zones' to prevent the spread of the coronavirus.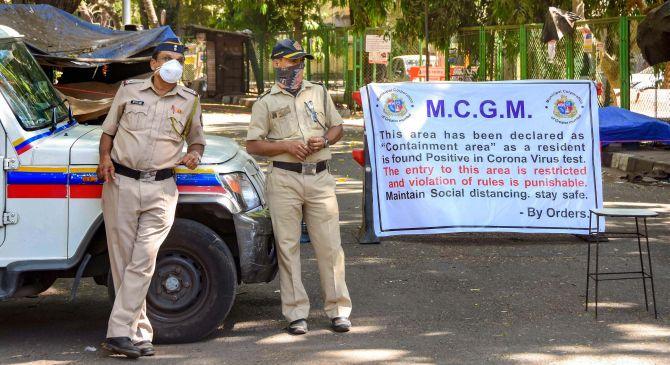 A senior Brihanmumbai Municipal Corporation health officer overseeing the cordoning off and sanitisation operations in Mumbai's K/East ward (a local administration unit) reveals how the BMC is going all out to contain the spread of coronavirus that has now brought the city and the nation to a grinding halt.
With more than 212 containment zones across the city (at the time of reporting), ten fall in the K/East ward whose east boundary extends up to the Mithi river, west boundary extends up to the Western Railway, south boundary extends up to the Milan subway, and north boundary extends up to the SRPF Aarey colony, all in north west Mumbai.
According to this officer, these 10 containment zones have been cordoned off completely and officials from the BMC's pest control department sanitise them using sodium hypochlorite spray twice a day depending upon whether neighbourhoods in these zones are categorised as low-risk or high-risk areas.
While a team of BMC surveillance officers and the Mumbai police keep a round-the-clock strict vigil by sealing off all the entry and exit points to these containment zones, the local civic administration has also made arrangements for doorstep delivery of essential goods and services.
This is what one senior BMC health official told Rediff.com, speaking on condition of anonymity.
---
The situation in these 10 containment zones is under control. Till now we have got only 10 COVID-19 positive patients and we have undertaken cordoning off of those areas.
Nobody is allowed to enter or exit from these areas. There are CCTV cameras that alert the policemen on duty on SMS about the location of people if somebody ventures out of their containment zones, homes or buildings. These areas are under police watch and there is tight security.
While the 10 positive patients have been sent to different hospitals for treatment, 88 with mild symptoms have been quarantined in various hotels and hospitals, and over 1,000 people showing no symptoms but who could have come in social contact with those tested positive have been kept in home quarantine after their swabs have been sent for testing.
We have sanitised the rooms, buildings and areas where these patients live and have quarantined high-risk patients in certain hospitals and hotels, and low-risk patients have also been quarantined and kept under observation at their homes.
Swab samples of high-risk patients have been sent for testing and we are awaiting the results.
Depending on the test results these people will be either sent to home quarantine or admitted to various hospitals for treatment in case they test positive.
We have closed all the entry and exit points of these zones which we call 'containment zones' and the entire area is cordoned off.
The BMC's pest control department sprays the homes of COVID-19 positive patients and buildings where they live with sodium hypochlorite solution.
We also sanitise public toilets and other high- and low-risk areas twice a day with sodium hypochlorite solution.
There are a few slums and buildings that are part of these containment zones from where we have found COVID-19 positive patients.
We have assigned a special team of people who provide the residents inside these containment zones with requirements of essential items like milk, bread, groveries, vegetables, fruits, etc at their doorsteps.
The people in these containment zones have been very cooperative and so are the neighbours of patients who tested positive for coronavirus.
All these containment zones will remain cordoned off for the next 14 days.
We have not only made provisions for daily essentials, but have also started area-wise OPDs for people who have fever, cough or other regular symptoms of fever.
Those showing symptoms of COVID-19 are asked to get themselves tested for coronavirus at the Balasaheb Thackeray Trauma Hospital in Jogeshwari East and the Shatabdi Hospital in Kandivali West (both in north west Mumbai).
The positive patients are undergoing treatment at the Kasturba Hospital.