Former Delhi police commissioner Neeraj Kumar is one of the few Indian police officers to speak to Dawood Ibrahim at length after the fugitive gangster fled India.
In this gripping excerpt from his new book, Dial D For Don: Inside Stories Of CBI Missions, Neeraj Kumar reveals what those conversations with Dawood were like.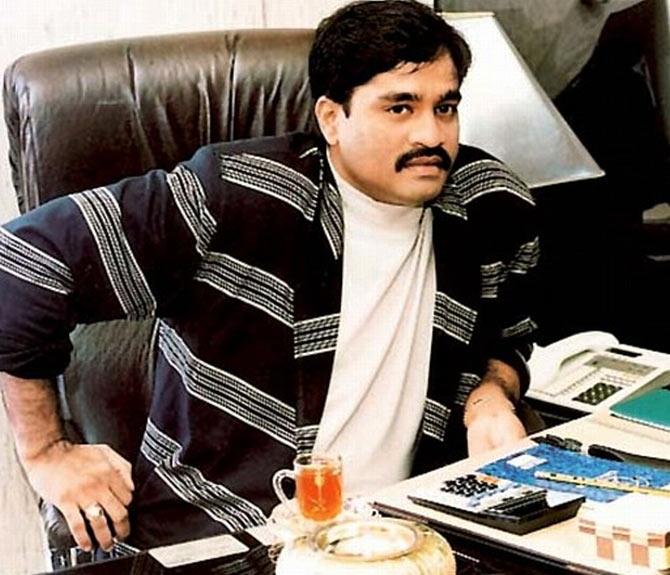 IMAGE: Dawood Ibrahim spoke in a typical Mumbai accent and with utter lack of fear. Photograph: Rediff Archives
Manish Lala, during one of the interrogation sessions with me (former commissioner of police, Delhi, Neeraj Kumar), mentioned that Dawood (Ibrahim) might be willing to give himself up to the CBI. He offered to speak with D and discuss the proposition and encourage him to return.
Keeping my seniors in the loop, I allowed him to use my secret office phone to get in touch with Dawood. Unlisted and protected phone lines were provided those days to select officers for top-secret operations.
I not only recorded the conversation, but heard it over speakerphone as well with no one else present in my office except Lala.
Manish Lala first called Sunil Sawant aka Sautya (the 'defence minister' of D-company) who in turn contacted Iqbal (Dawood's younger brother). Iqbal brought Dawood on line using the conferencing facility.
A fairly long telephone call between Manish Lala and Dawood Ibrahim ensued.
After relating to D the sequence of events leading up to his being in CBI custody, Lala reassured Dawood that he himself had seen how fair and considerate the CBI was to him. Lala further told D it was time for him (Dawood) to come out in the open and present his case to the CBI.
Dawood did not sound averse to the idea.
Lala then asked him whether he would be willing to speak with the DIG (deputy inspector general) in whose custody he had voluntarily come. Dawood agreed readily and thereafter followed long dialogues between the don and me on three different occasions: June 10, June 20 and June 22, 1994.
IMAGE: The destruction in Worli, south-central Mumbai, on March 12, 1993, a part of the serial bomb blasts that rocked the city that day. Photograph: Rediff Archives
My first conversation with him started on a rather awkward note. Maintaining my officiousness, I asked him: "Haan batayiye, aap mujhe kuchh batana chahte hain, jaisa Manish ne mujhe kaha hai. (Yes, I understand from Manish that you have something to tell me. Please go ahead)."
The don spoke in a typical Mumbai accent, with confidence and an utter lack of fear. He made no attempt to please me, as is the wont of certain criminals when they are dealing with state authorities.
He simply said: "Saheb, iske pehle ki main kuchh bataoon, pehle aap batayiye ki aapko kya lagta hai ki maine Mumbai mein blast karwaye hain? (Sir, before I tell you anything, would you please tell me whether you too feel that I organised the blasts in Mumbai?)."
"Sawaal ka jawaab aap sawaal se de rahe hain. Mujhe kya lagta hai ye mayaney nahin rakhta. Agar aap kuchh kehna chahte hain to kahiye. (You are answering my question with a counter question. What I feel is of no consequence. If you have something to tell me, please go ahead)."
After this initial mind game, he went on to say the following:
Soon after the bomb blasts, when his name started appearing in the media as one of the prime suspects, he had expressed his desire to the then commissioner of police, Mumbai, to present his side of the story. But, regrettably, Dawood claimed, the then commissioner refused to talk to him.
D admitted that he had met Dawood Taklya and Tiger Memon (the two main accused in the serial blasts). However, that was in connection with a dispute between Tiger Memon and the smuggling syndicate of Haji Ahmed, Salim Sarang and Aslam Patni.
According to Dawood Ibrahim, Dawood Taklya used to work for Tiger Memon, but, of late, had started working for Haji Ahmed's syndicate, which had led to several disputes. He (Dawood) heard both sides and ruled that Taklya should resume working for Tiger, his first employer.
He explained the reason behind his verdict to Taklya and Tiger: Taklya had worked with Tiger for a long time before he came in contact with Haji Ahmed. Therefore, it was only appropriate that he (Taklya) continue to work for his first boss (Tiger).
After this decision, Tiger Memon had, in Taklya's presence, informed D that Taklya was extremely mazhabi (religious) and could do anything for the sake of Islam. D then patted Taklya on the back and told him to keep his religious fervour alive.
Dawood Ibrahim said he had never expected that Tiger Memon would use Dawood Taklya to send arms, ammunition and explosives for subversive activities in Mumbai.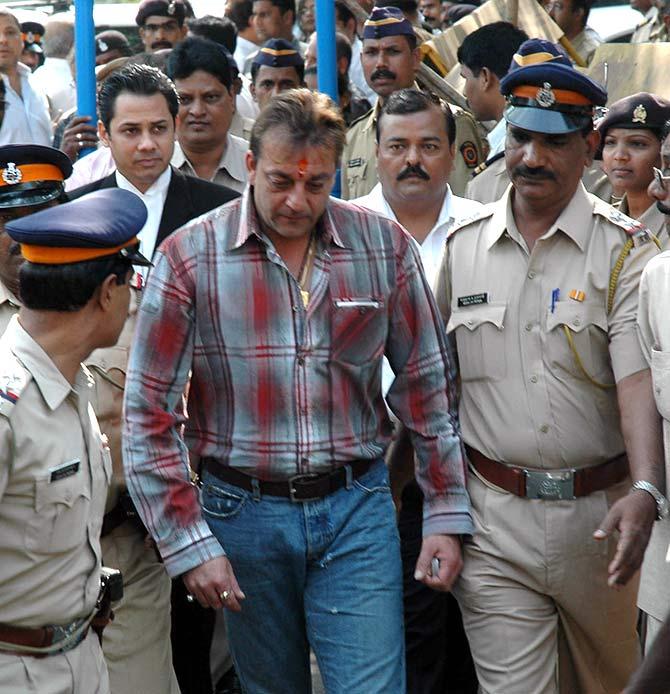 IMAGE: Sanjay Dutt during one his appearances for the Mumbai bomb blast case. Photograph: Sahil Salvi
When I asked Dawood if he could deny Anees sending weapons to Sanjay Dutt, he confirmed that the film star had indeed been sent arms by his younger brother. However, that had nothing to do with the blasts.
Sanjay Dutt had come in close contact with Anees Ibrahim during the shooting of the film Yalgaar in Dubai. The actor had requested Anees to send weapons to him for his own security and for the security of his family members in the wake of the communal riots in Mumbai.
It was a fact that Anees had obliged Sanjay Dutt, but it was not in his (D's) knowledge. Later, when D learnt that Anees had sent weapons to Sanjay Dutt without his knowledge and approval, he had beat up Anees black and blue.
D said that by making this admission, he was only trying to convince me that he was being honest. He knew that in the process he had gone to the extent of implicating his own brother.
D also said that it could be verified with Taklya that during the meeting in Dubai, wherein allegedly he (D) had planned the serial blasts, he had in reality discussed a totally different issue. They had talked about a well that was supposed to be dug in Taklya's village with a donation from D. The contract had been given to one Sayyed Munim.
Taklya complained to D that Sayyed Munim had misappropriated a part of the donation. D had promised to look into the matter and take action.
During one conversation he said: "Saheb, mujhe yeh sab karna hota to mujhe hathiyar bhejne ki zaroorat nahi hoti. Hamare ladkon ke paas kaafi hathiyar pade hain. (Sir, if I had to do all this, I need not have sent any weapons. My boys have enough at hand)."
"Kya aapke ladkon ke paas itna RDX bhi pada hai ki aap serial dhamake kara sakte hain?" I asked him. (Do your boys have that much RDX to cause serial blasts?)
A flustered don fumbled for words for a moment and replied: "Dekho, saheb, agar main yeh sab karta na to itni safai se karta ki police ke paas akkha saboot mere khilaf nahi milta. Aap ye baat samjho. Aap tho CBI mein ho. Ek baat aur, main bhi apni poori family ko wahan se hata deta jaisa Tiger ne kiye la hai. Meri ma, meri behan, sab udhar Bambai mein hi baitha hai" -- thus evading my question on RDX. (Look, sir, if I had to carry out such an operation, I would have done it with such finesse that the police wouldn't have got a whit of evidence against me. You should appreciate this point since you are in the CBI. And, most importantly, I too would have moved my family members out as Tiger did. My mother and sisters are all there in Mumbai.)
In brief, what Dawood Ibrahim wanted to convey to me was that Tiger Memon had approached him (D) ostensibly in connection with his dispute with Haji Ahmed. During the meeting, Tiger had tricked Taklya into thinking that he (D) was part of the overall conspiracy behind sending consignments of weapons and explosives.
He (D) had not been kept in the picture when the conspiracy was hatched. Had he been involved, he would have executed the plan much more artfully as well as moved his family out of Mumbai, just as Tiger had done.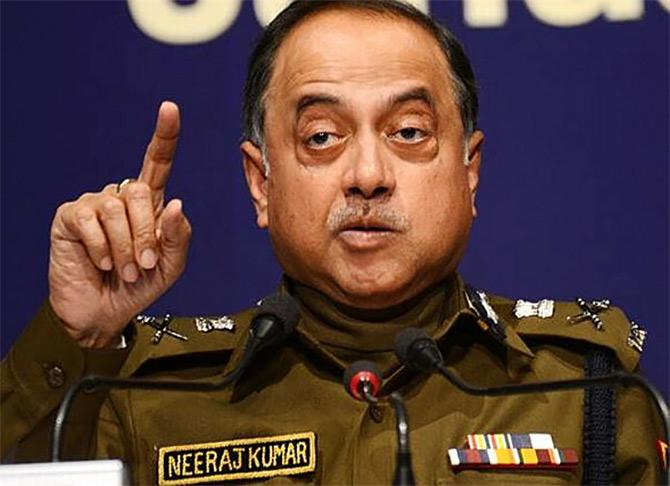 IMAGE: Former Delhi police commissioner Neeraj Kumar. Photograph: Rediff Archives
I knew all along that the alibis being presented by the don were pure wind. Enough irrefutable evidence existed in our case file, nailing his role behind the serial blasts.
But I played along, hoping for, if nothing else, some information from him on other absconding members of his gang or Pakistan's ISI. With Manish Lala's persuasive skills to support me, a slim chance of convincing Dawood to return always remained.
Meanwhile, one of my superiors, for reasons best known to him, asked me to stop communicating with D. Perhaps my senior was wary of Indian intelligence agencies overhearing the ongoing dialogue and taking objection to my transgressing their turf.
The unwritten code between federal agencies in India is that the CBI sticks to investigation while the intelligence agencies carry out covert operations. My superior had worked in one such organisation for several years and perhaps felt such 'adventurism' was best left to the other agencies.
Be that as it may, that was the end of my tete-a-tete with Dawood Ibrahim.
Excerpted from Dial D For Don: Inside Stories Of CBI Missions by Neeraj Kumar, Penguin India, with the publisher's kind permission.