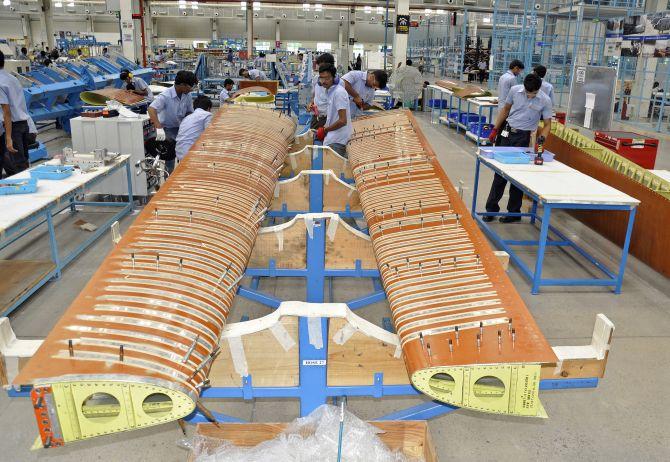 Stressing on the 'Make in India' initiative, a Ministry of Defence appointed committee has recommended enhanced private sector involvement in materiel procurement by granting manufacturers tax and import concessions. Rahul Bedi reports for Rediff.com
A Ministry of Defence appointed committee has recommended wide-sweeping changes to India's cumbersome materiel procurement and manufacturing procedures, which have long delayed military modernisation.

Headed by retired home secretary Dhirendra Singh, the 10-member committee, comprising former service officers and technical experts that was constituted in May, submitted its report to Defence Minister Manohar Parrikar last week.

Officials said its recommendations would be incorporated into the Defence Procurement Procedure-2015 -- the eighth edition after the first DPP-2002 -- that the MoD is likely to release by the year-end.

Parrikar has promised that the revised document will be more comprehensive than the previous 351-page DPP-2013, which for many domestic and overseas vendors, is difficult to fully comprehend.

The final DPP-2015 version will follow extensive consultations within the MoD and also with related departments associated with the final document, like the law, finance and industries ministries, officials said.

Industry sources said the 200-page report, prepared after interaction with the services and local and overseas defence company executives, stresses the 'Make in India' initiative to promote indigenous defence production through enhanced private sector involvement.
It aims to achieve this by granting private manufacturers tax and import concessions, similar to those hitherto enjoyed by inefficient State-owned entities that have monopolised India's defence-industrial sector for decades.

These include the 39 Ordnance Factory Board plants and nine Defence Public Sector Units.

The committee has suggested that the MoD accord the private sector 'strategic partner' status for varied military programmes in a structured and permanent arrangement, given its agility, efficiency, innovation and modern management practices.

This propensity, it states, applies particularly to absorption of technology from overseas original equipment manufacturers via joint ventures, which the committee believes the private, not the public sector, is better equipped to manage.

The committee reportedly advises the MoD not to look upon private Indian industry as a 'competitor,' but an 'ally,' regularly sharing with it information regarding the services overall requirements and programmes.

Private industry has welcomed these suggestions, but is believed to be at variance with the committee over its proposal that the MoD restrict each 'strategic partner' to a solitary system or platform type.

They argue that this would neutralise their multiple technical capabilities developed at great expense over time and restrict their expansion, as would the recommended ban on cross-holdings by them, without prior government permission.

The committee is believed to have suggested compressing the entire military acquisition process into a shorter time frame -- it can take up to a decade or longer for contracts to be completed -- and urged the military to formulate 'realistic' qualitative requirements for equipment.

The services, especially the Indian Army, are prone to framing over ambitious QRs for weapons and related systems, which simply do not exist anywhere in the world.

According to Parliament's Standing Committee on defence report in 2012, as many as 41 of the army tenders were withdrawn or terminated in recent years, due to unrealistic QRs.
This has left the force in a shambolic state, with regard to even basic equipment like assault rifles and carbines for its nearly 360 infantry units.

According to the committee the current practice of terminating a tender, simply because there is only one vendor available, needs reviewing, as does the procedure of selecting the lowest bidder or L1.
It believes both impinge adversely on acquiring the best available equipment or platform and needs reviewing and eventually altering.

Circumspection in blacklisting defence vendors on charges of wrongdoing -- never ever conclusively proven in India for decades -- and legalising defence agents or lobbyists, are part of the committee recommendations, sources said.

Both facets had resulted in numerous acquisition programmes being shelved and needed a practical re-look in keeping with procurement procedures followed by other countries and the forfeits or penalties they levied for transgressions, the report states.

It also advocates appointment of a specialised weapons procurement agency of experts with extended tenures, to preclude delays and inject greater professionalism into the acquisition process, and increased involvement of service personnel, rather than politicians, in all materiel buys.

Appointing an ombudsman to monitor defence procurements plagued by corruption is recommended, whilst terminating tenders, simply because of anonymous complaints to the MoD, is not.

This latter practice was followed disastrously by the outgoing Congress party-led federal coalition and is one of the principal reasons for the calamitous state of India's defence preparedness.

Initial reports indicate that the committee has come up with pragmatic measures to expedite military procurements, deepen the involvement of the private sector and remove bottlenecks in the offset discharge process, said Ernst & Young defence analyst Ankur Gupta.

But these need to be followed up with positive changes in the tax and regulatory aspects that benefit private industry, he added.

On technical aspects, the committee stressed the development of new systems with domestic intellectual property rights and progressively raising the indigenous content of licence-built equipment from 30 per cent to 65 per cent.

With regard to vendor discharge of offsets -- mandated at 30 per cent in all purchases over Rs 300 crore (Rs 3 billion) -- the committee has suggested the creation of an Offset Fund, which, under MoD supervision, would be invested into defence and security-related small and medium enterprises.

The committee believes this would not only boost the SMEs technical profile and efficiency, but assist vendors in gainfully discharging their offset obligations, that presently remain mired in incomprehension and confusion.

The challenge for the MoD will be converting the committee's policy recommendations into workable and practical procedures, said Amit Cowshish, former MoD financial advisor.

This is a highly complex task and will require deftness and realism on the MoD's part to execute, he added.

Meanwhile, India has attracted merely Rs 48 lakh (Rs 4.8 million) in Foreign Direct Investment in the defence sector in 2015, despite Prime Minister Narendra Modi's government having raised this outlay from 26 to 49 per cent.

According to the Department of Industrial Policy and Promotion, FDI in India's military-industrial sector contributed just $0.08 million to the total FDI influx of $44.87 million between December 2014 and May 2015.

Overall FDI inflow into India's defence sector between April 2000 and December 2015, however, has also been low: Rs 24.36 crore (Rs 243.6 million) when, for almost the entire period, the cap on overseas investment remained 26 per cent.

Industry officials said this 49 per cent limit -- like the earlier 26 per cent -- generated reluctance amongst OEMs to enter the Indian market, as they were unwilling to be minority stakeholders in JVs.

This affected the inflow of badly needed technology in the defence sector triggering, in turn, reliance on material imports, which currently average a staggering 70 per cent.
Image: Employees work at Tata Lockheed Martin Aerostructures Ltd, on the outskirts of Hyderabad. Some of India's biggest companies are pouring billions of dollars into manufacturing guns, ships and tanks for the country's military, buoyed by the new government's commitment to upgrade its armed forces using domestic factories. Photograph: Reuters
ALSO READ