Aruna Anand was not able to step out to help those affected by the floods in Chennai. So here's what she did.
IMAGE: Aruna and Viswanathan Anand.
Like in all calamities, the floods that devastated Chennai saw strangers talking to each other, helping neighbours they may not have exchanged hellos with earlier and opening the doors of their houses to people they didn't know.
This is exactly what Aruna, chess Grandmaster Viswanathan Anand's wife, did. With the responsibility of an elderly person (her father-in-law) and a young child (their four-year-old son Akhil) at home, she could not step out to help those suffering the vagaries of the rain god.
So she opened her home to the people of a nearby slum, whose homes were submerged under water.
Aruna Anand on those fateful days.
Even when it rained heavily, water did not enter our house. But the area surrounding our house was so badly affected that boats came to rescue people.
There is a slum close to our house on Greenways Road, which is on the banks of the river Adyar. In the first phase of the flood itself, when my maid lost her house, I asked her to come and stay with me. As they had no power there, her children were finding it difficult to cope.
On December 1, at 3 am, people were asked to move from the area as the river was overflowing and the water level was expected to go up. The end of the slum is almost on the river, so those who stayed closer to the river bank suffered the most.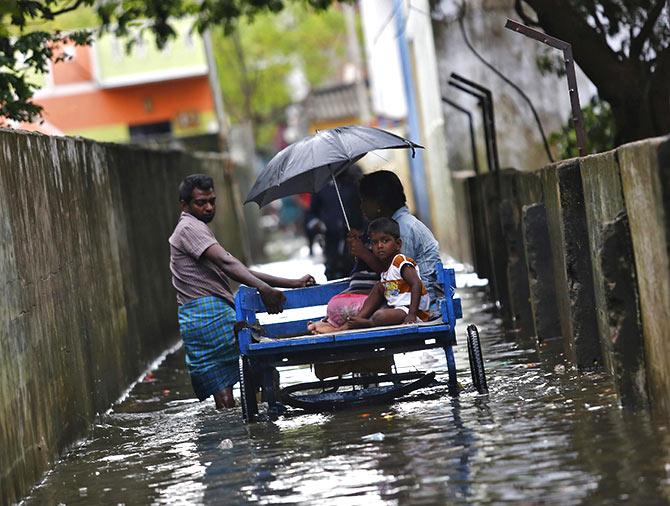 IMAGE: The flooded streets of Chennai. Photograph: Anindito Mukherjee/Reuters
When the water level rose, my maid brought some of her neighbours with her to stay here. There were 15, 16 people at that time, including a couple of pregnant women. Later, I was told more people came to stay at our place at night. By then, I had gone to sleep.
Our house is a duplex. I had removed all the furniture from the drawing room and provided bedsheets and blankets so they could sleep on the floor. Whatever food was there in the house, we shared with them the next day.
Some of the children knew it was Anand's house as they had come here before, but most didn't. The moment they came to know that it was his house, they were so excited. They had learnt about him in school.
One of the girls told me, "Aunty, we know Anand's birthday is coming. It's there in our textbook."
It was a very humbling experience when these children came with some chocolates and biscuits that had been distributed at the slum so that they could give it to Anand as a birthday present.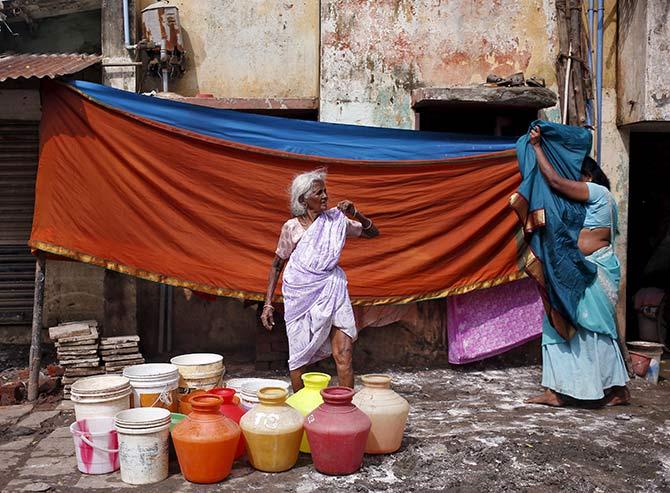 IMAGE: A woman waits outside her house for a water tanker to fill her containers with drinking water. Photograph: Anindito Mukherjee/Reuters
Akhil, our son, was happy to have so many children at home to play with.
On the first day, they were running around everywhere. Now, I have asked them to sit in one place and play.
There were at least 10 children on the first day; I had not seen them before.
Now, there are only two or three left. After the water levels went down and the power came back, all of them went back home. Some of the children still come in the morning to play with Akhil.
During this period, we didn't have any connectivity as the mobile phones and the landline phone were not working. In fact, my landline phone is still not working.
As you know, Anand is playing the London Chess Classic tournament. I was not able to talk to him at all. Sometimes, when I went down to the road, I used to get patchy connectivity. That's when I would send him text messages saying we were fine.
There was no way I could tell him that people were staying here. It was only when an article appeared in a newspaper that he came to know about this.
I know there are so many people who are doing so much to help the flood affected people. I would have liked to do much more but, with an elderly person and a child at home, it was not possible for me to get out and help people.
Aruna Anand spoke to Shobha Warrier/Rediff.com