N Rajashekaran Nair's flooded housing complex.
'After three days, most people resigned to the idea of living with minimum facilities. By then, they had stopped getting angry, irritated and worried. As days passed by, one heard less and less complaints'
'In a crisis like this, you expect the administration to help people but I didn't see any administration here. I saw only NGOs and people helping themselves'
'I feel people have not learnt anything from this disaster. Unless we learn to respect nature, learn to take corrective measures, this will happen again and again'
N Rajasekharan Nair recounts his ordeal as the flood waters rose around his apartment complex.
N Rajasekharan Nair, a former banker and a consultant with Tata Consultancy Services, lives in Velachery, one of the worst affected areas in the recent floods in Chennai. Velachery is a fast 'developing' suburb that almost destroyed the huge Pallikaranai marshland and come monsoon, this area gets flooded the fastest and is the worst affected.
Here, he recounts the experience of living with water all around, cut off from the rest of the world without power, water and connectivity for a week. He spoke to Shobha Warrier/Rediff.com.
'There are 490 flats in our apartment complex and at least half the residents vacated by the end of November and moved to many other safer places when warnings of more rain came from the met department. We were just recovering from having knee-deep water inside the complex for the last two weeks.
'We used to have one foot water inside the apartment complex every year when it rained but this time, it was much more.
'December 2 was the day our isolation started. It rained heavily the whole day and water went up to knee deep in the complex. When the prediction of more heavy rain came, I moved our car from a lower area to a slightly higher area. I thought that was the maximum I needed to do. As I stay in the 5th floor, I knew I would not get affected and the only thing I was to do was to save my car.
'December 3 dawned after a heavy downpour the entire night, which I was not fully aware of. But in the morning, when I looked outside, I was in for a big surprise. The entire area was flooded.
'The first thing I did was to go down to see my car. It was half submerged in water, and there was water inside the car also. There were around 200 cars parked inside the apartment and all were half submerged in water.
'With so much water inside the complex, power was shut down. With power down, the Internet went. Water in the overhead tank also disappeared in no time. Soon, there was absolutely no water in the taps.
'That was when the police asked us to open one of our gates, which we had closed with sand bags to safeguard us from more flooding. Once the gate was opened, water started rising dangerously. 'Water rose to almost five feet and all our vehicles were now fully submerged.
'By evening, we had water everywhere and I decided to get into the water. It reached till my neck. I was the only one from the apartment who chose to 'test the waters'. I knew swimming and I love water hence decided to see the situation first hand. The others looked at me as if I was crazy.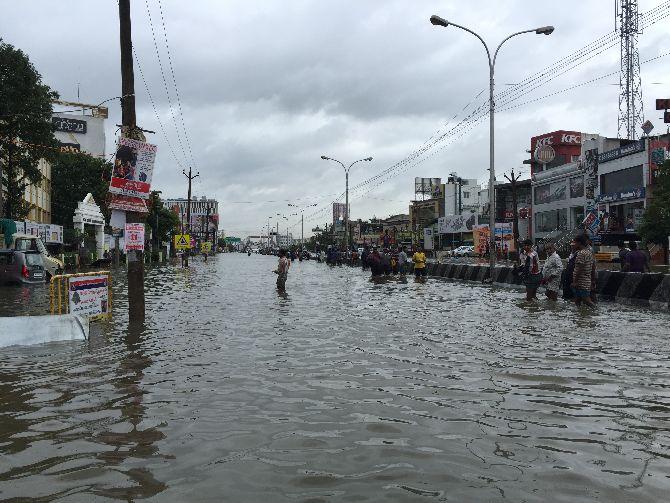 A flooded street in Velacherry, Chennai. Photographs courtesy: N Rajashekaran Nair
'I walked up to the Velachery-Tambaram main road, and saw that the road was fully flooded and there was nobody anywhere except an Audi car abandoned in the middle of the road. I came back home and washed myself. Seeing the amount of water we have stored at home, I decided not to step out of the house hereafter. There was no way I could wash myself every time I come back after swimming in the water.
On the first day the water was clean but from the very next day, I started seeing garbage floating around. I do not know why people throw garbage bags in the water from their balcony, an uncivilised and unhygienic thing to do.
'So, on December 4-5, I was at home without venturing out. But NGOs came in boats to our apartment with food packets and water. They gave one food packet per person and one or two small water bottles per flat. The food, either fried rice or vegetable rice or sambar rice, was quite good and sufficient for one person.
'There was no milk supply but as we do not consume much milk, we had no problem; only houses with small children faced difficulties because of not getting milk.
'As my daughters live abroad, they started getting worried, as there was no way they could communicate with us. Both the landline and mobile phones were not working and there was no internet too. Instead of getting into the water, I went up to the 8th floor and stood on top of the water tank trying to get some signal on my mobile. Whenever I got some signal, I sent messages to my children that we were safe. Their friends were also panicking at not being able to connect to their parents. At least, I could send messages to them.
'On December 6, water had almost disappeared from the main road but inside the complex, there was still knee-deep water. After pumping it out the entire night, the complex was devoid of water.
'On December 7, after a week of isolation without power and connectivity to the outside world, the windows opened.
'It is time to look back, and the most positive thing I saw was, we got to know the others who reside in our apartment. There were around 200 families, which meant almost 500-odd people, and the calamity brought all of us together and there was a lot of co-ordination between people. I saw that everybody wanted to help each other whom they didn't even wish before.
'Ten to 15 children between the age of 8-15 did a fantastic job by running up and down distributing the food packets delivered by the NGO.
'After three days, most people were resigned to the idea of living with minimum facilities. By then, they had stopped getting angry, irritated and worried. As days passed, one heard less and less complaints. I felt through this ordeal, nature taught people how to live without luxuries which all of us are slaves to.
'Yes, I was cut off from the internet, which I was addicted to, but when I see what many others suffered, I feel we had been extremely lucky. Neck deep inside the apartment is nothing compared to what so many of them went through. How can I complain when our house, people and belongings are safe?
'The negative things I noticed were, even while experiencing a calamity of this magnitude, many people had no concern for the others and the environment. If they had, would they have thrown plastic bags full of garbage into the water? The attitude of people even today is, I will keep my house clean by dirtying somebody else's house.
Velachery is one area where authorities should not have allowed this kind of development by constructing so many high-rise buildings. Look at the result. We go through this torture year after year and this year, it went beyond our imagination.
'It was only recently that crores of rupees were spent to build storm water drains but did they function? The drains are full of plastic bags and garbage. So much money was spent for no use. Again, corruption and lack of concern by people who live here are the reasons for this grave situation.
'In a crisis like this, you expect the administration to help people but I didn't see any administration here. I saw only NGOs and people helping themselves; there was absolutely no administration.
'I feel people have not learnt anything from this disaster. The moment water receded, they are back to their abusing nature. Unless we learn to respect nature, learn to take corrective measures, this will happen again and again, and we will continue to talk year after year. The only difference will be, people will compare the disaster with the previous year and say, this year there is only chest deep water, last year we had neck deep water.'