'Peeche peeche aana hai (follow right behind)' was the message from Amit Shah to Tamil Nadu Chief Minister Edappadi K Palaniswami and Deputy CM O Panneerselvam, reports R Rajagopalan.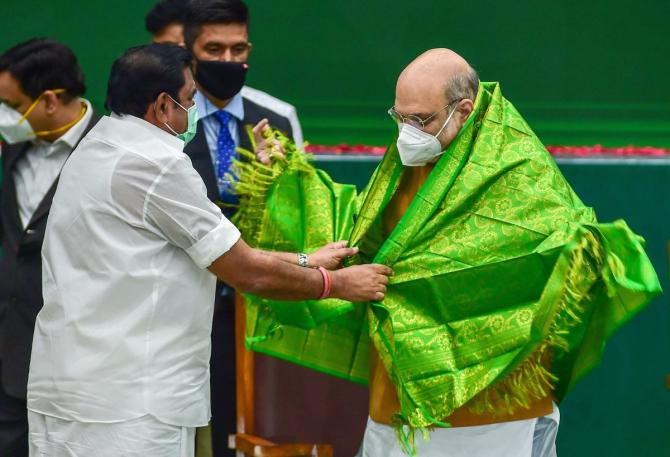 The All India Anna Dravida Munnetra Kazhagam will shortly join the Union council of ministers.
With Home Minister Amit Anilchandra Shah's visit to Chennai on Saturday ending on a successful note -- with the AIADMK announcing its tie-up with the Bharatiya Janata Party for next year's assembly election -- Prime Minister Narendra Damodardas Modi is obviously pleased, and hence the invitation to Tamil Nadu's ruling party.
In all likelihood, the AIADMK will get one Cabinet and two council berths, and it will submit the three names to Shah.
There has been no discussion on the portfolios to be allotted, and it has been left to the prime minister's discretion.
This was finalised in Chennai itself, when Shah asked Chief Minister Edappadi K Palaniswami and Deputy Chief Minister O Panneerselvam, who were on the dais with him at Kalaivaanar Arangam for an official function, to come to the hotel he was staying in for discussions.
'Peeche peeche aana hai (follow right behind),' was the message from Shah to the duo.
On his return to Delhi on Sunday, Shah had a two hour meeting with Modi to brief him about the Chennai visit and also to discuss the modalities of ministry expansion, since the representations of each region, caste proportion of the Lok Sabha and Rajya Sabha etc have to be kept in mind.
If the buzz in Delhi is to be believed, the ministerial expansion is likely to be carried out by early December.
Among the inductees are Jyotiraditya Scindia who crossed over from the Congress on March 11, Sushil Modi, who was Bihar deputy chief minister till last week, former Maharashtra chief minister Devendra Fadnavis and two leaders from Bengal which is facing a high-octane assembly election next year.
Six Union ministers currently hold dual charge, and they will be asked to divest one ministry.
With the government deciding to skip the winter session of Parliament due to the surge in COVID-19 cases in north India, the Budget session will begin in the second of third week of January.
The government is keen to expand the Union council of ministry before Parliament convenes.