Shailajanand Mishra lists the Hottest Videos of the Week! Take a look.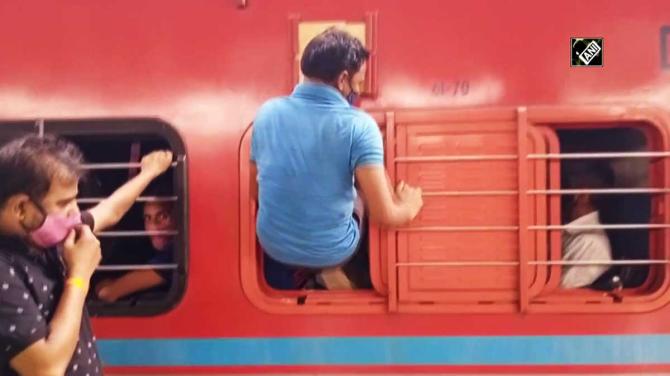 Every week is full of exciting events. And we make sure we bring you the most interesting ones, with a special twist.
These videos are chosen by you, through your likes.
So if you'd like to see your favourite video on our weekly round-up, make sure you like them on iShare.
---
Naxals release CoBRA commando
Date: April 8
Location: Bijapur, Chhattisgarh
CoBRA jawan Rakeshwar Singh Manhas, who was kidnapped by Naxals during an encounter in Junaguda village, Sukma district, on April 3, has been released.
The Naxals handed over the jawan, who hails from Jammu, to a group of facilitators in the forest along the Bijapur and Sukma border, in the presence of a large number of villagers.
---
What are Kangana, Sunny up to?
Date: April 9
Location: Mumbai
Kangana Ranaut was spotted at Mumbai airport, looking lovely in a sari.
The National Award-winning actress will be seen playing the late Tamil Nadu chief minister j Jayalalithaa, in her next film, Thalaivi.
Sunny Leone was snapped along with her kids outside a restaurant in Bandra, a north west Mumbai suburb. The trio looked super cute together.
---
Migrant workers leave Mumbai
Date: April 9
Location: Mumbai
As COVID-19 cases rise and Maharashtra imposed a 'Janata Curfew', a UP-bound train leaving the Lokmanya Tilak Terminus in Kurla, north east Mumbai, was packed with migrant labourers, rushing home to avoid the prospect of a lockdown.
---
Villagers restore centuries-old water bodies
Date: April 10
Location: Shivamogga, Karnataka
Villagers restored the centuries-old Bangaramma and Anesondilu lakes in Shivamogga district's Sagar taluk without taking monetary help from the government.
They decided to rejuvenate the water bodies in 2017. Today, these two Karnataka lakes are filled with water.
'We have been working towards desilting them since the past three years. Anesondilu lake used to have a storage capacity of 25,000 litres. After desilting, it has a capacity of 65 lakh (6.5 million) litres of water,' says environmentalist Akhilesh Chipli.
'The second lake, Bangaramma, which is almost 600 years old, could store only 10 lakh (1 million) litres of water. After desilting, its storage capacity has increased to 2 crores (20 million) litres.'
---
The 'urban jungle'
Date: April 11
Location: Bengaluru
A retired engineer fulfilled his mission to convert empty spaces within his home into a thriving 'urban jungle'.
Nataraja Upadhya's house reflects his love for nature.
Upadhya used his skills to grow over 300 plant species that he inherited from his farmer father.
---
NASA Challenge: Odisha school scientists ready with rover
Date: April 12
Location: Cuttack
Cuttack-based Navonmesh Prasar Student Astronomy Team, comprising 10 school students, will exhibit a rover they have designed at the NASA Human Rover Exploration Challenge 2021.
'The rover has been designed for Artemis Mission 2024 which will take the first woman and the next man to the moon. It is capable of travelling on different kinds of lunar terrain.'
---
B-town divas dazzle!
Date: April 15
Location: Mumbai
Janhvi Kapoor, Tara Sutaria, Malaika Arora and Anusha Dandekar spotted at Mumbai's Film City.
While Janhvi will star in Dostana 2, Tara will make an appearance in Ek Villain 2.
---
Feature Presentation: Ashish Narsale/Rediff.com