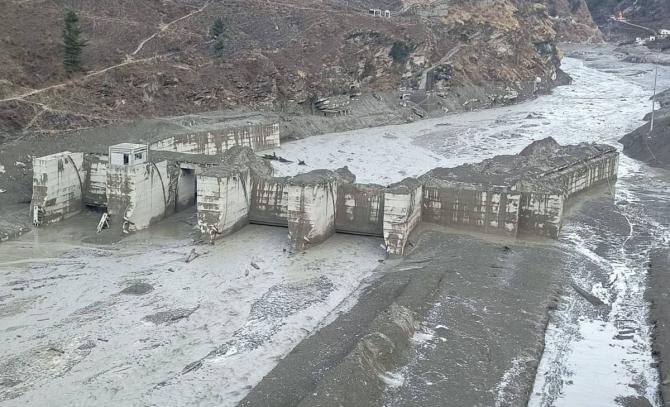 The devastating floods in Chamoli, Uttarakhand, on Sunday took place not because of some environmental damage due to construction activity but due to the intense sunshine on Sunday that led to the melting of glaciers, Mahendra Pratap, the Bharatiya Janata Party's member of the Uttarakhand assembly from Badrinath (Chamoli), tells Syed Firdaus Ashraf/Rediff.com.
"The sun was hot on Sunday at Chamoli and this led to the melting of the glacier. And that glacier in turn fell on the banks of the dam, creating a flood-like situation," says Pratap.
"Unlike in the Kedarnath floods of 2013, which happened due to heavy rains, no such thing happened here in Chamoli. The damage was done only because of the hot sun. The weather was hot on Sunday and this led to the disaster," the MLA adds.
Asked if construction activity in the Himalayas led to the flood, Pratap says, "The river banks broke only after the glacier melted. If the glacier had not melted, then no flood would have come. So to blame this disaster on construction activity is wrong."
Though scientists are yet to decide as to what caused Sunday's horrific developments, many environmental experts have warned against the ambitious Chardham project, which they fear will lead to an ecological disaster in the ecologically sensitive mountains.
On Sunday, for reasons unknown yet, the Nanda Devi glacier broke and collapsed at Joshimath, leading to a massive flood in the Dhauli Ganga river which caused large-scale devastation, even washing away a small hydro electric power project.
"The situation is under control now and the rescue efforts are going on in a big way," says Prasad, speaking from the site of the rescure operations.
Asked how many people are still missing, Pratap said, "My latest information tells me that there are 130 people still missing, but we are hopeful and praying to God that nothing will go wrong with them."
"From the time I reached here, I have seen 18 people being rescued by different government agencies who are involved in the rescue efforts," the MLA says.
Asked what kind of difficulties the rescue teams are facing on the ground, Pratap explains, "Five villages in Chamoli are completely cut off because of the floods. And this happened because bridges have collapsed."
"The challenge is now to find the labourers who were working on the ground on different projects. There are labourers who are missing, but our rescue team is doing its best to find them."
"We are praying to God that all of them get rescued soon."