'In Maharashtra he didn't buckle under pressure.'
'We expect him to do the same as the CBI Director.'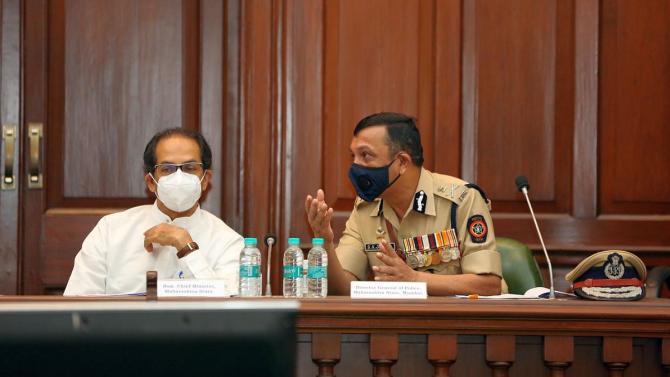 From Maharashtra director general of police to Central Industrial Security Force director general to his appointment as director of India's premier investigation agency, the Central Bureau of Investigation, Indian Police Service officer Subodh Kumar Jaiswal has always kept his head high as a professional.
It was his righteousness that reportedly got him into the crosshairs of the Maha Vikas Aghadi government led by Chief Minister Uddhav Balasaheb Thackeray and made him seek central deputation, a senior police officer, who has seen the 1985 batch IPS officer's professional career from close quarters, told Prasanna D Zore/Rediff.com, on the condition that his identity not be disclosed in this report.
The proverbial last straw that "broke the camel's back," says this officer while explaining why Jaiswal sought central deputation, "was the rejection of his recommendations related to transfer of 38 police officers by the (then) home minister (Anil Deshmukh) and the CM."
"They removed his entire list of recommendations and threw it out," he says. "For God's sake, he is the state DGP; don't treat him like that!" the senior police officer continues.
"To top it all, he was often insulted since August 2020 by his political bosses ever since ministers of the Maharashtra government publicly levelled charges against Jaiswal and former State Intelligence Commissioner Rashmi Shukla of being hand-in-glove with the BJP for toppling the state government," he adds.
Shukla, who is currently additional director general of south zone, Central Reserve Police Force, Hyderabad, faced charges of illegally wiretapping conversations among ministers of the Maharashtra government and based on these conversations had written a letter to DGP Jaiswal in August 2020 about corruption in the transfer of police officers.
In March, former chief minister Devendra Fadnavis -- now the leader of the Opposition in the Mahashtra assembly -- cited Shukla's purported letter to Jaiswal to take on the Thackeray government.
Fadnavis had picked Jaiswal to become Mumbai police commissioner in 2018; in March 2019, the September 22, 1962 born officer became the state DGP.
Jaiswal sought central deputation in January 2020 and was promptly issued a 'no objection' by the state government. Before being appointed CBI director in May 2021 -- by a panel consisting of the prime minister, Chief Justice of India N V Ramanna and Adhir Ranjan Chowdhury, leader of the largest party in the Lok Sabha -- Jaiswal was DG, Central Industrial Security Force after he moved out as Maharashtra DGP.
Between March and April 2021 the Maharashtra government was rocked by former Mumbai police commissioner Param Bir Singh's allegation that home minister Anil Deshmukh, who later resigned, asked police officers to extort Rs 100 crore (Rs 1 billion) every month as protection money.
The CBI registered a case against Deshmukh on the direction of the Bombay high court on April 5, based on a petition filed by Singh.
Will there be a political witch-hunt?
The CBI is now headed by Jaiswal, the third IPS officer from the Maharashtra cadre -- the first two being John Lobo and Mohan Ganesh Katre -- to hold the coveted post.
While murmurs have begun in political corridors of a witch-hunt by the Union government against the Maharashtra government using the CBI inquiry against Deshmukh as a stick to browbeat the Thackeray Sarkar, two retired IPS officers vouch for Jaiswal's integrity as a professional and a no-nonsense cop.
"Since his professionalism is well known and respected, I do not think a fair and impartial investigation poses any challenge to an officer of his calibre. He will go strictly by the law as he is known to," avers Dr Meeran Chadha Borwankar, an IPS officer of the 1981 batch, four years Jaiswal's senior.
"I do not think he will buckle down. He has very strong views on policing as per law and I am confident that he will stand by them as he always has. His supervision of the Telgi stamp paper scam under the guidance of our highly respected director general the late S S Puri proved that he is capable of taking tough decisions even at the cost of his own convenience," Dr Borwankar explains why Jaiswal won't buckle down under political pressure from the Union government.
That said, leaders from the Shiv Sena, Congress and the Nationalist Congress Party are wary of what lies in store for the state government in the days ahead.
"Let's wait and watch," is how a Congress minister in the Mahastra government puts it.
The unanimous choice
Jaiswal has been the selction panel's unanimous choice after Chief Justice India Ramanna insisted that no officer with less than six months tenure left should hold the office of CBI director thereby eliminating two reported favourites of the Modi government -- Y C Mody, director, National Investigation Agency, and Rakesh Asthana, director general, Border Security Force -- from contention.
While NCP and Shiv Sena leaders privately express a fear of a political witchhunt by the Modi government, in public they express their good wishes for Jaiswal.
"We welcome his appointment as CBI director and know that he will bring further glory to the Maharashtra cadre and give him our best wishes," says Sachin Sawant, spokesperson for the state Congress party.
"We expect that he will bring back the glory which the CBI lost during the last seven years (of the Modi government)," adds Sawant. "The CBI has been used as a political weapon for the last seven years against the Opposition and to further the BJP's political agenda."
Being 'Rommel'
There is more to Jaiswal whose 36-year service as an IPS officer has seen him perform stints at the Maharashtra Anti-Terrorism Squad, head the state's intelligence department in 2008 when the Mumbai terror attacks took place, and then spend 10 years in the Research and Analysis Wing before he returned to Mumbai as police commissioner.
"He is a shy person, press-friendly but not publicity-hungry," is how Mumbai police and military historian Deepak Rao describes Jaiswal.
In 2006, Rao was the lead researcher of a coffee table book on Mumbai police, commissioned by the editorial team comprising then Police Commissioner Anami Narayan Roy, Additional Commissioner of Police Subodh Kumar Jaiswal and DCP Deven Bharti.
"He is also a history buff," recalls Rao. "You can discuss any significant battle that took place during World War II. He can easily write two encyclopediae on World War II," adds Rao.
Jaiswal's batch-mate and former CBI officer Yogesh Pratap Singh, also from the Maharashtra cadre, who quit the police force 'mid-way', as per his brief Twitter bio, over differences with his political bosses, also vouches for Jaiswal's love for history and professionalism as a cop.
"He is an authority on World War II," adds Singh.
According to Singh, Jaiswal's batch-mates at the Police Academy given Jaiswal's knack for discipline, focus and professionalism had nicknamed him 'Rommel' after Field Marshal Erwin Rommel, one of Adolf Hitler's top generals, much respected by the Allied forces during World War II for his focus and professionalism.
"Very straightforward; no-nonsense; a strong believer in discipline and hierarchy; an intensely hard working officer; a fitness freak, he has balanced career and family very well. A very rare kind of officer," says Dr Borwankar about Jaiswal.
"Many people may not know that he is also an excellent horse rider and has a fondness for horses," says Rao. "As Maharashtra DGP, Jaiswal introduced the horse-mounted police in the state," Rao informs.
Handling political pressure
Now that Jaiswal is firmly in the CBI saddle for the next two years and given that he will be handling a series of politically sensitive cases, will he exhibit the same no-nonsensical approach, which he displayed in Maharashtra, when dealing with his political bosses?
"It's tough for an honest IPS officer to work in the CBI," cautions Singh, who too has served in the CBI, "because lot of extraneous pressures are brought in regarding which case to register, and which case not to register."
"Though Jaiswal is a strict and honest officer, he will be under tremendous pressure but he has to handle it professionally, and he will because he is a no-nonsense officer," adds Singh.
"In Maharashtra he didn't buckle under pressure either as the CP or DGP," recalls Singh about his tiff with the state government over alleged corruption in transfer of IPS officers.
'We expect him to do the same as the CBI Director," he adds.
So, what could be Jaiswal's toughest challenge as the top-boss of the CBI?
"To handle politically sensitive cases and to be tough on corrupt BJP politicians because there are corrupt politicians in all political parties," Singh says.
"That will be his main test -- to investigate corruption charges against people in power and see if he takes on those in power and his political bosses."