Harjit Singh Sajjan is the first Sikh to hold the top defence job in a foreign land.
And this, says Monali Sarkar, is his first official trip to the country of his birth.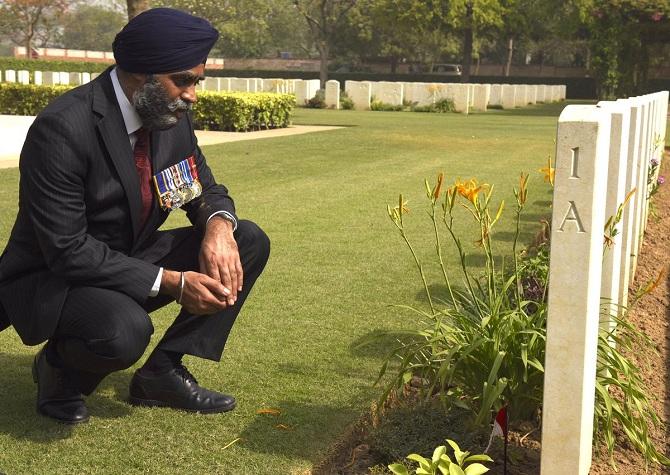 Photograph: Kind courtesy @HarjitSajjan/Facebook
Harjit Sajjan began his first visit to India as Canada's minister of national defence with a stop at the Commonwealth War Cemetery in New Delhi, one of the many around the world that are dedicated to soldiers who died in the two World Wars.
Eighteen Canadians lay among the fallen at this cemetery. He said the visit was a particularly 'poignant' one.
Sajjan was born in Punjab and migrated to Canada with his family when he was 5 -- incidentally a beneficiary of the immigration reform introduced under Canadian Prime Minister Justin Trudeau's father, then PM Pierre Trudeau.
He is the first Sikh to hold the top defence job in a foreign land.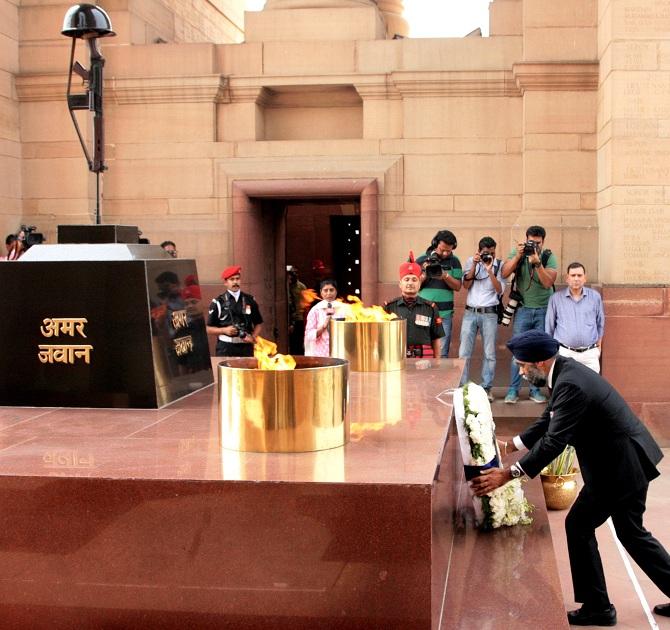 Photograph: Press Information Bureau
He also laid a wreath at the Amar Jawan Jyoti, noting, 'India's contribution to supporting peace has come at a great cost. Paying respects to those who have paid the ultimate sacrifice.'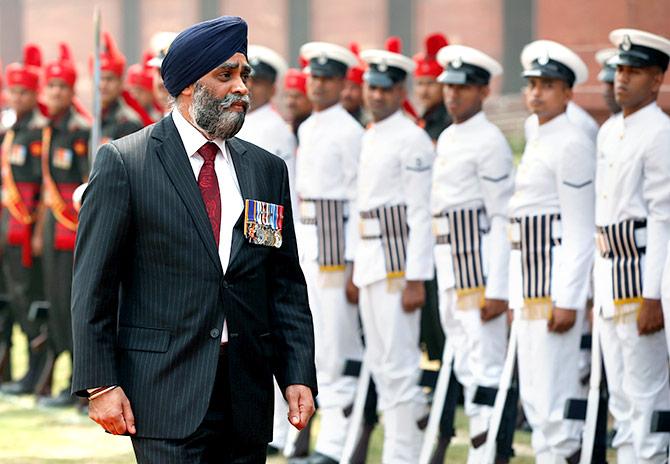 Photograph: Adnan Abidi/Reuters
Sajjan was accorded a guard of honour during his ceremonial reception in New Delhi.
He has served in the Canadian army's reserve force with deployments in Bosnia-Herzegovina and Afghanistan. He also became the first Sikh to command a Canadian reserve regiment.
Photograph: Adnan Abidi/Reuters
'India's Tri-Service Guard of Honour makes a lasting impression,' Sajjan tweeted.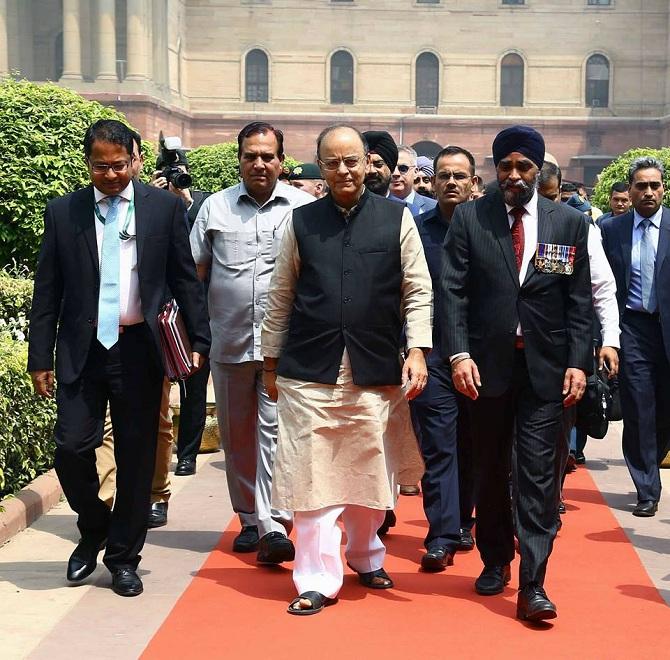 Photograph: Kind courtesy @ArunJaitley/Facebook
A key engagement during the trip was Sajjan's meeting with his Indian counterpart Arun Jaitley. He said they had 'a great discussion… about opportunities to strengthen Canada-India defence relations.'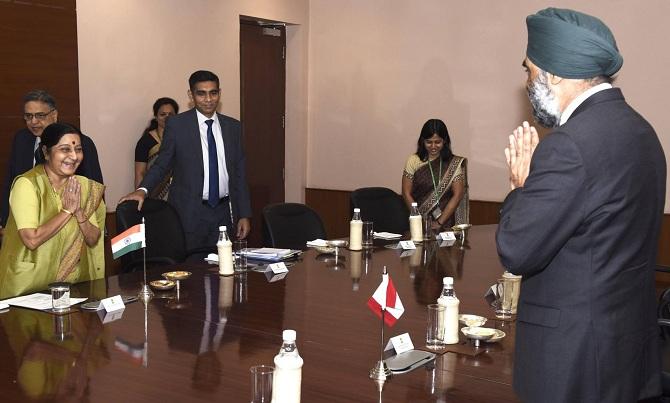 Photograph: Kind courtesy @HarjitSajjan/Facebook
On his last day in New Delhi, Sajjan met with External Affairs Minister Sushma Swaraj.
'The Canada-India bilateral relationship is strong and I look forward to further growing the ties that bind us together as two countries dedicated to peace.'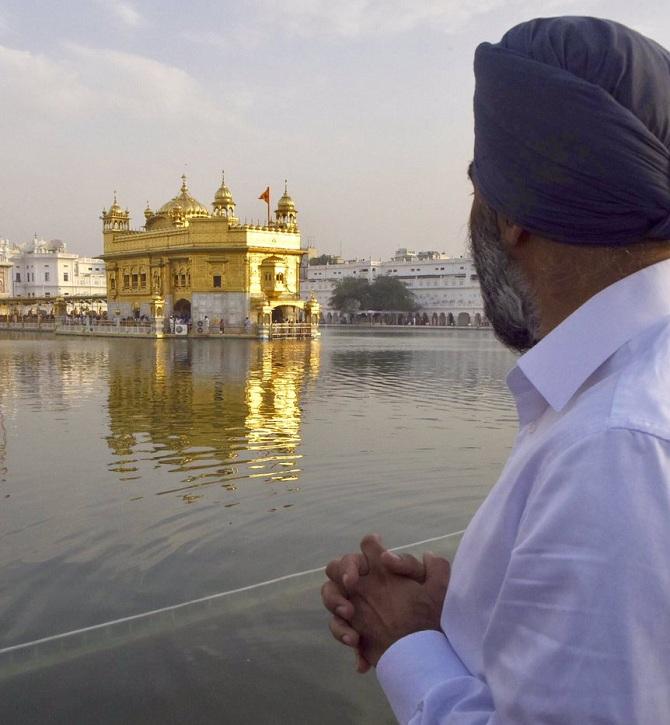 Photograph: Kind courtesy @HarjitSajjan/Twitter
From Delhi, Sajjan went to Punjab, where he paid obeisance at the Golden Temple in Amritsar. He spent around 15 minutes inside the gurdwara's sanctum sanctorum and was presented with a robe of honour.
Sajjan's Punjab visit became controversial after Punjab Chief Minister Captain Amarinder Singh has refused to meet him, dubbing him a 'Khalistani sympathiser.'
Asked about the allegation by the media, Sajjan said, 'I don't want to be sucked into the internal politics of a province of a nation. My goal is to build relationships. I am proud of the fact that I was born here.'
Photograph: Kind courtesy @HarjitSajjan/Twitter
Sajjan then visited a girls orphanage in Amritsar.
He said, "Today in Amritsar, we focused on charity and the importance of selflessness in order to make the world a better place... We visited the All India Pingalwara Charity. A charity that provides education, medical support, housing and much more to those less fortunate. We then visited Unique Home Jalandhar, which is a home that helps raise abandoned girls to be educated and independent women. They are supported by the @MamtaFoundation in British Columbia."
Sajjan also visited his native village of Bambeli after 16 years, where he was accorded a warm reception.
The Indo-Canadian lawmaker is scheduled to travel to Mumbai next.
---