'It is a ticking time bomb if the authorities don't come forward to help these hapless people.'
Prasanna D Zore/Rediff.com reports.
Photographs and videos: Kind courtesy Mayank Garg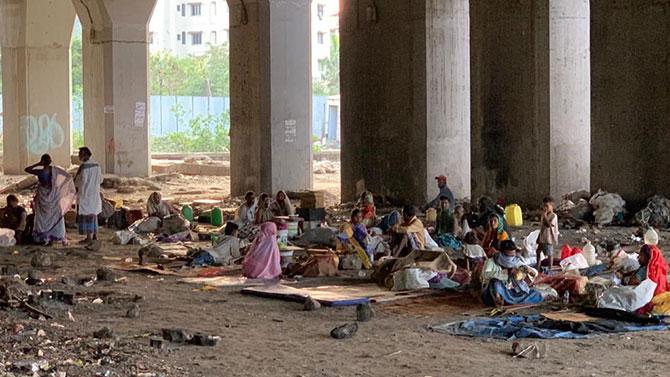 Mayank Garg, a good samaritan like Pappu Qureshi, describes the plight of about 500 people who live under a bridge in Mumbai with not much food and sanitation facilities as the COVID-19 pandemic and the chaos it heaped on the homeless becomes starker.
"It is a ticking time bomb if the municipal authorities and state government don't come forward to help these hapless people with adequate food and sanitation facilities," says Mayank about the living conditions of the 500 people who have taken refuge under the Lokmanya Tilak Terminus flyover in Kurla, north east Mumbai.
While 300 of these are daily wagers who lead a hand-to-mouth existence and sleep on the pavements and footpaths, the rest are migrant labourers who missed their train from the Lokmanya Tilak Terminus on the night of March 24, as Prime Minister Narendra Damodardas Modi announced the national lockdown at 8 pm that evening to contain the spread of the pandemic.
"These migrant workers were not able to board the train on the night of March 24 due to the heavy rush when the lockdown was declared. They were left with no option but to hang on in the area around LTT," says Mayank.
"Since the terminus is closed from the inside and as they are not allowed to stay outside the station in the parking area, these people have taken shelter under the LTT flyover just outside the terminus," adds Mayank.
Most of these Indians hail from Uttar Pradesh, Bihar, Chhattisgarh and Odisha and are employed in the construction, hotel, housekeeping industry, doing odd jobs like painting and washing of vehicles for their livelihood.
When Mayank (in light blue shirt) and his friend Santosh Papade (in black tee) found out about these people they rushed to the spot to check if they could help.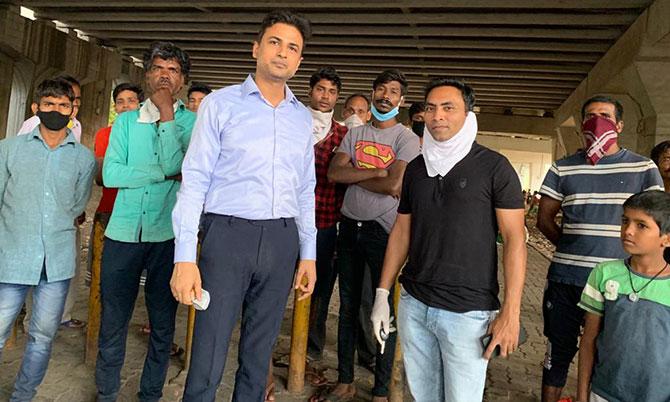 Mayank, a real estate professional, and Santosh, who runs a restaurant, have been actively participating in charitable work supporting street children and homeless in their neighbourhood. They knew only too well how people who a live hand-to-mouth existence suffer in such circumstances.
Mayank has also donated money to support Pappu Qureshi's cause and that of a Vishwa Hindu Parishad-run camp at Indira Nagar, Mankhurd, north east Mumbai.
Two cooks at Santosh's restaurant veg Sutra keep busy the whole day to prepare meals and pack them neatly so that it reaches these people at lunch and dinner time.
But with meagre resources at their disposal, the logistics challenges, and the challenge to deal with the police, who in the beginning did not allow Mayank and Santosh to supply food to people staying under the LTT flyover bridge, Mayank now wants to highlight the sad state of these people so that either the local administration provide them with food and sanitation facilities or help get funds so that they keep feeding these people.
Mayank says that only after he communicated with Bharatiya Janata Party MLA Parag Shah (the people under the flyover are located in a neighbouring assembly constituency), who sought help from an additional commissioner of police was he able to get police permission to ply the vehicles carrying food, toiletries, water and other essential requirements.
"We have been providing food and water and other stuff to these people since the noon of March 25," says Mayank.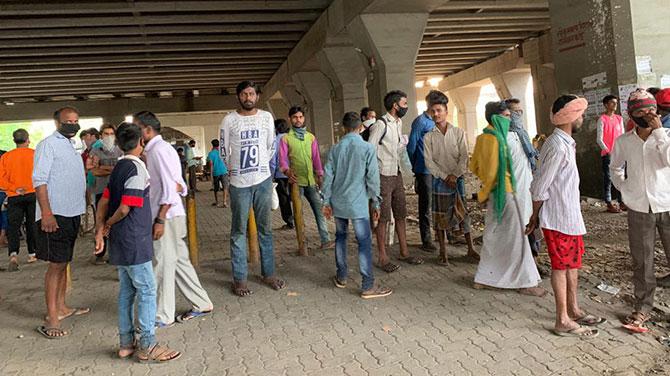 "We have been doing our best to rustle up money, groceries from family and friends, but arranging these things for the next few weeks may prove to be an uphill task for us," he says about the challenge he is facing.
What Mayank needs right now for these migrants and daily wagers is drinking water, food supplies, soaps, toiletries, medical help and medicines, sleeping mats. He says that the municpal authorities or the state government should properly rehabilitate these 500 people so that they can avoid getting infected with the coronavirus.
"One lady is nine months pregnant and due for delivery anytime," he says.
"Since we have been providing help there by using our own funds and mobilising funds from our group/acquaintances and not taking help from any institution or the government, now the funding sources are drying up and challenge is in providing these supplies on a regular basis," adds Mayank.
Though there are individuals who are helping them, the challenge is getting bigger now, says Mayank.
"The main need of the hour is they need to be rehabilitated to some proper place. Social distancing is also a key challenge here."
"I only hope that highlighting the deplorable condition of these people through Rediff.com can bring these people the necessities they don't have right now."
"I sincerely wish the government takes cognisance of these people and help them with proper accommodation, hygiene and sanitation facilities."
---
If you wish to help these people with donations, toiletries, food, sleeping mats or other material help, you can contact Mayank at 9920544437.
---