Women and children have been given short shrift with these crucial sectors facing substantive budgetary cuts, discovers Rashme Sehgal.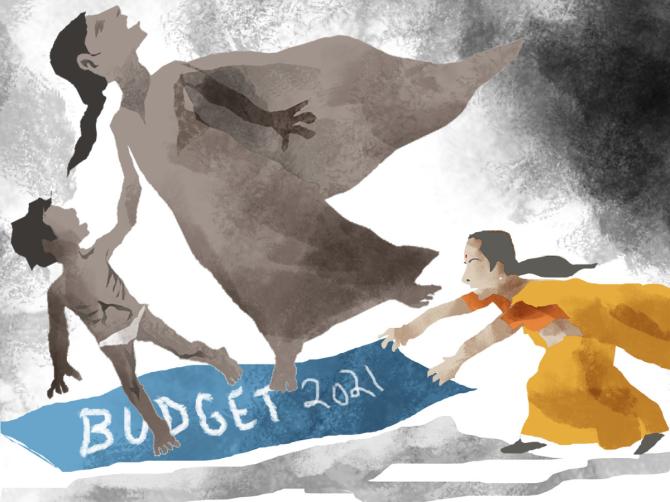 The Budget since the pandemic has seen the government ride rough shod over the poor and vulnerable.
Women and children have been given short shrift with these crucial sectors facing substantive budgetary cuts.
Statistics released by UNICEF and WHO's Global Health Database in 2020 had emphasised that nearly 50 per cent of Indian children are underweight; the corresponding figure for sub-Saharan Africa is 24 percent.
Worse, malnutrition remains one of the leading causes of all childhood deaths in India.
Women and children have borne the brunt of displacement and of losing out on education and food subsidies during the pandemic.
And yet allocations for these most marginalised and vulnerable sections are facing substantive cuts.
Government statistics show that over 6.7 million women were displaced from the labour force during the lockdown from which 2.3 million were rural women and another 4.4 million were urban women.
They have faced the deepest losses when the labour force contracted by over 27 per cent.
Budged 2021 simply airbrushed their problems aside as though they did not exist.
Allocations for the ministry of women and child development and school education have seen substantial cuts.
The allocation for the ministry of women and child development for the current year is Rs 24,435 crore (Rs 244.35 billion) as opposed to the Rs 30,000 crore allotted in the last Budget.
Finance Minister Nirmala Sitharaman had last year also announced another Rs 28,000 crore (Rs 280 billion) for a slew of women-centric schemes.
By a clever sleight of hand this year's Budget has clubbed several of the services of the ministry of women and child development missions thereby dispensing the need to give them an individual corpus.
Anganwadi services and what was earlier described as the Integrated Child Development Services has now been dubbed Sanksham Anganwadi and PODHAN 2.0 along with the National Creche Scheme and the Scheme for Adolescent Girls all of which have been given an allocation of Rs 20,105 crore (Rs 201.05 billion).
Several autonomous bodies under the ministry of women and child development such as the National Institute of Public Cooperation and Child Development and the Central Adoption Resource Agency have seen substantive budget cuts.
Shailabh Kumar, co-convenor, HAQ Centre For Child Rights, points out that the Integrated Child Protection Schemes have now been given the nomenclature of Mission Vatsalya and has had its budget slashed by over 40 per cent.
"The juvenile homes, different childcare services such as child care homes and different child care programmes are also facing major cuts," says Kumar. "The government wants private players and NGOs to come forward to run these homes which is not going to be an easy task."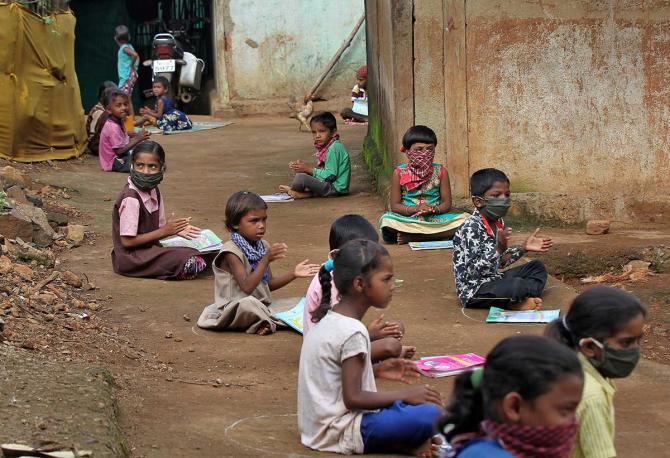 The government has received enough evidence to show a rise of child labour during the pandemic as also an increase in child trafficking in the post lockdown months.
The closing down of schools for a large part of the last year and education moving online has seen millions of children losing out on their educational opportunities.
Instead of facilitating their educational needs, the education ministry will now receive a little over Rs 93,224.31 crore (Rs 932.24 billion) in 2021-2022 which is Rs 6086.89 crore (Rs 60.86 billion) less than last year.
Even the government's flagship programme for school education called the Samagra Shiksha Abhiyan will receive Rs 31,050 crores (Rs 310.50 billion) which is lower than the Rs 38,751 crores (Rs 387.51 billion) it received last year.
But this is a programme aimed to provide quality education for students who are already doing well.
What is the government doing for millions of children who are studying in government schools but have lost out on their education due to the pandemic.
In fact, the total National Education Mission allocation which includes teacher education is also down from Rs 38,860.50 crores (Rs 388.60 billion) to Rs 31,300.16 crores (Rs 313 billion).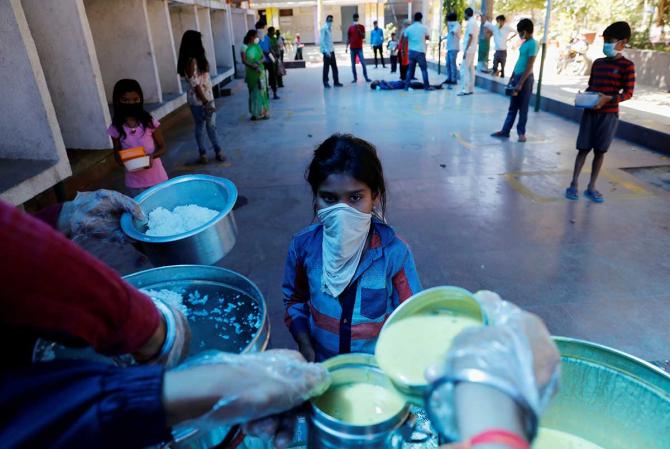 The allocation for the crucial mid-day meals has come down to Rs 11,500 crores (Rs 115 billion) from the revised estimates of last year which were Rs 12,900 crores (Rs 129 billion).
Activists believe this cut will hit the government's programme to fight child nutrition.
"You cannot slash social sector budgets to boost infrastructure spending in a bid to fasten the pace of economic recovery. We seem to be forgetting that India has one of the highest rates of child malnutrition with four out of ten stunted children in the world coming out of India," pointed out an activist.
The ministry of women and child budget budget was cut under its earlier minister Maneka Gandhi.
When this happened, a shocked Gandhi had emphasised that her ministry was already having to oversee the feeding of over 100 million people and her current budget was just enough to pay salaries of her 2.7 million health workers.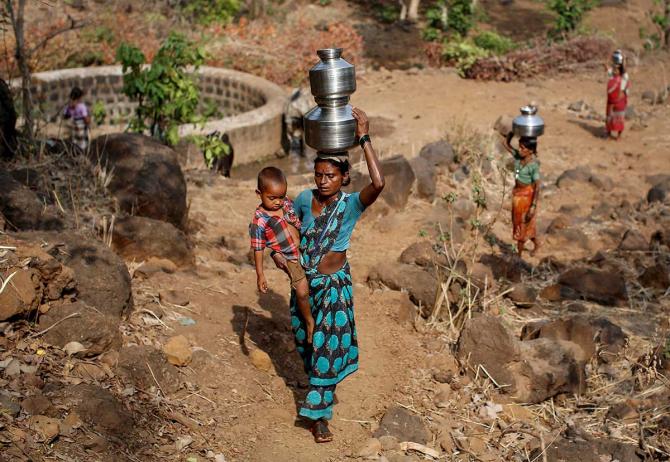 The allocations for the health sector in the current budget are being made out to be a game changer but K Sujata Rao, former secretary in the ministry of health, believes to the contrary.
The Budget outlay of Rs 2.23 lakh crore for 'Health and Well Being' is a ten per cent increase from last year's Budget.
From this Rs 35,000 crores (Rs 350 billion) is the allocation for COVID-19 vaccination.
But this also includes an allocation for the department of drinking water and sanitation.
"When we talk of the health ministry, we are talking about doctors, nurses, hospitals, equipment and, of course, patients. Including the drinking water and sanitation department as part of health is being very dishonest because while these are essential components for good health," Rao points out, "they do not fall under the sectoral allocation being made for health."
"Rs 10,000 crore (rs 100 billion) is the actual increase in allocation that has been made for health sector which is not much. (Actual allocation is Rs 71,268.77 crore for 2021-22 )," the former health secretary adds, "But the state of the economy is so bad. Where is the government going to get the money remains the key question?"
Budget 2021 shows the government is back to its pre-pandemic thrust.
It is almost as though the pandemic did not happen at all.
Activists believe the government is definitely behaving as though the pandemic is a thing of the past.
Nikhil Dey, social activist with the Mazoor Kishan Shakti Sangthan, is shocked that the government has reduced the MNREGA package to Rs 73,000 crore (Rs 730 billion) from the Rs 1.15 lakh crore spent last year.
"Does the government really believe that rural distress is over? They seem to be forgetting that MNREGA is a demand driven programme," says Dey. "Curtailing it will mean less jobs and less food security," said Dey.
The Budget has also slashed food subsidies from Rs 3.4 lakh crore to Rs 2 lakh crore.
"The FCI godowns are overflowing with over 100 million tonnes of wheat and rice. They do not want to use it," says Dey. "They want to keep this grain for budgetary balancing."
Budgetary cuts are part of the story.
Akhila Shivdas, director for Centre for Research and Advocacy, believes an even greater emphasis must be paid to ensure proper implementation of these schemes and this can only be done with a strong engagement of the local communities.
"It is only then that even the little will get used," says Shivdas. "Public involvement alone will help ensure accountability.".
Rashme Sehgal has had a long career in journalism and has reported for The Times of India, The Indian Post among other newspapers.
Feature Presentation: Ashish Narsale/ Rediff.com