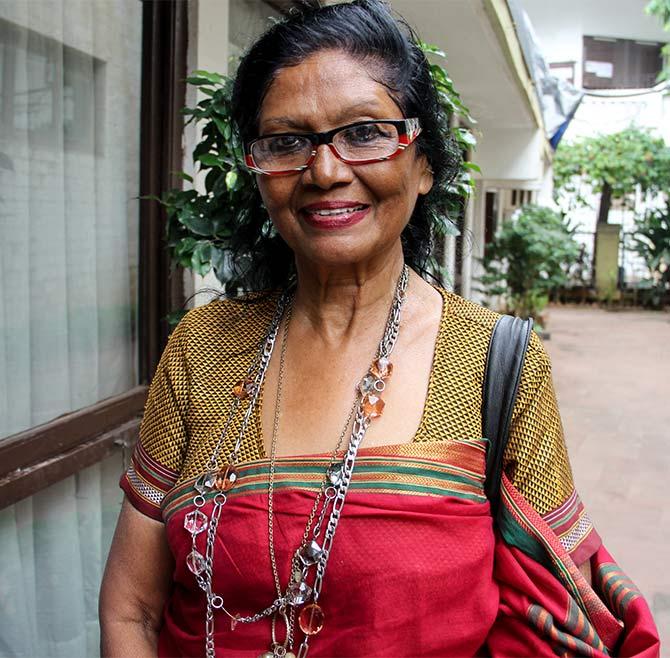 IMAGE: Olga Tellis, one of the legends of Indian journalism. Photograph: Uttam Ghosh/Rediff.com
'There is too much news about film stars. There is too much fawning over wealth and power. There is a grey area between seriousness and triviality in news reporting now.'
'Mumbai is still a magnet. All the politicians have property in Mumbai. Politicians are the biggest racketeers here.'
Olga Tellis, the legendary reporter who completed 50 years in journalism, tells A Ganesh Nadar/Rediff.com about her life and experiences.
When I was very young I liked politics. My father's friend Lambert Mascarenhas, who now lives in Goa, used to bring out a weekly newspaper. Seeing my interest in writing, he asked me to write for him. I used to do soft interviews for him. Later there was a vacancy in Onlooker magazine. I applied for it and got the job. Then I joined the Anandabazar Patrika group.
I have never done anything else. I have always wanted to be a journalist. Other careers never crossed my mind.
I never considered myself a woman journalist. I was a journalist. I never faced any discrimination. All senior journalists helped me. If you have a thirst for knowledge, people help you.
The political leaders that I have met and respect are Dr Datta Samant, Ahilya Rangnekar, Mrinal Gore and Madhu Dandavate to name a few. In the early seventies there was drought in Maharashtra for a couple of years. I have travelled all over rural Maharashtra with these leaders.
I saw how people are treated by the government. I saw extreme poverty and how people were being completely neglected by the government. These leaders worked for the people.
The Sudhakarrao Naik government pioneered the employment guarantee scheme (in Maharashtra) which was commendable, but it consisted of jobs like breaking stones. Elderly women were sent to work in the hot sun. It was heartrending.
Different business leaders have their own good points. I was impressed with S S Nadkarni -- he was the chairman of the IDBI Bank. He was a man of vision. Then there was economist Dr R H Patil. He was the architect of the National Stock Exchange. He was a humble man who brought a revolution in the stock market that left the 100-year-old Bombay Stock Exchange way behind.
Many of the stories that I have written have had an impact. One I recall -- I had done a story on an irregularity in the BSE. It brought the markets down and the then president of the exchange resigned.
There is no such thing as a difficult story. It is the love you put into a story. Every story is important. I liked my columns the most. I used to write a column called Garibi Hatao in Blitz. It appeared without my name for ten years.
I have never faced pressure to drop a particular story. When people know that you are honest and not biased they treat you professionally.
There has been a tremendous change in journalism in the last 50 years. There has been an explosion in the media. So many newspapers, magazines and channels that give more opinions than news, they show so much bias.
Good things are also reported. Social work in rural areas is now being reported. But there is hardly any effort to understand farmers' issues.
Now there is too much news about movies and film stars. It is more personality oriented now. It is never only the truth.
There is too much fawning over wealth and power. There is a grey area between seriousness and triviality in news reporting now.
I am not cynical because I love my work. It never gets boring. Every day is new. You never know what you will do the next day. I like people. I see how they cope with injustice. Injustice is infinite in our country. I feel sad when young people are cynical.
When I was at ABP I could write on anything. Ashok Kumar Sarkar the editor/owner was a super human being. He had faith in me. I was young and inexperienced, but he let me do what I want. I was their only reporter in Mumbai when I started out. So I could report on a variety of issues. I have retained that enthusiasm. In fact, I am more enthusiastic now.
In my free time I like to read and watch debates on television channels. I watch CNN and BBC in the night as the US stock markets function at that time. I read news-oriented books mostly on economics. I also meditate regularly.
Meditation and yoga have played a great part in shaping me. I never leave home without doing meditation, and now I am doing yogic healing courses. I never leave home without doing meditation on my chakras.
Another thing that changed my life and guides me till today is the Gita. That is why when Sushma Swaraj tried to make the Gita something exclusive to Hindus, I was the first to protest on Facebook. These people don't really understand the Gita, which is a way of life.
I have worked all my life in Mumbai. I love this city. I have never considered working in another city. I never needed to.
I do not think that Mumbai has lost out to Delhi in political power. Mumbai is still a magnet. All the politicians have property in Mumbai. Politicians are the biggest racketeers here. They all have one leg here even if they are in Delhi.
I have seen the transition of Mumbai from a textile city to a so-called financial capital. It is just the process of evolution. People living in far off suburbs traveling three hours a day is sad. It is the oppression of money power. The builder-politician-bureaucrat nexus is responsible for this.
Once when the municipal corporation in Mumbai was demolishing slums, a group of people had obtained a stay on the demolition during the monsoon. I went to court to stop demolitions till they found an alternate place. I wrote a letter to the Supreme Court chief justice and it was converted to a petition. The chief justice at that time was Y V Chandrachud.
IMAGE: Olga Tellis being felicitated at the Mumbai Press Club on completing 50 years in journalism. Photograph: Uttam Ghosh/Rediff.com
Ownership of media by corporate houses has made them biased today. They have their own agenda. Prime Minister Narendra Modi has some fabulous schemes. He is trying to empower people at the bottom of the pyramid. The schemes are beautiful. These schemes are not being promoted by the media. On the other hand they are being sarcastic about it.
Take the Swach Bharat programme emphasising the construction of toilets -- the Bill Gates Foundation has recognised it and want to participate in it, but our pseudo-elite and money bags are making fun of it.
I also do not understand this obsession with breaking news. Breaking news is a joke. It goes on for hours and it is still breaking news. Hardcore journalism still has its role, but trivia gets more prominence.
Over the years the journalists who have inspired me are Ashok Kumar Sarkar, Russi Karanjia, M J Akbar, Aveek Sarkar and now the Deccan Chronicle group that I work for. They always gave their journalists total freedom and that is a rare quality.
I have never thought of changing my profession because I do not know any other profession. I love my profession.
The stock markets are experiencing a lot of upheaval. We have a stockmarket that is manipulated. People are giving wrong information on television. There is too much doom and gloom. We need people to give positive advice. Spreading doom brings down the market and that helps certain people.
One of the defining moments of contemporary Indian history was the nationalisation of banks and insurance. Today banks are being privatised. Nationalisation helped the small farmer and the poor. The poor always paid their dues. In villages, banks take away your land, cattle and utensils if you don't pay your loan.
The rich borrow, don't pay and then go to court. P Chidambaram once said, 'They come to borrow in a Fiat, when they come to get their loan re-structured they come in a Mercedes Benz.'