'If I win, my victory will shatter the belief that caste is all that matters in Bihar.'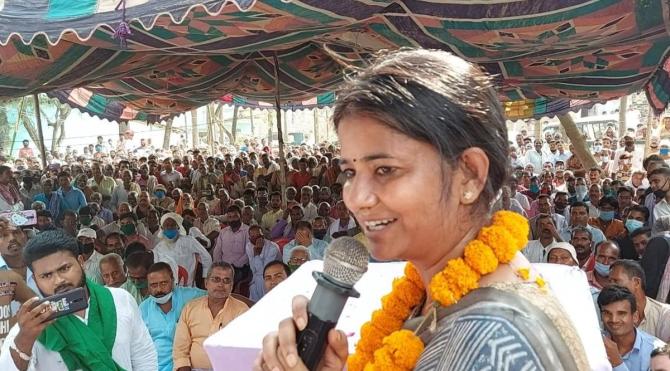 "Parties are not good or bad. Good people make a good party," says Ritu Jaiswal, 43, the award-winning sarpanch who is contesting the Parihar assembly election as a Rashtriya Janata Dal candidate.
Jaiswal's foray into public life began at the grassroots, literally at the first rung of India's governing framework -- at the panchayat.
She left city life to contest the sarpanch election in Singhwani, Sitamarhi district in 2016.
"She was moved by the plight of the people. The village had no electricity or roads," husband Arun Kumar, a former IAS officer who took early retirement in 2018 and runs a coaching institute in Patna, tells Rediff.com's Archana Masih.
"She proved herself. The panchayat has electricity and roads. Her efforts resulted in bringing the village at par with others."
Jaiswal's panchayat, Singwahini, was awarded the national panchayat award by the government in 2019.
"She has already marked her presence and voters know about the work she has done," says Arun Kumar, who has been assisting her in the election campaign.
Ritu Jaiswal joined the Janata Dal-United nine months ago, but left the party when she got an indication that she would be given a ticket from a different constituency.
"This is my karmbhoomi. I wanted to represent the same area," says Jaiswal, the candidate from Parihar.
A month-and-a-half ago, she started preparing to contest as an Independent; later the RJD offered her a ticket.
Three days ago, RJD leader Tejashwi Yadav addressed a rally in her support.
"I used to go around in one vehicle, 4 plastic mats to sit and a Rs 6,000 mike -- this is how I have done most of my campaign," says Jaiswal.
"I am going to usher a new style of politics. India needs a different approach to politics," says the mother of two.
"There has not been a single house that I have come across that does not send a migrant to earn a livelihood to a different state."
"These homes cannot light a fire to cook a meal if they don't have a family member working in another state."
The Lockdown forced families to take loans to get their loved ones home from far off states. "They had to take a double loan to then send them back because they could not earn a living here."
"Every home has a loan. To stay alive they are forced to take loans," says Jaiswal, who feels that products native to Bihar like sattu, flax seeds, makhana have not been developed and marketed to benefit the locals.
"Sattu is being sold as a post-workout energy drink, but what did Bihar get out of it?" she asks.
"We have never tried to make the village into a brand."
"Trains full of marigold and rajnigandha come from Bengal and fish comes from Andhra Pradesh. Our money goes to these states when we buy these products, why can't we produce all this in Bihar itself?"
"Nitish Kumar has admitted that he failed to get industry into Bihar. At least he could have promoted what is already here," she says.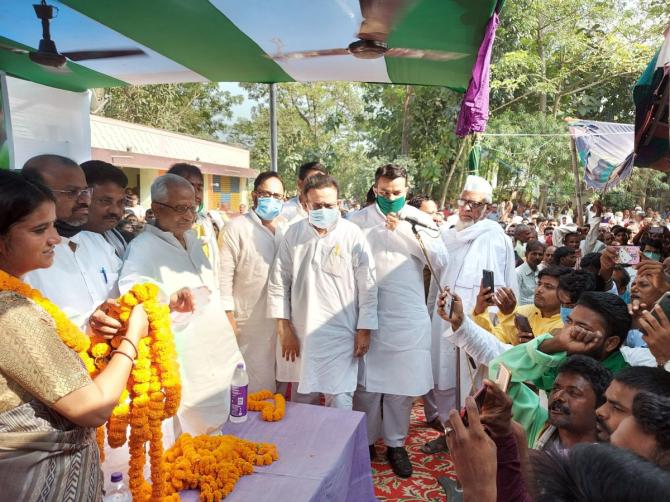 Jaiswal says she is 'development-minded' and feels it was quite unusual for the RJD to give her a ticket in Bihar's caste politics.
"There are just 8,000 votes from my caste here, I am in a minority. In spite of the caste-factor which plays the most important role in Bihar politics, the RJD chose me as a candidate," she says.
"This is an indication that the party is moving towards a new direction."
Jaiswal explains that parties that have been out of power for 15 years usually are averse to taking such political risks, but the fact that RJD selected her meant that there is acceptance of those who do good work.
"If I win, my victory will shatter the belief that caste is all that matters in Bihar," she says.
"It will trample that entrenched mindset and reveal people prefer those who rise above caste and work for all."
Jaiswal says voters also have to do their bit if politics has to change for the better.
"People must understand that honest people don't have money power. It is up to the people to choose good and honest people."
"I have had people who have donated Rs 10 and 20 for my campaign fund," she says.
"For me that is not fund, that is faith."
Feature Presentation: Aslam Hunani/Rediff.com