Rediff.com's Prasanna D Zore meets the guiding spirit behind the Children Against Dow-Carbide in Bhopal.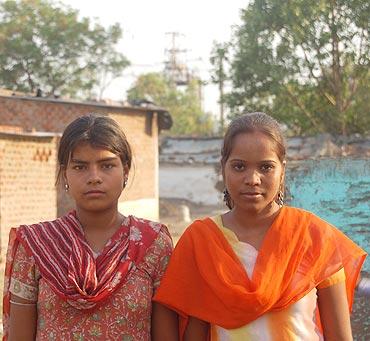 In September 2008 a group of 500 people chained themselves up outside the official residence of India's prime minister. They had walked 800 kilometres in 36 days, all the way on foot from Bhopal. This group included 20 children aged between 10 and 16.
These protesters wanted the prime minister to petition Dow Chemicals to clean up their water resources -- lakes, ponds, water tables etc -- polluted by Union Carbide of India ever since it set up its factory in 1969 in Bhopal.
Ajay Malviya, a resident of Prem Nagar, located on the periphery of Union Carbide India's Bhopal factory, was just 10 years old.
Though Ajay walked the distance from Bhopal to Delhi, his sister Sareeta, then 15, could not participate because of her Class X exams. Nonetheless, she was instrumental in inspiring and sensitising children in Prem Nagar about the dangers they confronted due to water pollution.
Sareeta, seen, above, right, with her friend Nidhi, made up for her inability to go to Delhi and fight against Dow by setting up a children's movement, the Children Against Dow-Carbide.
"We wanted the world to know how the water pollution in Bhopal was harming children here," she says when asked about the purpose of young children taking up on the might of huge multinationals.
Today more than 100 children, between 10 and 18, from 18 neighbourhoods surrounding the Union Carbide factory in Bhopal meet every Sunday to chart a course of action for the next week.
"We take up issues like water shortage in our respective localities and medical problems faced by children because of water pollution. We mobilise children by going to their houses and telling them about the harmful effects of water pollution and how to remedy small allergies we suffer because of the chemical pollutants in air and water," explains Sareeta.
The children actively participate in demonstrations launched by organisations like the Bhopal Group for Information and Action, the Bhopal Gas Peedit Stationery Karmachari Sanghatan and the Bhopal Gas Peedit Mahila Purush Sangathan Morcha which act as pressure groups against the state and central governments because of their inability to get justice for the victims of the Bhopal gas tragedy.
"Last year we burnt an effigy of (Minister of Environment and Forests) Jairam Ramesh in a prohibited area for his support of Dow," says Sareeta.
For her age and background Sareeta is quite resourceful and knows a great deal about the Bhopal gas tragedy.
Ask her why she is fighting Dow Chemicals when the gas leaked out of the Union Carbide India factory, a subsidiary of Union Carbide Corporation USA, and pat comes the reply: Dow Chemicals should accept the responsibility because they took over UCC in February 2001.
"Bhopal is now Dow's liability," she says.
Sareeta and Safreen Khan, another member of Children Against Dow-Carbide, traveled to 36 cities in the United States between April 12, 2009 and June 5, 2009 to create awareness about the problems they faced in Bhopal because of Dow-Carbide.
During their visits to Boston, New York, Atlanta, Washington DC and Los Angeles among other cities they met with United States Congressmen Frank Pallone and Michael Capuano. Wherever these children went they put forth information about the birth defect rates in Bhopal (almost five times the national average), how allergies peeled off skins from Bhopal residents's legs and hands and how children in the poor colonies of Budhwara, Chhota Taalab, Blue Moon Colony, Gupta Nagar and PGBT College suffered from breathlessness and weakness because of the after-effects of gases that leaked out of the UCC factory in Bhopal and seeped into their water tables.
Photograph: Prasanna D Zore