The former BJP corporator was named by a villager in a police complaint made three days before the January 1, 2018 violence at Bhima Koregaon.
Yet, the police did not include his name in the FIR.
Jyoti Punwani reports.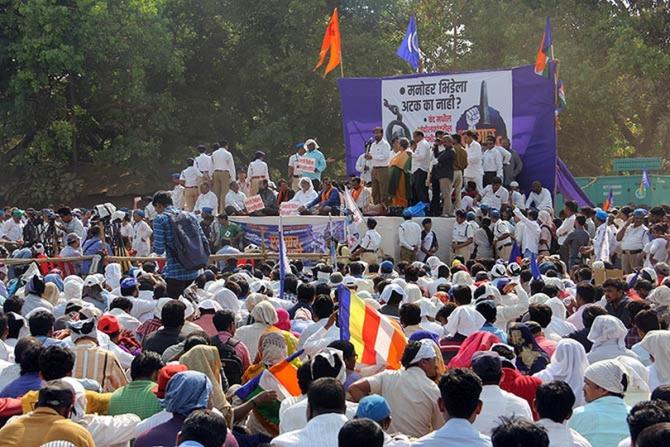 Once again, Milind Ekbote's name cropped up in the hearings of the Bhima Koregaon Commission of Inquiry.
64-year-old Ekbote, a former Bharatiya Janata Party corporator and head of the Samasta Hindu Aghadi, had been named by a villager in a police complaint made three days before the January 1, 2018 violence at Bhima Koregaon. Yet, the police had not included his name in the FIR filed about the incident.
Assistant Commissioner of Police Ramesh Galande, who was then in charge of the Shikrapur police station, admitted on Wednesday, February 2, under cross-examination by advocate Barun Kumar, that Milind Ekbote's name did not feature in the first information report filed on the basis of a complaint made on December 29, 2017, even though the complainant, Sushma Ovhal, had specifically named him and his organisation, the Dharmveer Sambhaji Maharaj Smruti Samiti.
The FIR featured 49 names, but not Ekbote's.
Galande was not the one recording the complaint, nor was he the investigating officer in the case.
However, he was at that time the senior police inspector at Shikrapur police station, which made him overall in charge of dealing with offences that occurred within its jurisdiction, said advocate Barun Kumar, lawyer for activist Harshali Potdar. Galande had therefore failed to perform his duty, he said.
Significantly, a fact-finding team led by then deputy mayor of Pune, Siddarth Dhende, had recommended action against police officers for their role in the Bhima Koregaon violence. Then senior inspector Ramesh Galande was on that list.
***
What was the incident in which Ekbote had been named?
On December 29, 2017, a fight broke out between the Marathas and Dalits of village Vadhu Budruk over a long-standing historical dispute about who had performed the last rites of the 17th century emperor Sambhaji Maharaj, whose samadhi is located in this village.
Dalits believe that it was a Dalit, Govind Gopal Gaekwad 'Mahar', who had defied Aurangzeb's orders that no one should conduct the last rites of the popular ruler whose body was mutilated by Aurangzeb's soldiers.
The samadhi of Govind Gopal Gaekwad 'Mahar' is also located at Vadhu Budruk.
Dalits who pay homage every year at Bhima Koregaon, where their ancestors helped the British defeat the Peshwas on Janaury 1, 1818, first stop at Vadhu Budruk to pay their respects at both samadhis: Of Sambhaji Maharaj as well as Govind Gopal Gaekwad 'Mahar'.
January 1, 2018, was the 200th anniversary of the battle of Bhima Koregaon, and Dalits were expected to converge there in much larger numbers than usual.
Three days before that, on the night of December 28, a board was put up by the Gaekwad family of the village, descendants of Govind Gopal Gaekwad, which told visitors that the samadhi of their ancestor was nearby.
This board angered the village's Marathas, who believe that it was their ancestor, Shivale Deshmukh, who had conducted Sambhaji Maharaj's last rites. They not only removed the board, but also desecrated Govind Gopal Gaekwad's samadhi, leading to a fight.
On December 29, the police were called and complaints filed by members of both castes against each other. Among these was the complaint by Sushma Ovhal, which named Ekbote and his Samiti as responsible for the removal of the board and the subsequent fight.
Incidentally, then senior police inspector Galande was present at the meeting held by the police to resolve this dispute on the afternoon of December 29. Though the fight seemed to have been resolved over the next two days, the Vadhu Budruk panchayat requested the authorities for special police bandobast since they said, slogans perpetrating a 'false history' would be raised by those coming to Bhima Koregaon.
Also, for the first time, a bandh was observed in the surroundings of Bhima Koregaon on January 1, called by Sambhaji Bhide's followers.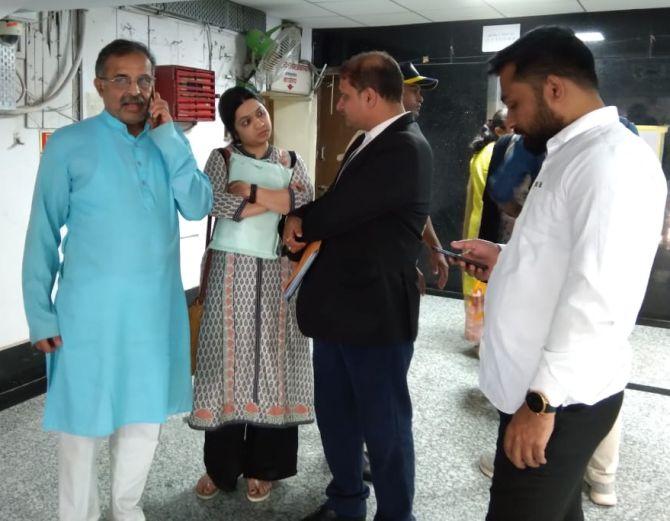 ***
The belief that Shivale Deshmukh had conducted Sambhaji Maharaj's last rites has been gaining strength since the last 30 years. Among those propagating it forcefully are Milind Ekbote and his Dharmveer Sambhaji Maharaj Smruti Samiti.
Vadhu Budruk's sarpanch Rekha Shivale had earlier testified to the Commission that Milind Ekbote and his Samiti had been running the affairs of Sambhaji Maharaj's samadhi along with the village panchayat.
Sambhaji Maharaj's death anniversary functions were financed by the village panchayat but Ekbote would be on stage along with her, said the sarpanch.
Milind Ekbote's name first cropped up in relation to the Bhima Koregaon violence two days after the attacks on Dalits on January 1, 2018, which degenerated into riots, wherein a Maratha youth, Rahul Fatangale, was killed.
The very first FIR filed for the violence named Ekbote and Sambhaji Bhide as the accused. Ekbote was arrested in March 2018 after the Supreme Court denied him anticipatory bail. He was released on bail in April.
Sambhaji Bhide got a clean chit from then Maharashtra chief minister Devendra Fadnavis and was never arrested.
Incidentally, Ekbote used to attend the Commission's hearings in its early stages, but though he had filed an affidavit, he refused to depose.
Ekbote was recently charged under sections 295, 298, 505(2), and 34 of the Indian Penal Code -- hurting religious feelings and incitement to violence for hate speeches delivered on December 19, 2021, at a function in Pune. Co-accused with him was Kalicharan Maharaj of Akola, who was arrested by the Chhattisgarh and Maharashtra police for speeches against Gandhi and Muslims made in Raipur on December 26, 2021.
Within a month of being charged, Ekbote, convicted for rioting in five cases and out on bail in the Bhima Koregaon case, got anticipatory bail on January 22.
Feature Presentation: Aslam Hunani/Rediff.com