Very few things can faze Madhukar V Kulkarni, a cop of 30 years. Yet, an innocuous smartphone scares him.
For the 88 year old and others like him in Maharashtra's cities, tech classes have stepped in to teach them how to embrace Skype & WhatsApp and stay connected with their families. Ranjita Ganesan reports.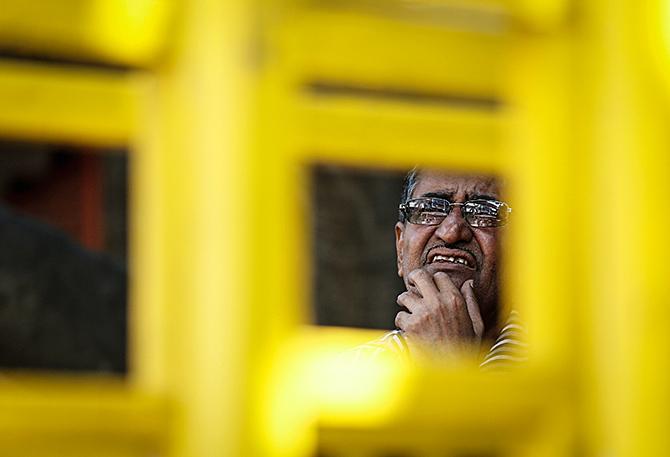 IMAGE: Several senior citizens in pockets of Mumbai and Pune are signing up for for smartphone orientation classes to overcome their inhibitions with technology. The need for it has grown in the wake of demonetisation. Photograph:

Danish Siddiqui/Reuters

.
As someone who served in Maharashtra Police's wireless department for more than 30 years, Madhukar V Kulkarni was used to dealing with high-pressure situations. But an uncharacteristic fear struck the 88-year-old former cop recently, and its source was an innocuous black rectangle: a new HTC smartphone gifted by his family. The Pune man, who had until then used a basic Nokia device, worried he would "accidentally touch the wrong icon and set it off".
Kulkarni's daughter-in-law, however, had anticipated this scenario and prompted him to attend sessions at a local not-for-profit organisation where seniors like him gather every Wednesday to get familiar with modern technology.
He began taking lessons in September, always writing notes. Young trainers -- still studying or straight out of college -- taught him things like how to save contacts or make calls. He checks WhatsApp message once every day before bedtime but while some others in his class learnt to take selfies, Kulkarni drew the line there. "I have no use for that."
He says everything he learnt in school and college is obsolete now. Several senior citizens in pockets of Mumbai and Pune are signing up for training to overcome their inhibitions with technology.
"Someone who is 80 now was around 50 when computers were first introduced and many of them decided they wouldn't learn at that stage," says Janaki Visvanath, founder of Pune-based Saathi Haath Badhana (SHB), which holds free sessions on the subject. "But with the pace of change now, they are feeling helpless. This know-how is necessary for making them independent."
Visvanath first discovered this need through another of her ongoing initiatives called 'listening post', where locals are invited to vent in the presence of patient ears.
At her snug office in Aundh, several seniors -- a majority of whom are active and well-heeled -- would talk of feeling lonely as their children were settled abroad. She first tried introducing group activities with other seniors but realised they wanted to connect with their kith and kin. She roped in four young assistants, including Arundhati Bhide, an instrumentation engineering student, and in April began teaching them to handle Skype and WhatsApp.
Demand has increased in the wake of demonetisation and the rapid move to make everything digital. The cash crunch caught them unawares. Despite reservations about e-wallets, they want to know how to use them. So, Visvanath has been briefing them about the government's UPI app or Paytm, and even arranged for meetings with an expert on internet banking.
Hema Wagh, one of the older locals who attended the session, says it will take another few sittings to feel comfortable with the idea.
Sheilu Sreenivasan of Dignity Foundation too believes the shift takes time. "While many senior citizens, especially men, do a lot of trading on the net, they still mind using plastic money or credit cards." Her organisation too has weekly smartphone orientation gatherings.
IMAGE: The fact that the interface varies a little in each handset, website, and mobile app adds to the challenge for the elderly. Photograph:

Dado Ruvic/Reuters

.
During the hour-long training session in Pune, trainer Bhide asks walk-ins what they already know. After a quick assessment of a first-time attendee's needs, she makes a customised list of topics to cover. A whiteboard bears basic tips on choosing and remembering passwords.
Bhide uses her own phone to demonstrate how to tweak settings, clean junk files, download an anti-virus app and install a taxicab app. She does not intervene, only guiding them where to look on the screen and they tap timidly until they land on the right icon.
The fact that the interface varies a little in each handset, website, and mobile app adds to the challenge. At times, older users almost immediately forget the steps they have to follow, and it takes a month of regular use before they are confident.
Some 9 per cent of India's population is over the age of 60. A 2016 study by Ericsson, aimed mainly at identifying growth opportunities in the mobile broadband sector, noted that there has been an increase in mobile broadband use in people over the age of 50. The primary motivations for them are to stay connected with loved ones, indulge in activities later in life, keep pace with the younger generation and follow work-related news.
Seniors have started warming up to the idea of logging on to the internet with their phones, agrees Dignity's Sreenivasan.
The group's main need, the Ericsson study identified, is "support in using smartphone features and digital services". Indeed, while many older users have hi-tech apparatus, they lack technical acumen. They are often gifted gadgets by enthusiastic relatives and most are not aware of the various models of smartphones, usually referring to their handsets simply as "an iPhone" or "a Motorola". However, while this group views technology as complicated, it recognises the value of using smartphones.
PewResearchCenter found through surveys that older Americans are less likely to have broadband or smartphones, but among those who do, a majority say it is a "liberating" experience.
These sentiments are echoed in Juhu's Vidyanidhi Info Tech Academy (VITA) that has offered computer lessons to seniors since 2004. A smartphone and tablet assistance programme was added this December.
Bandra resident Chander Nangia, who is a regular these days, says the internet acts as "the best secretary". He has learnt to look up numbers and addresses. The other favourites in this class are YouTube, which allows them to find old songs, and WhatsApp, where they can exchange shayari.
Unlike the Pune service, the classes in Juhu are paid-for. The Rs 3,000 fee for a period of one-and-a-half months is affordable for the students are from affluent families in Juhu, Bandra and Andheri. The school thinks a higher fee would deter them because investing in seniors is not really seen as profitable.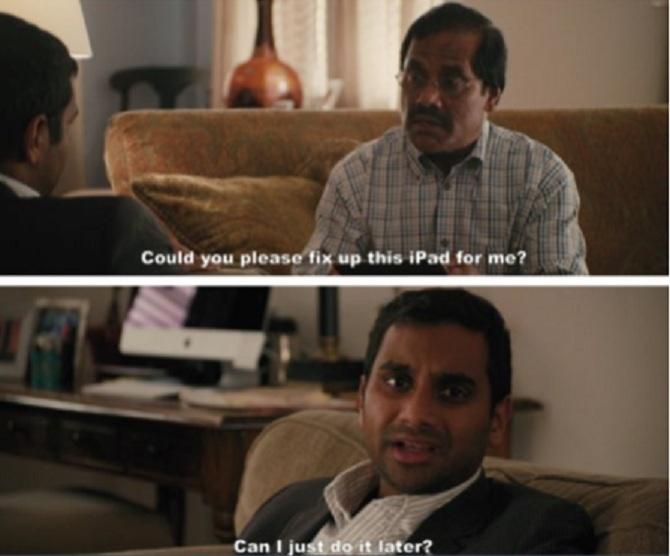 IMAGE: The digital revolution has intensified the generation gap worldwide. In the semi-autobiographical Netflix show Master of None, creator Aziz Ansari wrote a full episode around his father having problems with the iPad.
Even if both his children are employed in the field of computers, 77-year-old Ashok Mehta says they could not help him learn. "My repeated questions irritated them." His confession is met with a series of knowing nods.
"They want to explain but they don't have the time or patience," says fellow senior Hansa Gosalia. "If there was a problem, I waited for them to come back home and solve it."
The classroom feels almost like a support group, where everyone is connected by a common goal and age bracket. Seniors are comfortable learning from strangers, says VITA founder Savita Thakur.
Vaishali Shah, the course trainer, says the job needs patience and care. Everyone has different priorities. Gosalia, for instance, has never used a desktop but wants to master using the tablet, so she can play Solitaire.
Every tiny accomplishment results in a high magnitude of delight here. When one of the elderly students managed to Google the number for an ice cream parlour online, she was pleased and ordered some for her classmates.
The digital revolution has intensified the generation gap worldwide. In the semi-autobiographical Netflix show Master of None, creator Aziz Ansari wrote a full episode around his father having problems with the iPad. When he boasts about having taken a lot of photos on their New Zealand trip, his family corrects him, "No, you just took one long video."
On occasion, hours after their class, one of Bhide's elderly students will mistakenly dial her on WhatsApp, but she says that is a good thing. "It just means they are practising at home."