Their portraits -- painted by African American artists -- will shake up the assumptions of visitors to US presidential galleries.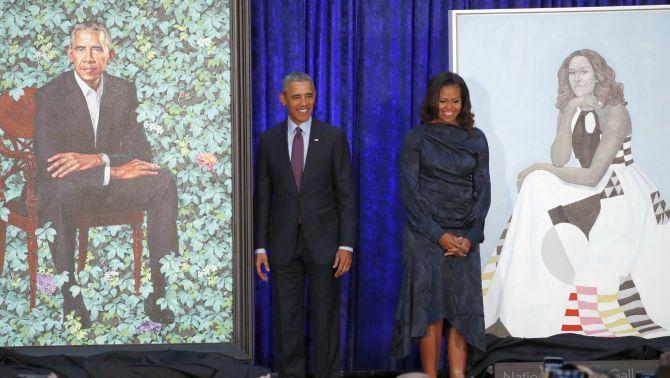 IMAGE: Former US president Barack Obama and former first lady Michelle Obama alongside their portraits at the Smithsonian's National Portrait Gallery in Washington, DC. Photograph: Jim Bourg/Reuters
The official portraits of former United States president Barack Obama and former first lady Michelle Obama are in -- and they aren't like anything else in the Smithsonian's National Portrait Gallery.
The 44th American president is seen sitting on a wooden armchair that seems to be floating amid dense foliage and flowers in a portrait created by Kehinde Wiley.
Michelle, painted against a robin's egg blue background, rests her chin on one hand and stares at the viewer with a curious mix of confidence and vulnerability in a canvas painted by Amy Sherald.
The artists, both in their 40s, are the first African-Americans to paint official portraits for the museum and both have dedicated their careers to showcasing people of colour in unique ways.
Unveiling of the portraits
Obama complimented Sherald for her portrait of Michelle.
'I want to thank you for so spectacularly capturing the grace and beauty and intelligence and charm and hotness of the woman that I love,' POTUS 44 said.
Wiley, who painted his portrait, Obama quipped, was at a disadvantage because his subject was 'less becoming.'
'I tried to negotiate less gray hair and Kehinde's artistic integrity would not allow him to do what I asked,' Obama said tongue firmly in cheek.
'I tried to negotiate smaller ears -- struck out on that as well,' Obama said, alluding to those celebrated aural lobes.
Barack's portrait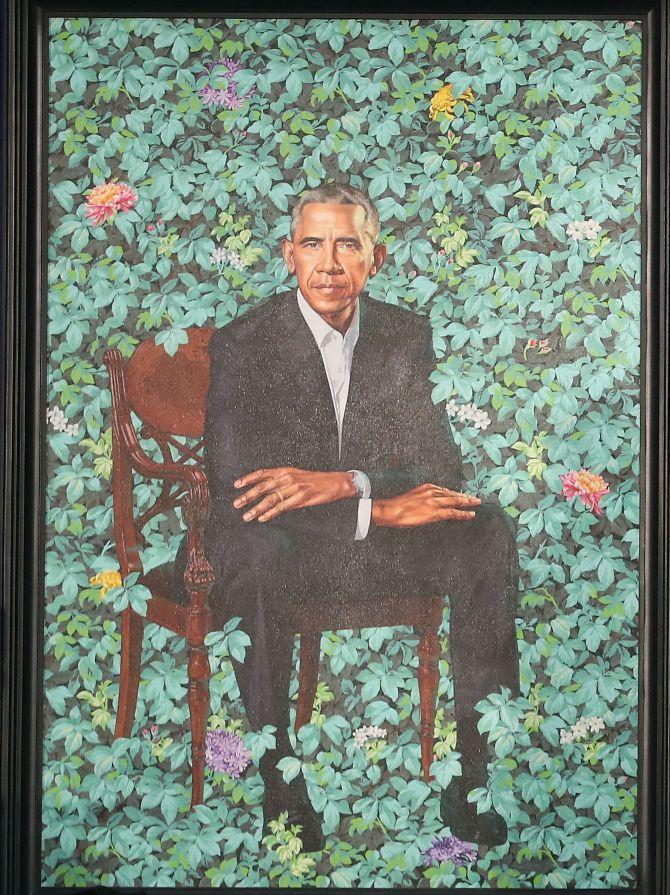 IMAGE: Kehinde Wiley's portrait pays homage to Obama's roots. Obama is portrayed as an accessible and open person, just as what he was during his two-term presidency. Photograph: Mark Wilson/Getty Images
Obama said he was drawn to Kehinde Wiley's work because the artist challenges conventional views of power and privilege.
Wiley is famous for his depictions of African-American men replacing famous figures in scenes out of Western art, such as Napoleon crossing the Alps on horseback, to point out how people of colour have been missing in historical portraiture.
With these subjects, 'Kehinde lifted them up and gave them a platform and said they belong at the centre of American life,' Obama said.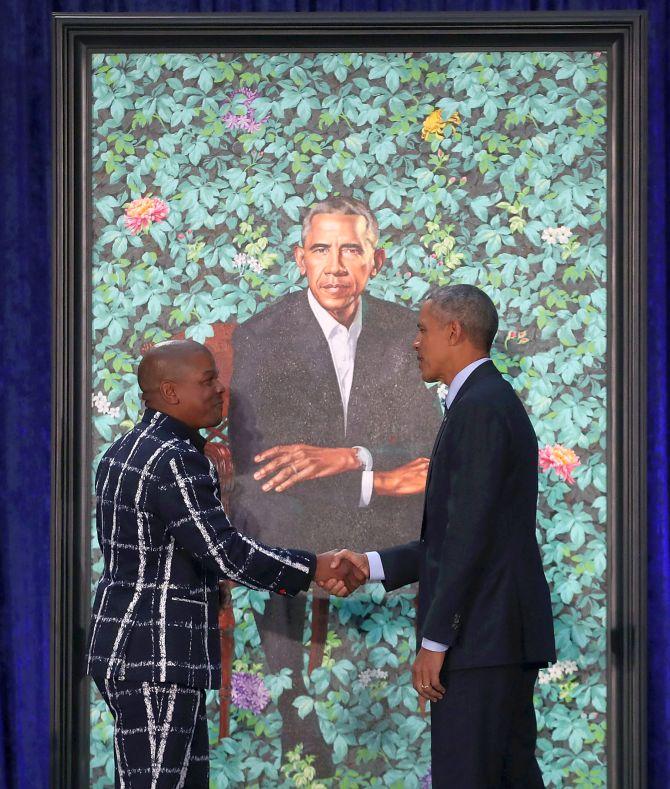 IMAGE: Obama joked that his attempts to negotiate with Kehinde Wiley on showing less gray hair and smaller ears didn't work. Photograph: Mark Wilson/Getty Images
'That was something that moved me deeply,' Obama said. 'Because in my small way that's what I believe politics should be about -- not simply celebrating the high and the mighty, expecting that the country unfolds from the top down, but rather it comes from the bottom.'
In his portrait, Wiley paid homage to Obama's roots -- the president sits in a chair, the backdrop covered in flowers.
There are chrysanthemums, the official flower of Chicago; jasmine, a flower of Hawaii where Obama grew up; and African blue lilies for the president's father's Kenyan roots.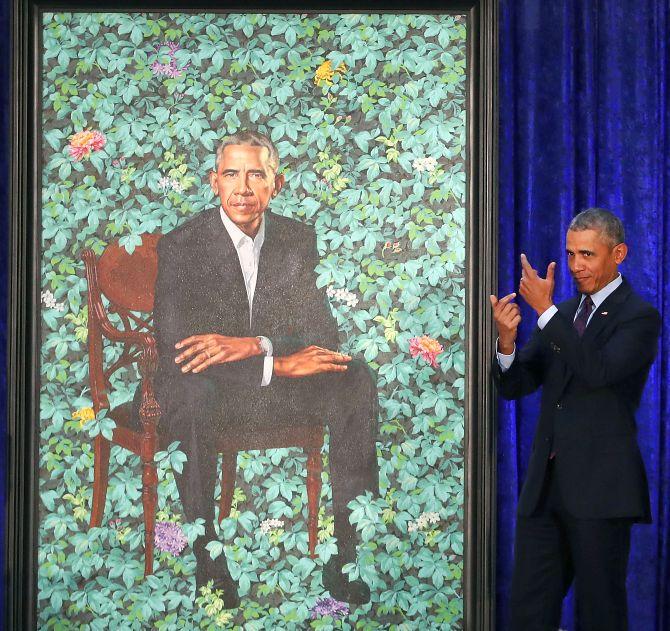 IMAGE: Obama with the seven foot tall portrait. Photograph: Mark Wilson/Getty Images
The portrait shows Obama in a dark suit with an open-collar shirt, sitting with his arms crossed and resting on his knees.
The reason for the clothing choice, Wiley said, was to show accessibility.
'The narrative had to do with accessibility, the narrative had to do with a language of openness,' the artist said, adding, 'There were no ties, it's an open collar, it's a much more relaxed body language -- the sense of repose yet at the same time a kind of radical vigilance in the eyes.'
Wiley, Obama pointed out, just like him, was raised by a single mom. He also had an absent African father.
His upbringing shaped his work, much as the president's journey to connect with his own roots shaped his.
Michelle's portrait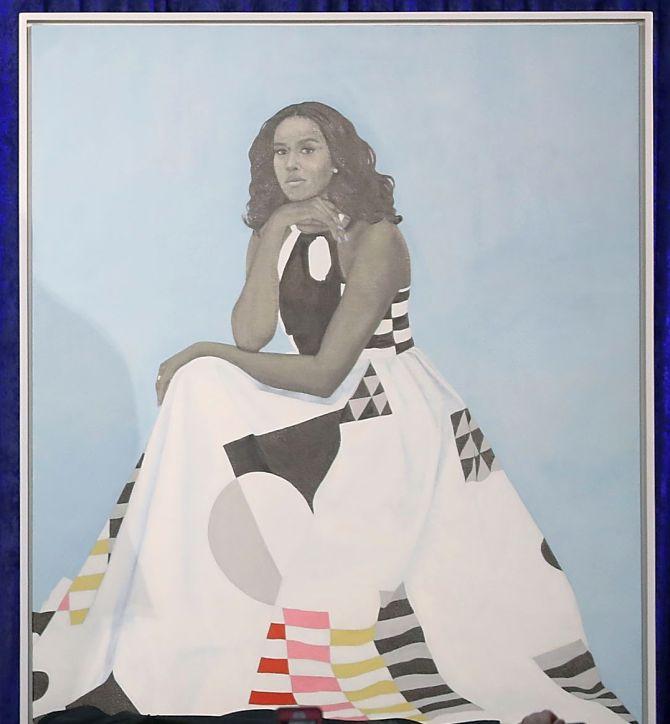 IMAGE: Baltimore artist Amy Sherald, who painted Michelle's portrait, is an African-American artist known for her unique style. Her portraits tend to underscore themes of social justice. Photograph: Mark Wilson/Getty Images
Amy Sherald, who painted Michelle Obama's portrait, won the National Portrait Gallery's Outwin Boochever Portrait Competition in 2016.
She tends to paint black subjects, usually in grayscale in front of a colour-saturated background, in clothes she chooses carefully for each subject.
The gray skin lets Sherald 'omit' skin colour from her paintings entirely, she says, separating race from colour.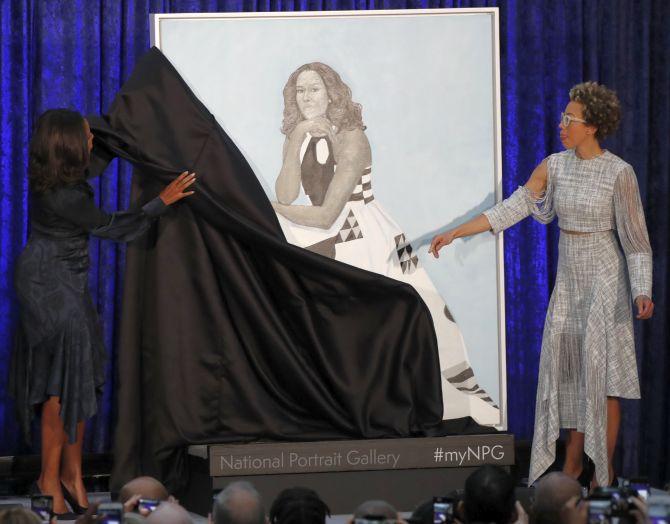 IMAGE: Amy Sherald at the unveiling of Michelle Obama's portrait at the Smithsonian. Michelle confessed she 'was a little overwhelmed, to say the least', after the portrait was unveiled. 'Let's just start by saying "Wow" again,' she said. Photograph: Jim Bourg/Reuters
In the portrait, Michelle reclines against a gray-tinted blue background, wearing a geometric printed gown by Michelle Smith's Milly label.
The former first lady's gaze is steady and direct, her hair loose around her face, her pose framed by her bare arms.
The bulk of the dress makes a statement, all but engulfing the body, with little more than the face, arms and hands (with light violet-coloured nail polish) exposed.
The dress almost becomes a protective shell that hides the first lady's body and some of her femininity.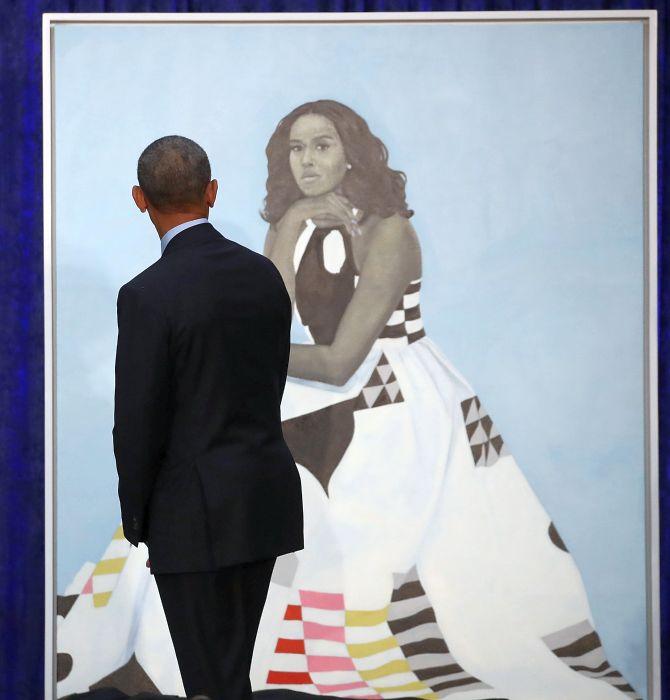 IMAGE: Barack Obama complimented Amy Sherald for her portrait, saying, 'I want to thank you for so spectacularly capturing the grace and beauty and intelligence and charm and hotness of the woman that I love.' Photograph: Mark Wilson/Getty Images
Sherald called the portrait 'a defining milestone in my life's work' because of what the former first lady represents to the country: 'A human being with integrity, intellect, confidence and compassion.'
'And the paintings I create aspire to express these attributes: A message of humanity. I like to think they hold the same possibility of being read universally.'
At the unveiling, Michelle said she was thinking of young people, 'particularly girls and girls of colour who in years ahead will come to this place and they will look up and they will see an image of someone who looks like them hanging on the wall of this great American institution.'
'I know what kind of impact that will have on those girls, because I was one of those girls.'