'I used to be scared because operating in Kashmir is always fraught with danger.'
'His absence will be felt lifelong.'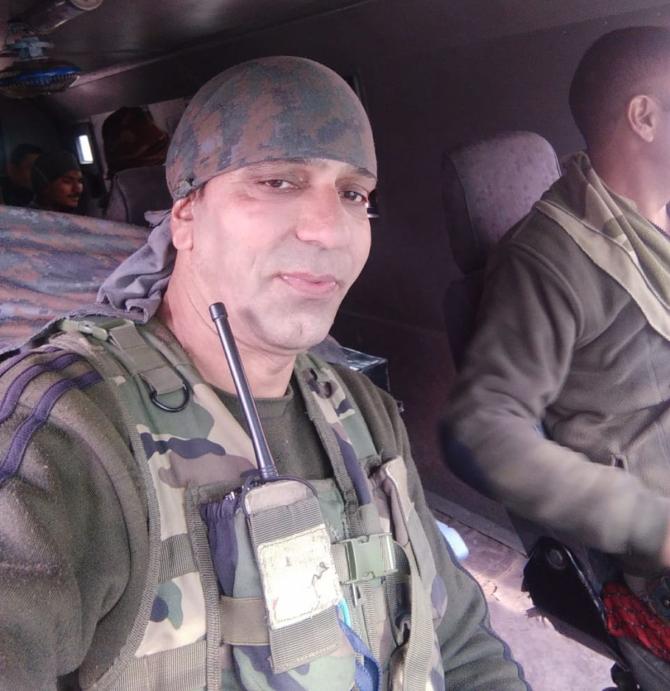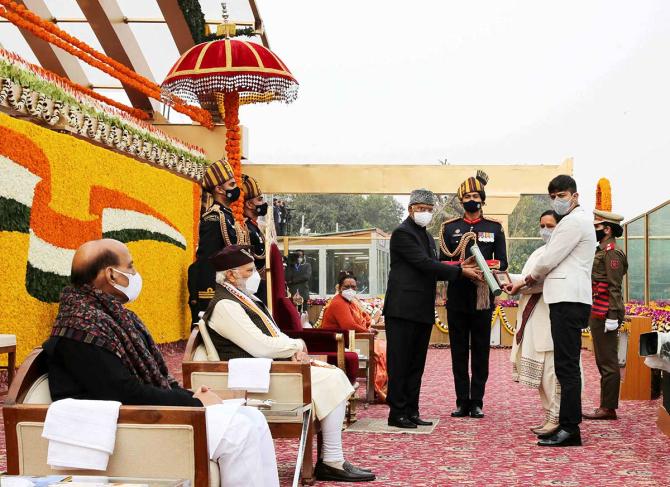 Courage was a virtue Assistant Sub Inspector Babu Ram had in plenty.
In the 18 years he spent posted in Sringar with the Jammu and Kashmir police, he was promoted twice for acts of exemplary courage.
A veteran of 14 operations in which 24 terrorists were eliminated, ASI Babu Ram was as part of the J&K police's Special Operations Group.
On August 29, 2020, he was tasked to remove terrorists from a house in Srinagar. The terrorists had travelled on a scooty and fired upon security personnel at a road checkpoint. After the attack they fled and took shelter inside a house in the congested locality.
ASI Babu Ram evacuated the residents to safety and came under heavy fire when he and his buddy entered the house.
His buddy was hit. ASI Babu Ram sensing grave danger to his buddy's life pulled him to safety and faced the burst of AK-47 bullets himself.
Despite being grievously wounded, he killed the three terrorists and saved his buddy's life.
That operation was his final act of valour. ASI Babu Ram succumbed to his injuries that night and made the supreme sacrifice for the nation.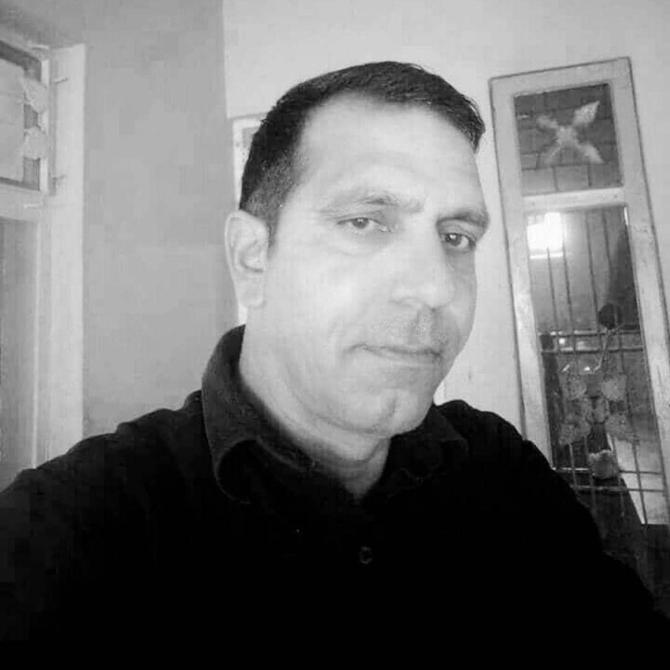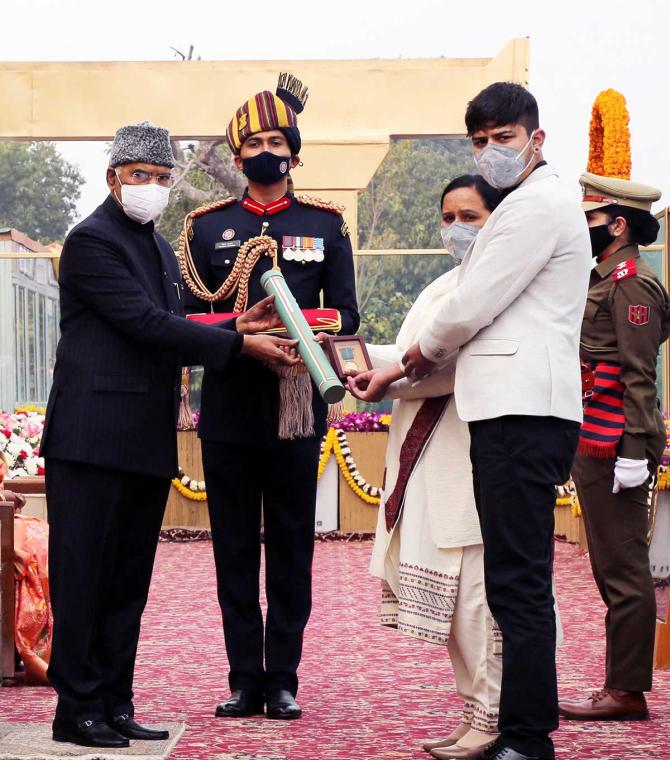 On Republic Day 2022, ASI Babu Ram was awarded the Ashok Chakra posthumously, the nation's highest gallantry award in peace time in the most solemn part of the ceremony.
For the first time the top gallantry awards -- the Ashok Chakra, the Kirti Chakra and the Shaurya Chakra -- were awarded to J&K police personnel.
The Ashok Chakra was received by his wife Rina Ram and son Manik Sharma who had travelled from Poonch in Jammu and Kashmir.
"Standing there in front of the whole nation my pride was tinged with sadness. I was happy, yet sad. My happiness would have been complete had my father accepted the medal himself," Manik, a student of Class 12, tells Archana Masih/Rediff.com from Jammu the day after Republic Day.
Manik accompanied his mother because his grandmother was unable to travel at the last moment because of advancing age and the Covid pandemic.
Manik has been given a job in the J&K police as per the provisions for the next of kin of police personnel killed in the line of duty.
He will go to the training camp in a couple of months for the initial height and weight measurements before commencing training some time this year.
"My father is a shaheed. He never said no to any operation. He kept the country above self. I want to follow in his footsteps," says Manik who has a younger sister and brother.
The rest of his family lives in Poonch while he pursues his studies in Jammu.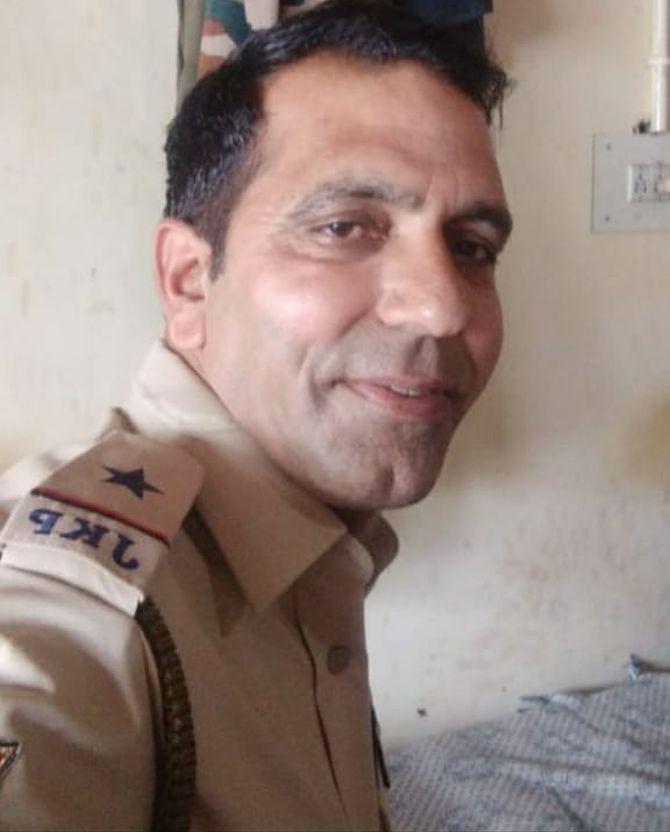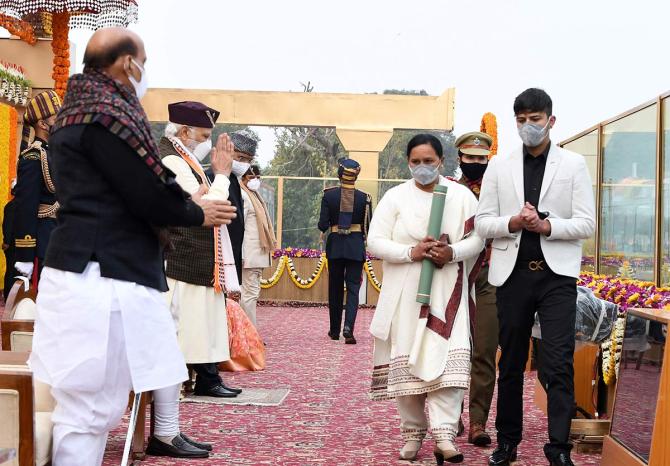 ASI Babu Ram was posted in Srinagar while his family lived in Poonch. He would come home for a fortnight or so every 3-4 months, but would speak to his wife and children every day.
"Those days used to pass very soon. We would spend time with him at home whenever he came on holidays," says Manik.
The night before he sacrificed his life, ASI Babu Ram made a late night call to his daughter. He told her he would call after he completed his task -- but that was not to be.
Next morning at 7.30 am, personnel from the local police station arrived to give them the sad news.
"He was a brave man and very dedicated to his work. He never spoke much about his professional life," says wife Rina Rani who married the brave heart in 2002.
She remembers once he had suffered a grenade injury, but did not make a fuss about it and told her he would recover soon.
He came home to recuperate for a few days after spending a week in hospital. I used to be scared because operating in Kashmir is always fraught with danger. His absence will be felt lifelong," she says over the phone from Poonch.
"It has been tough. Imagine what the family endures after the loss of a father, husband, son," says Manik.
The mother-son say they have been assisted by the J&K government and the state police. A lady constable from the J&K police accompanied them from Poonch to Delhi to receive the Ashok Chakra.
They could not personally meet the President and prime minister because the At Home reception at Rashtrapati Bhavan was cancelled due to the pandemic.
They have brought the Ashok Chakra and citation home.
"We will frame and put it in a place of honour in our home," says Manik.
Feature Presentation: Aslam Hunani/Rediff.com