Go-getter, ambitious, dynamic, workaholic are some of the adjectives that officials who worked closely with B V R Subrahmanyam use to describe him.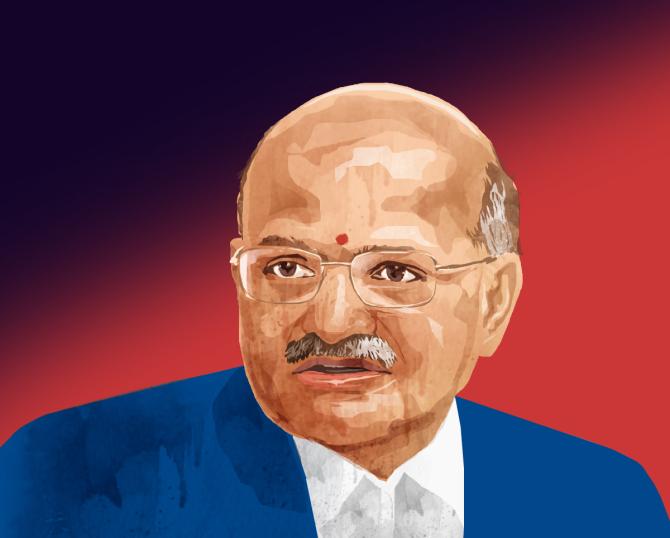 The unexpected announcement of retired bureaucrat B V R Subrahmanyam's appointment as the chief executive officer of the government's go-to policy think tank NITI Aayog came as a surprise to many, but not to officials who worked closely with him.
Considering what he delivered during his year-long stint before his retirement as the commerce secretary in September, the corridors of power in New Delhi were abuzz with talks of his appointment in a government role of 'utmost significance'.
That apart, his closeness with the prime minister's office is not unknown.
Subrahmanyam will replace Parameswaran Iyer, whose term lasted just about six months and has since been appointed as India's executive director at the World Bank Washington, DC.
Even before he retired as commerce secretary, the government had announced Subrahmanyam's appointment as the chairman and managing director of India Trade Promotion Organisation under the department of commerce, though he eventually did not take up that role.
Go-getter, ambitious, dynamic, workaholic are some of the adjectives that officials who worked closely with Subrahmanyam use to describe him.
During meetings, he was known to refer only to his diary that had meticulous details of key developments, with multiple colourful 'sticky notes' jutting out.
He is also known to have little patience as far as non-performers or underperformers are concerned.
The 1987 batch IAS officer of the Chhattisgarh cadre took over as the commerce secretary at a time when India was still grappling with the second wave of COVID-19.
It was during his tenure, amid the not-so-impressive macroeconomic parameters of the post-Covid slump, that the Centre shifted focus on exports to boost economic growth.
During his year-long-plus stint at the department of commerce, Subrahmanyan played a key role strategising the roadmap to a record $422 billion merchandise exports in FY22.
For over a decade, India's exports have hovered around $260-330 billion, with the highest being $330 billion in FY19.
Before Subrahmanyam took over, target setting for exports was not something that the commerce department ever obsessed over.
Some officials also consider him lucky since other crucial factors such as pent up external demand, a low base and high commodity prices also aided sharp export growth.
Besides, the full-blown impact of the Russia-Ukraine conflict was not prominently visible till he was around.
He also played a key role in fast-tracking at least half a dozen free trade agreement negotiations -- the United Kingdom, Canada, European Union, Australia and the United Arab Emirates.
During his tenure at the commerce department, India signed two key trade deals with the UAE and Australia.
The two trade agreements were negotiated in a record 88 days.
Subrahmanyam is known to have tactfully tapped key diplomatic channels and ensured that the negotiations didn't hit a deadlock.
On the flip side, the retired bureaucrat's single-minded focus on timelines for some of the most 'complex' trade deals -- with the UK, EU -- was not considered practical.
The commerce department has since changed its stance and no longer publicly announces deadlines for completing FTA negotiations.
Before his stint as commerce secretary, Subrahmanyam served as the chief secretary of Jammu and Kashmir at a seminal time.
This was when Article 370, giving Jammu and Kashmir special status under the Constitution, was read down and the state was split into Union Territories.
During his posting as Chhattisgarh's additional chief secretary (home), Subrahmanyam had been instrumental in efficiently tackling Naxalism in some parts of the state.
He has also worked closely with then prime minister Dr Manmohan Singh. Between 2012 and 2015, he served as the joint secretary in the PMO.
Born in Andhra Pradesh, Subrahmanyam is a mechanical engineer from Delhi Technological University, and also earned a management degree from the London Business School.
From executing policy during most of his career to overseeing its formulation now, NITI Aayog will mark a new set of challenges for him.