Far away from the glare of publicity live Atal Bihari Vajpayee's family -- three sisters, nephews, nieces and their children.
A large family proud of its bond with India's leader.
Rediff.com's Archana Masih and Photographer Jewella C Miranda travelled to Gwalior in Madhya Pradesh to meet Atalji's friendly family.
This feature was first published on Rediff in March 1998.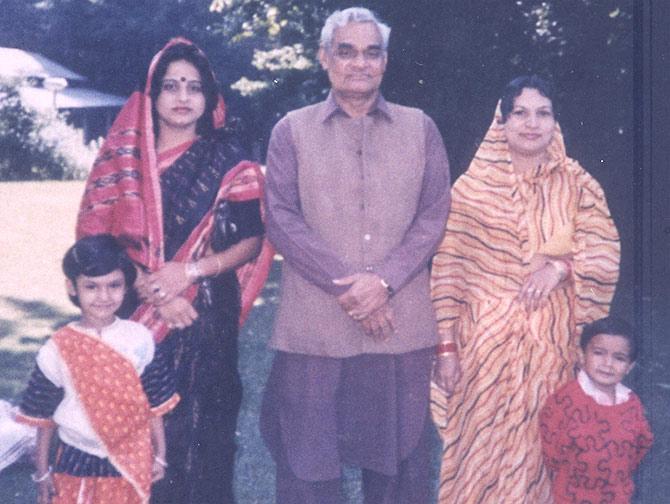 Atal Bihari Vajpayee's grandnephews and grandnieces in Gwalior's Sindhi colony finally took a breather.
The television showed Bade baba breaking his fast after the Kalyan Singh government was reinstated in Uttar Pradesh.
Until then, news of their hungry Baba had proved the biggest distraction in the middle of their preparations for their exams.
"The children were so traumatised that they forgot about their studies and kept running to the television to see whether Mamaji was okay," says Shobha Mishra.
Shobha, the bubbly eldest daughter-in-law of Vajpayee's younger sister Urmila Mishra, can barely contain her enthusiasm.
As a matter of fact, no one in Urmila Mishra's large household in Gwalior can.
While the children have not yet figured out how on earth people win elections without participating in any sporting events -- like kushti -- Mishra's husband, three sons, three daughters-in-law and five children were certain that Vajpayee would be the next prime minister.
"My brother is the only capable person who can lead this country, and my inner soul says he would definitely become the PM this time," declared 60-year-old Urmila Mishra.
The portents were evident for some time now. The huge stack of family albums hardly contain any of Vajpayee's early pictures. Most of them have been taken away by a curious media, investigating his roots, and never returned.
"Moreover, in those days there were no photo studios," recalls Urmila Mishra, "I remember there used to be just one shop in Daulatganj, Gwalior."
Just back from spending the winter with her daughter in relatively warmer Nagpur, she spent the entire month improving her health so that she could make it to the swearing in ceremony in good shape.
Unlike May 1996 when she had to stall her plans because Shobha injured her foot with a piece of glass.
Her other two sisters had already reached Delhi before her. So did the prime minister's nephew.
"The family entourage is already stationed there," adds Urmila's second daughter-in-law Vinita in a telephone conversation. Caught up with their children's exams, Vinita and her sisters-in-law had to skip their plans of attending the ceremony.
Lead by Urmila's eldest son and former BJP MLA Anoop, the Mishra household was a hub of activity at election time.
"We all pitch in for the party during elections," says Shobha. Christened Awnija, Shobha's name was changed by her in-laws. "You know that thing of pehli bahu being ghar ki shobha, so that's how I got my name," she explains.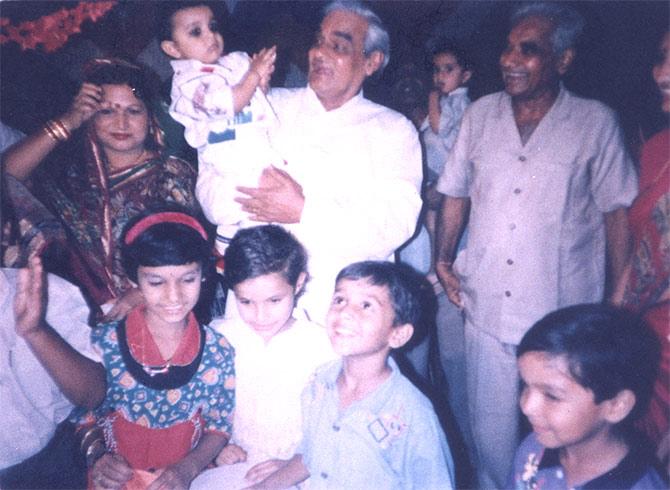 She remembers her first meeting with Vajpayee clearly.
"Just after my marriage, the first thing that mamaji asked me was whether I knew the meaning of Awnija -- my first name."
Though political obligations and security compulsions have reduced his visits to Gwalior, the Mishras have seen much of Vajpayee each time he has visited the town. Especially during the Gwalior trade fair and Raksha Bandhan -- a festival that Vajpayee himself has never wanted to miss.
"We all go to the fair with him. He also gives us kharchi (pocket money), and there is one chaatwallah that he particularly likes," points an excited Vinita.
However, the threat factor has proved a big deterrent to those free wheeling jaunts; even the chaat is now tasted by Special Protection Group personnel before Vajpayee tucks into it.
"He comes by the morning Shatabdi and leaves in the evening," says nephew Abhay. "The last time when he had come for the election campaign, we sent 20 food packets for all of them," adds Urmila, who firmly believes it is not right for the family to encroach upon her brother's time when he comes to meet the public.
But the memories remain. Of those days when, free from the trappings of security, Vajpayee would meet with the entire 50 to 60 members of his family at their ancestral home in Shinde-ki-Chavni.
Of that day when 62 family members watched Kamal Amrohi's Razia Sultan at a local movie hall.
Of that day when he changed the diapers of Urmila's youngest grandson.
The women in the family also reveal another aspect of the prime minister's personality -- his cooking skills.
"When he is visiting us, Chachaji relishes raw salads, dahi vadas, besan, til and mungare ladoos," says niece Kanti Mishra.
The daughter of Vajpayee's second brother Suda, Kanti lives in the family's ancestral home. Bearing a distinct resemblance to Vajpayee, she is a devout believer in the family deity Boode babu, which the Vajpayees brought with them when they moved from Bateshwar near Agra to Gwalior.
Vajpayee's father Krishna Bihari shifted to Gwalior after taking on the headmaster's post in Gorkhi in 1935. It was at the Victoria College -- now the Laxmibai College -- that Vajpayee did his graduation before leaving for Kanpur for further studies and a foray into politics.
Krishna Bihari had four sons and three daughters. Vajpayee was the youngest son. His brothers have passed away; two of his sisters -- Vimala and Urmila -- live in Gwalior while Kamala stays in Agra.
The portion of their ancestral house that belonged to Vajpayee has been transformed into a library in his father's memory.
Inaugurated by Rajmata Vijaya Raje Scindia, it is supervised by niece Veena Dubey and Shashi Vajpayee, daughter-in-law of Vajpayee's other brother Prem. The library also houses toys and is frequented mostly by children and housewives.
"Our father was very fond of him," says elder sister Vimala Mishra,"but as a child, we never saw him studying."
Two-and-a-half years older than him, she recalls the early days when she threw her brother's RSS khaki shorts over the wall so that he could make it to the sabha on the sly.
As their father worked at a government college, the information that his son was an RSS activist could have jeopardised his position if the authorities got wind of it.
A widow, Vimala Mishra lives with her son Arun, an engineer in the public works department, and daughter-in-law Manju in Gwalior.
Discussing her brother's poetic nature she says it is a trait that has been passed on through generations.
"Our grandfather used to conduct even ordinary conversations through shlokas. Our father also wrote poetry," says Vimala Mishra proudly.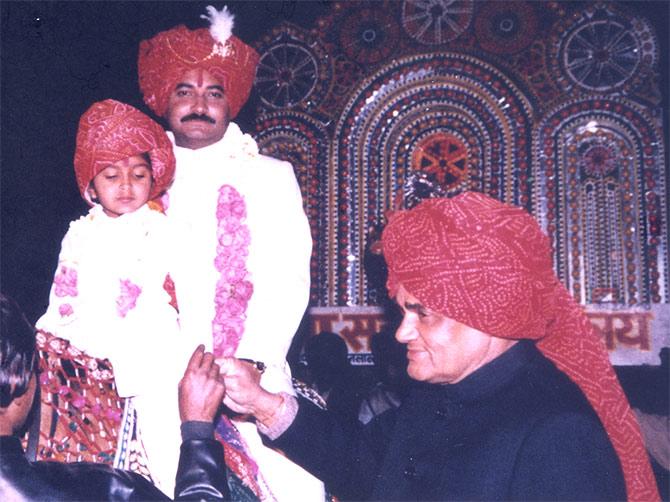 Family members affirm that Vajpayee has always given his family a lot of affection. He has made it a point to attend weddings and always remained very popular in the family.
"I remember when we used to ask him to help us get a job," recalls Anoop, "Mamaji would tell us Iif you marry a Muslim girl I will definitely get you a job.'"
But it is the daughters-in-law and nieces that are Vajpayee's biggest fans.
"If he falls short of gifts for us, he holds a lottery of sorts and gives it to whoever's name is picked," says Shobha explaining the pradhan mantri's modus operandi.
"I am fond of collecting autographs," adds a giggly Vinita, "After my marriage when I requested him for one, he asked me, Kya mein kuch hoon? (Am I somebody?)"
Family members say Vajpayee has different personalities for the public and in private.
"He has a great sense of humour and is very friendly with the kids in the family," says Navin Vajpayee, the son of Vajpayee's elder brother Prem.
Navin, who runs a scientific store with his younger brother Deepak, recalls one summer vacation when Vajpayee came to New Delhi station to receive them.
"He was prominent in politics while we were a middle class family from Bilaspur," he recalls, explaining how his father sent his elder brother to Vajpayee's house to find out if he was home, while the rest of the family waited in the waiting room.
On hearing about their arrival, Vajpayee rushed to the station. "We were carrying a matka of water and felt embarrassed to carry it in the taxi, but chote chachaji himself carried it for us. He told us that fridge water was nothing compared to the coolness of matka water," remembers Navin.
Though their ration cards were made out during one of their holidays with Vajpayee, Navin maintains that chote chachanever tried to draw any one of them into politics.
Among all of Vajpayee's relatives only three are associated with politics. Elder brother Suda's daughter Karuna Shukle was a MLA from Raipur; Anoop Mishra is a BJP MLA in the Madhya Pradesh assembly; and Deepak Vajpayee is a BJP official in Gwalior.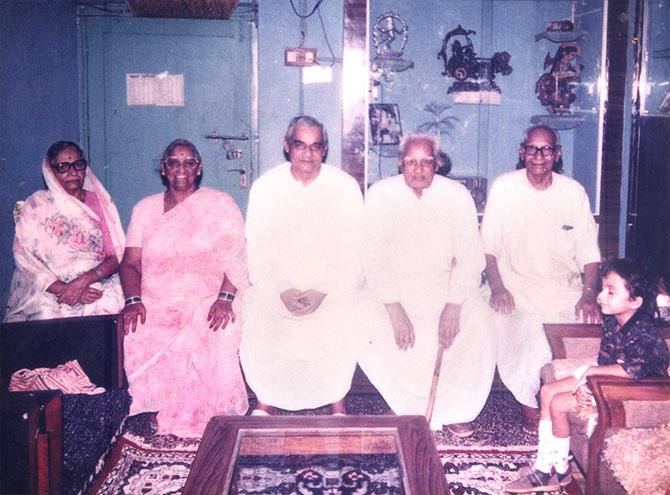 But that has hardly stopped Urmila Mishra's family from plunging into party work. With BJP flags popping out of nearly every cupboard in the house, the family was busy campaigning for Jaibhan Singh Pawaiya -- Madhavrao Scindia's rival -- in February.
"My blood pressure does not return to normal till I know the children's exam results and the election results," adds Shobha, summing the mood in the household.
Their proximity to Vajpayee brings many a favour-seeker to their door. Most with requests for a passport, others asking for admissions at the All India Institute of Medical Sciences.
"We put in a word for them and leave it to him," says Urmila Mishra. Yet, family members say they resist taking advantage of Vajpayee's position.
Vajpayee reportedly did nothing to stop brother Prem's transfer during the first non-Congress government in the state. Even when Arif Baig, then a BJP member, was the minister in charge.
"When I did not have a tap in my house, he has even fetched water from outside," adds Vimala Mishra, stressing on her brother's humility.
Vajpayee is known to have cycled through the streets of Gwalior in 1971 when he was an MP and president of the Jan Sangh. On the premise that he was first a citizen of Gwalior, Vajpayee has also been spotted many times riding pillion on Anoop's motorbike.
"He always referred to my Yezdi as my ghoda," says Anoop pointing at a framed black and white picture of Vajpayee and himself on his bike.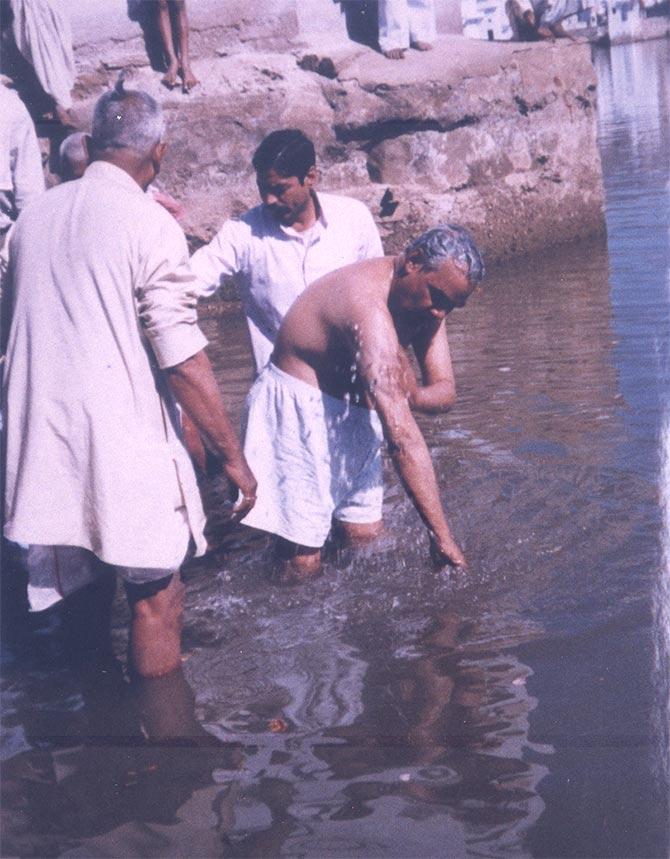 His sisters say Vajpayee was never interested in marriage.
"His interests were books, verse and politics, and since his disinterest was so evident we stopped bothering him," adds Vimala.
Vajpayee lives in Delhi with the Kauls, friends of his family from Gwalior. Mrs Kaul and her daughter -- whose husband Ranjan Bhattacharya can often be spotted at the prime minister's side -- have been his companions for many years.
Vajpayee is known to be particularly fond of the Bhattacharyas's little daughter Neha whom the newspapers refer to as 'his foster grand-daughter'.
Family members say they make it a point to visit Vajpayee whenever they visit Delhi. And although he occasionally gets confused about the grandchildren's names, Vajpayee is known to get upset if his relatives visit Delhi without looking him up.
They know that prime ministerial responsibilities will further reduce family interaction. However, that is the last thing on the minds of a family that has waited as long as Vajpayee to reach his moment of glory.
And as Atal Bihari Vajpayee takes the oath as India's 14th prime minister, for headmaster Krishna Bihari's family -- it is their finest hour yet.
Photographs: Jewella C Miranda. Family photographs: Kind courtesy Anoop Mishra.