With the Maharashtra government doling out pieces of the lush green Aarey forest to various utilities, the tribals living in it for generations are feeling increasingly insecure. Hepzi Anthony reports.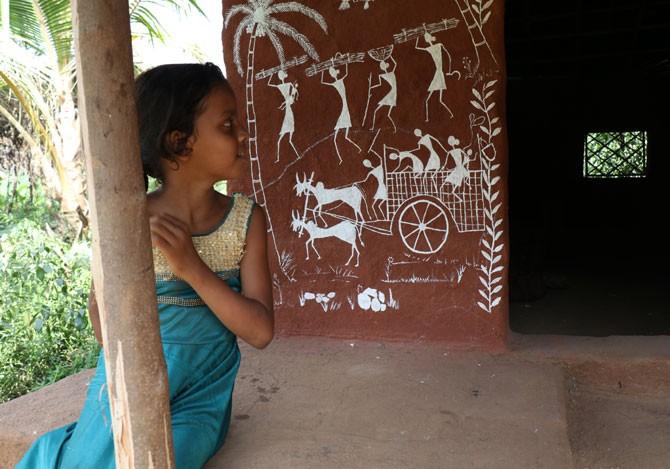 The Maharashtra government plans to rehabilitate all the tribals living within Mumbai's green zone of Aarey under its slum redevelopment projects within the colony.
Minister of state for housing and local Shiv Sena legislator from Aarey, Ravindra Waikar, informed this reporter that the state government is trying to rehabilitate tribals in one corner of Aarey so that the rest of the land could get freed up for developmental work.
"We have decided to change the Development Plan of the city to accommodate these people. These tribals are spread out over 185 places. If they all are housed in one place, that could be around 125 acres, then so much of land could open up for development," Waikar told Rediff.com.
The residents of Aarey, who mainly comprise Warli tribals and are Mumbai's oldest residents, are naturally on the edge over this decision. Though the development plan sounds generous on the face of it, it has led to fear and a sense of apprehension among the residents.
That these tribals occupy the largest stretch of open space available in the entire city as of now, makes all powerful lobbies, including the state government, eye this piece of land for their developmental works.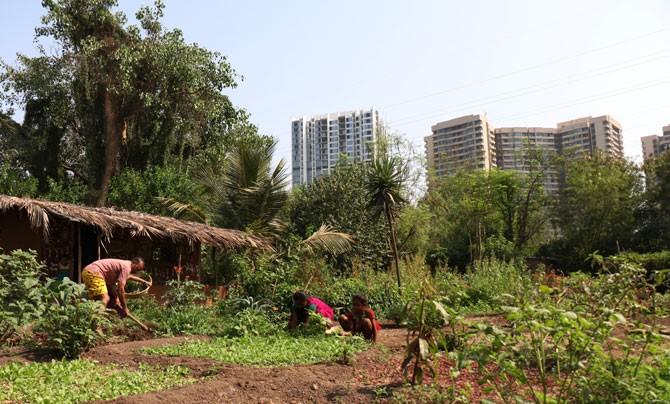 That Aarey is officially declared as an eco-sensitive zone and hence a no- development area with no construction allowed in it, has not deterred them.
Waikar says the state government is already planning to amend the city's Development Plan to ensure housing schemes are allowed on a stretch of 125 acres, although only for local residents.
"The Aarey residents are human beings and it is unfair to them that they should live in constant fear of the likes of wild animals like leopards around them. They should be resettled in proper houses," Waikar justifies the decision.
The state government is also planning to rehabilitate tribal residents from the neighbouring SanjayGandhiNational Park; housing for them is being planned within Aarey within the 100 acres to be allocated to a new, proposed zoo.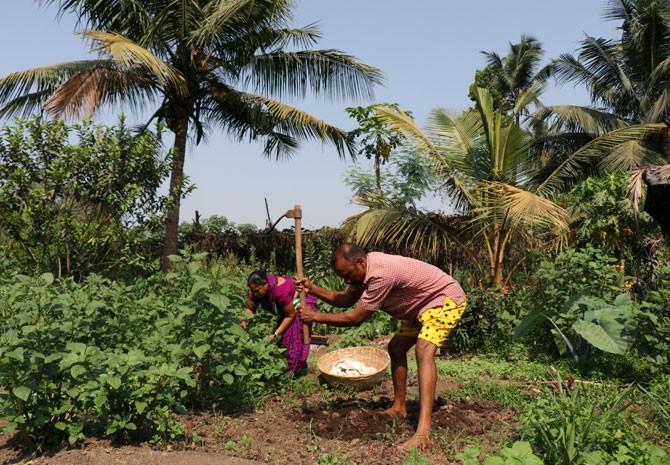 Currently, the deputy collector (encroachment) is carrying out a survey to find the exact number of people residing there, both legal and illegal.
As the government keeps doling out pieces of the lush green Aarey forest to various government departments, the tribals living there are feeling increasingly insecure about being displaced from their own lands and their way of life.
Right from the inception of Aarey Milk Colony in 1949, when 3162 acres of green forests of Goregaon were handed over by then prime minister Jawaharlal Nehru for the noble purpose of providing cheap milk to the city of Mumbai, the green patch today stands allotted piecemeal to various government and private agencies.
Initially, about 30 stables were constructed, with each unit bearing a capacity to hold over 500 animals along with an attached building for ancillary functions like chaff-cutting, hay godown and even residential accommodation for staff and cattle-owners to house animals.
Private cattle owners from various parts of Mumbai were also encouraged to shift their buffalo stables there on rent. Currently, about 16,120 buffaloes are being reared in the 30 units of Aarey, according to the chief executive officer of Aarey Diary Development Board, Nathulal Rathod.
The State Reserve Police Force came in 1977, taking away a chunk of about 200 acres of land.
FilmCity came up here in 1989, set up by the state culture ministry to promote the film industry.
Recently, in 2009, Force One, India's premier anti-terrorism strike force, was handed over about 98 acres of land in the wake of the 26/11 terror attacks on Mumbai.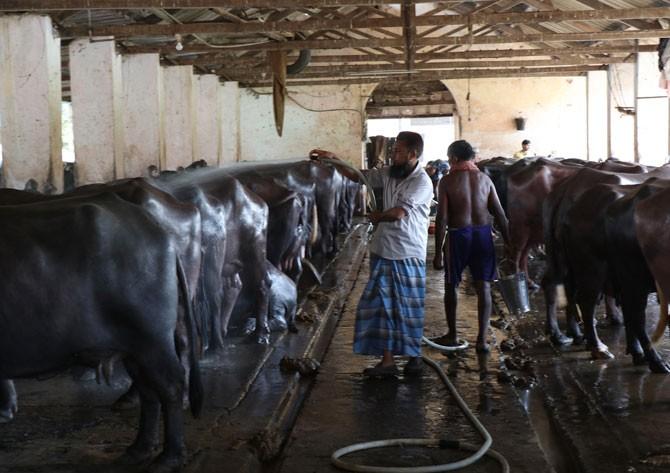 And Mumbai Metro, the latest land allottee, has only added to the residents' fears that they are being squeezed out of their environment.
Recently, residents of Prajapurpada were forcibly evicted and shifted to Slum Redevelopment Authority flats in Chakala, Andheri East, to make way for the Mumbai Metro carshed project. The residents' objections were overruled, their protests ignored and their pleas to retain their traditional way of life, rejected.
"My parents had about 100 hens when we stayed in Aarey in 2017, that earned them a steady monthly income of about Rs 5000. After being forced into flats, they just couldn't raise the hens there. Also, no compensation was for their loss of one and a half acres of paddy field. Community bonding is also completely lost as relatives are now spread out far and wide," rues Sanjay Padvi, a bank manager who lost his family home and fields to Mumbai Metro.
In fact, many tribals allege that they are not allowed to even farm in their own farmlands, with the government itself not keen to support their demand.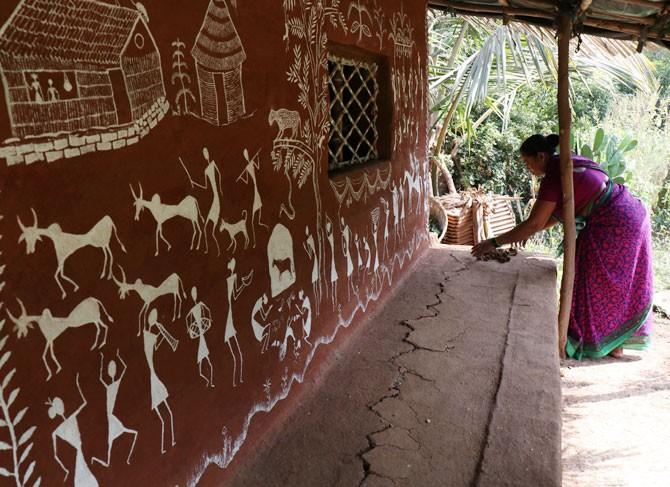 Activists are sceptical of the government's intentions and accuse it of being hand in glove with the powerful builders lobby eyeing the prime piece of land.
The Aarey Conservation Group, a citizens' initiative which has been working to protect the forest from the harmful impact of development, is also opposed to the displacement of tribals.
"The government has been doling out land to various projects but they are not bothered about the people affected by these projects," complains Cassandra Nazareth, who works for Aarey tribal women's welfare and is part of the ACG.
"These are the original residents of Mumbai, the sons of the soil here, and it's actually Mumbai's urban-dwellers who are the encroachers. These tribals have been living here for centuries but now they are being served with eviction notices, not allowed to carry out alterations in their own homes and even denied permissions to rebuild their houses. The government cannot force these people out," she says.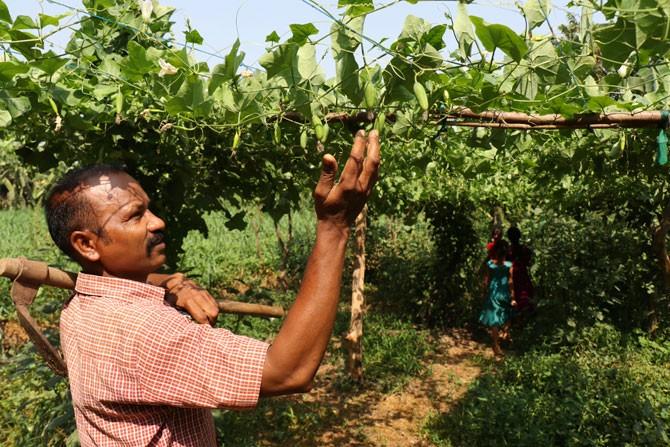 Stalin Dayanand, director (conservation) of non- government organisation Vanashakti, felt that rapid allocation of land from Aarey probably had to do with the fact that the forest is currently the largest land bank available in Mumbai, which the state is trying to usurp. Vanashakti is fighting many legal battles to save Aarey and has even approached the National Green Tribunal.
"The government is even trying to take over the buffer zone between Aarey and the Sanjay Gandhi National Park, which is declared as an eco-sensitive zone and hence is a no-development area. With the 2019 elections round the corner, there is an undue haste on the part of the government to clear as many projects to private entities within this space.
"The tribal people are being short-changed by the government with the help of developers. The government cannot deny them their fields in the name of development. They cannot be put in 250 sq ft flats. Is the government going to take care of their livelihood or hand out Rs 15-20,000 per month to them?" asks Dayanand.
This is also what the local people are uneasy about -- of being pushed into small, dingy flats, away from their farms and the wide spaces around them.
"We live with our hens and goats. Farming is our source of livelihood. We are the sons of the soil and do not wish to lose touch with our base. How can we continue with our livelihood from flats? The authorities even refuse to let us grow our crops. What will our young boys do?" says Sita Umbersade, a resident of Navsachapada, one of the 27 tribal enclaves in Aarey colony.
"Local residents have already successfully got orders from the Bombay high court that indigenous people like them cannot be put under SRA. They are eligible to receive land for land and house for house (not a flat) under the Maharashtra Urban Transport Planning Act. Aarey has a Floor Space Index of 3, which means a house could be built three times. It's like taking away their 3000 sq ft house and putting them in 269 sq ft flats," observes Amrita Bhattacharjee of ACG.
Prakash Bhoir of tribal welfare group Shramjeevi Sanghatana, points out that the community is keen to hold on to its traditional way of living amidst the lush green fields. Their livestock rearing also continues to provide a steady source of income for many families in the midst of a concrete jungle like Mumbai.
"We are dependent on our farms and fruit trees like mango and jackfruit. We grow leafy vegetables, cucumber, ladies finger, snake gourd etc during the monsoons. Lack of availability of water sources hampers our farming, as well as denial of farming rights by various authorities that now claim ownership over our land," says Bhoir.
Amidst all this, people like Asha Bhoye await their fate with fear, uncertainty and despair. Her neighbours recently received eviction notices from the Mumbai Metro project and she knows her turn will come soon.
"Who would want to leave Aarey and get into a flat?" says Bhoye. She wants to continue rearing her hens and grow crops on her half-acre farm, but is unsure if she will be able to do that for long.
It's a dream that Maximum City isn't letting them live.
How Aarey forest land has been given out over the years
>> Land originally held by Aarey -- 3,162.32 acres
>> Land given to Special Reserve Police Force -- 108 acres
>> Land given to Film City -- 329 acres
>> Land allocated to Force One -- 98.6 acres
>> Central Poultry Development Organisation -- 26 acres
>> Modern Bakery -- 18 acres
>> Mahananda Dairy -- 27 acres
>> BMC water department -- 65 acres
>> Konkan Agricultural University -- 145 acres
>> Reserve Bank of India -- 13 acres
>> Botanical Research Institute -- 1 acre
>> Proposed zoo -- 100 acres
>> Hindu cemetery- 5,000 sq metres
>> Muslim cemetery- 7,500 sq metres
>> Christian burial land- 5,000 sq metres
>> BMC school -- 5 acres
>> Apart from these major allocations, land has also been granted for various purposes like petrol pumps, electric sub-stations, service roads, etc
Source: Aarey Conservation Group