Everywhere Anil Dharker went, he assembled teams of talented people, gave them opportunities, then got out of the way and allowed them to flourish.
Meenakshi Shedde remembers a very special editor.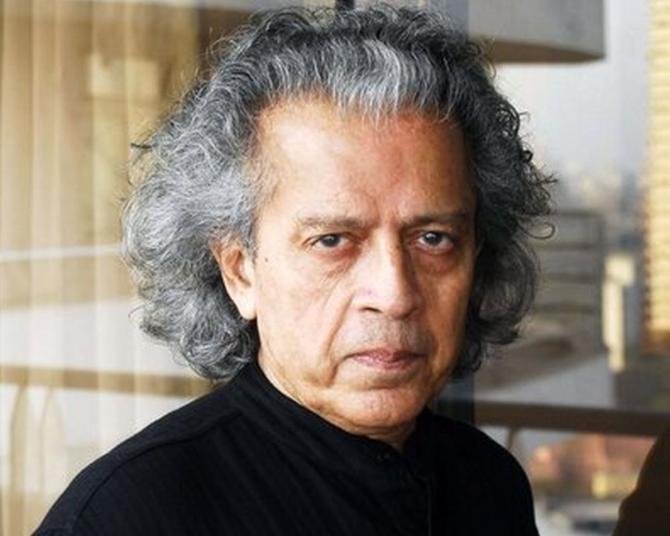 I am shocked and deeply saddened by the passing away of Anil Dharker, editor, journalist, man of letters, founder of the Tata Literature Live! Festival in Mumbai, and my former boss. He was 74 and had just had bypass surgery.
Although distinguished and accomplished, he had an elfin, Peter Pan-like mischievous quality -- he giggled often, not a quality grown men can carry with panache, as he did.
He was the most fun boss I ever had -- he was my editor at Debonair (remember that mag?), Sunday Mid-Day and The Independent, from the 1980s to the 2000s. Yeah, I guess that carbon dates me as well.
Dharker was a man of many talents, and was a bon vivant and raconteur as well. He studied mathematics and mechanical engineering in London and worked in the University of Glasgow.
On his return to India, he headed the Film Finance Corporation (later National Film Development Corporation, NFDC) when the parallel cinema movement was taking off, and Govind Nihalani, Vidhu Vinod Chopra, Saeed Mirza, Ketan Mehta, Aparna Sen and others were making their debut features, and it also backed Richard Attenborough's Gandhi.
But he soon moved into journalism and had a flourishing career in the media.
In addition to the afore-mentioned papers, he was also editor of The Illustrated Weekly.
I was freshly out of college and working in Gentleman magazine, when Anil Dharker, then editor of Debonair magazine (gulp!), offered me a column as TV critic.
The formidable Iqbal Masud (F G Jilani) and my mentor was film critic; and Dom Moraes wrote frequently, if I remember right, and as a young whippersnapper, I was terrified and awed to be placed alongside them.
At Gentleman, I was assistant editor, and writing everything from a literary feature on Manohar Malgonkar, to a test-drive of the newly launched Contessa car, to interviewing Dilip Vengsarkar, to writing cocktail recipes. Dharker believed in me when I didn't believe in myself. I will always owe him big time for that.
It was my first moonshining -- actually sunshining -- op. I remember going back to re-read my own articles to see what could have impressed Mr Dharker, but later realised the wisdom of 'Chalti gadi ka bonnet nahin kholneka' (Bambaiyya slang meaning 'Don't open the bonnet of a car that's running fine.)
Debonair was that peculiar animal -- hot and tasteful centrespreads with our version of Playboy Bunnies, alongside rigorous political, intellectual and artistic conversations. I hardly watch TV, I protested. So watch it, Mr Dharker said. But it's mostly rubbish. Then say so, he shrugged.
My parents will die of shame if they knew I wrote for 'that nanga-panga magazine. 'We'll think of a pseudonym,' he said, and came up with Monitor, just as they were going to press. He meant TV monitor, but it always felt like a monitor lizard. I wrote the column for a couple of years, and when the column got lots of readers' letters -- yes, I had to type my column on a typewriter and schlep to his office in Lower Parel to deliver it -- he had that delish I-told-you-so beam in his eyes.
Later when he became editor of Sunday Mid-Day, he invited me to join his team: there was Jeet Thayil, C P Surendran, Amy Fernandes, Hutokshi Doctor, Veena Gokhale, and myself. The main Mid-Day office was in a dowdy building at Tardeo, but the Sunday Mid-Day office was on the seventh floor of the building just in front of it. We filed solid journalistic stories then -- and he also gave me my own Sunday Mid-Day column, but we had loads of fun working as a team.
Dharker was also a popular food critic, and all seven of us would pile into his dinky Maruti when he went for his food reviews, hog away and give him our opinions on various dishes. I remember we once got a postcard from cricket specialist and senior editor Ayaz Memon, from Barbados or somesuch, addressed to 'Anil and the Seventh Floor Sensations'.
Later, I joined The Independent, part of the Times of India group, as assistant editor, heading the daily arts page, when Dharker again became my editor. At some point, we had a strong difference of opinion on something, and I quit the paper. I was sad, as he was a boss I had long adored.
But I soon enrolled for the film appreciation course of the Film and Television Institute of India to kill time, and that led to a thrilling parallel career in film programming and curating for film festivals, alongside journalism. So much gratitude to Mr Dharker for that as well. We go back a long way, and continued to meet as friends -- at the Lit Live festival, at parties, idhar-udhar.
Everywhere he went, he assembled teams of talented people, gave them opportunities, then got out of the way and allowed them to flourish.
Reena Agrawal, who worked closely with him at LitLive, says, "He was a mentor and believed in me, and really gave me full freedom to grow. I owe the literary part of my career entirely to him."
Veteran journalist Jyoti Punwani shared on the Network of Women in Media, India WhatsApp group, 'He introduced me to David Davidar and told the latter I could write a book on the (1992-1993 Bombay) riots, way back when the Srikrishna Commission was fresh. Davidar showed no interest. But Dharker actually thought of setting up the meeting on his own. Typically generous of him.'
Heartfelt condolences to Dharker's many families and friends -- including his sister Rani, partner Amy Fernandes, former wife Imtiaz, a gorgeous, ever-classy, gifted poet and artist, his lovely daughter Ayesha, an actress; the LitLive team, and all those who worked with him or knew him and miss him.
Meenakshi Shedde is a National Award-winning critic and journalist, and South Asia Delegate to the Berlin Film Festival, based in Mumbai.