Twenty-year-old Rahul Sharma, a student in the United States, was shot in the head and killed in Fremont's Centerville neighborhood. Ritu Jha reports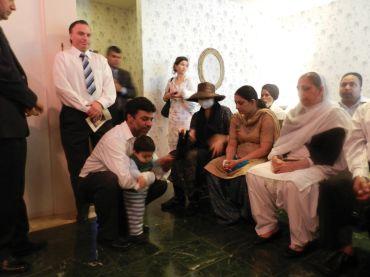 Wearing black T-shirts with Rahul Sharma's photo embossed on it, more than a dozen of his friends gathered at the funeral service on April 20 at the Fremont Chapel of the Roses and Fremont Memorial Chapel in the San Francisco Bay Area.
Rahul, 20, was shot in the head and killed in Fremont's Centerville neighborhood on April 5.
The police found him lying on the driveway of an apartment complex at 11 pm. The motive behind his killing is not yet clear. The police have released a sketch of a suspect.
"We got this printed specially for him," said one of Rahul's friends, pointing to the T-shirts.
"We were very close friends," said a girl who did not want to be identified. Rahul, she said, was a nice person and a good friend.
"I cannot take this anymore. I still do not believe that he is no more," said another friend of Rahul, his classmate at the Fremont Adult and Continuing Education program.
Though Rahul was not a student of the Washington High School in Fremont, he was a frequent visitor and had many friends there.
"He used to come and spend time with us," said Sajjad Muhammad of Washington High.
Muhammad, who immigrated to the United States two years ago from Pakistan, added that Rahul used to say: 'Stay away from gangs in Fremont, and just concentrate on your studies.'
Also praying with the family were people from Jehovah's Witnesses, who helped organise the funeral service for Rahul. Rahul and his parents used to go to the Jehovah's Witnesses to study the Bible.
"The US embassy in New Delhi did not allow Rahul's grandmother to come to attend his funeral," Rahul's father Prannath Sharma said after the funeral service. "She is 72 years old. They did not see the reason of her coming to the US… My brother and mother pleaded but they did not listen to them… They were just rude. Rahul was raised by his grandmother. She loved him a lot. I waited this long for his funeral; thought she might come. Now she will never be able to see him."
The grieving father, who came to the US seven years ago from Jalandhar, Punjab, was inconsolable. "It's no more safe living in America," he said. "I lost my son to increased crime in Fremont. If they cannot control crime, why do they show the world that this is the land of opportunity?"
Fremont Police Sergeant Jeff Swadener told India Abroad that the police had interviewed about 30 people in connection with the murder. "We are checking the neighborhood and the surrounding businesses," Swadener said.
He said it was not clear who killed Rahul, but according to witnesses the suspect could be a light-skinned black or Hispanic male.
According to the Superior Court of California, County of Alameda, Rahul was charged with misdemeanor in 2009 for carrying a weapon. He was found guilty.
Rahul's father said he did not know of the case, but he felt his son was the victim of gang violence.
"He was not open with me," the father said of his son.
"There are still many things here (in the US) that I do not understand. I am a believer in humanity and I hope justice will be done for my son."
Fremont Police Sergeant Jeff Campbell said Rahul's murder was an alarming incident: "With a city our size it doesn't happen frequently. It's a serious case for us."
He said the day the incident happened, every investigator and crime scene detective in Fremont was immediately called on duty. He said the gang task force had been discontinued, but there is crime task force whose officers investigate gang members.
Gangs are not new in the area, though there seems to be no definitive data. "I cannot label the areas (prone to gangs) as people would hate this, but yes, there are gang issues in Fremont. No doubt," Sergeant Campbell said.
The gangs, Campbell said, are not very strong or organised.
"So (you) cannot say they are like 'Italian mafia'. They are just kids and loosely tied," the officer said. "But, yes, they do pick on kids when they are in groups."
Ishan Shah, former Fremont City Council candidate and at present a student representative on the California Student Aid Commission at Governor Jerry Brown's Office, felt safety begins at home.
"The Fremont Unified School District has great drug intervention programs, resource centers and they try hard to keep students out of gangs. But at the end of the day, it has a lot to do with the circumstances and situation at home," he said. "We always thought great things about Fremont with such a diverse population, but a lot of time immigrants are misunderstood. And it's sad to see why they are made targets. We should always go to a teacher or consular officer and talk about the problem," he said.
Shah admitted part of the problem was that new immigrants hesitate to seek help.
Photograph: Rahul Sharma's father Prannath Sharma (center) at his son's funeral.