'Look at the impropriety of the Anti-Corruption Bureau giving Ajit Pawar a clean chit!'
Sheela Bhatt reports on another enthralling day in Maharashtra politics.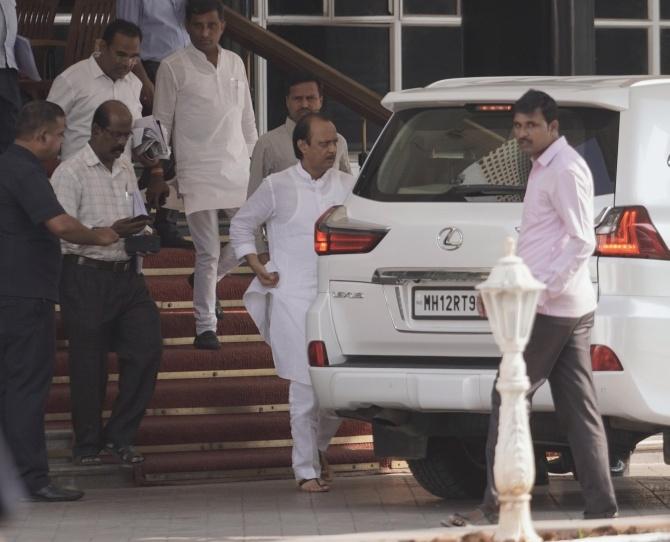 In yet another thrilling day in Maharashtra politics, the Shiv Sena's Rajya Sabha MP Sanjay Raut tweeted that his party along with the Nationalist Congress Party and the Congress enjoys the support of 162 MLAs. In response, Bharatiya Janata Party leaders claim they have 158 MLAs.
The Maharashtra assembly has 288 members.
If all its secret efforts to muster a majority in the Maharashtra assembly goes according to plan, the BJP is confident that Chief Minister Devendra Fadnavis's two-man government will have around 12 to 13 votes more than the simple majority mark of 145 in the House, claim senior party leaders based in Mumbai and New Delhi.
The BJP leaders, who are involved in getting support across political parties in Maharashtra, refuse to spell out how and who is voting with them. But it is obvious that a majority of non-BJP votes will come from the NCP.
No MLA wants another election, a senior BJP leader tells Rediff.com and no legislator wants to remain without power.
Ajit Pawar joined hands with the BJP, BJP sources claim, because of his assessment that "the BJP-NCP will give Maharashtra a stable government."
Asked about the corruption cases lodged against Ajit Pawar being used by the BJP as a pressure point, a senior BJP leader says, "Even in the Sena-led government he would have been deputy chief minister and would have been on a safe wicket to fight cases and powerful enough to have his way."
"He doesn't need the BJP to be cleared in corruption cases," the senior BJP leader adds.
Sanjay Raut, the Shiv Sena's public face, tweeted on Monday evening that 'We (the Sena-NCP-Congress) are all one and together, watch our 162 together for the first time at Grand Hyatt at 7 pm, come and watch yourself.'
Minutes before Raut's tweet was posted, a senior Congressman from Maharashtra told Rediff.com in Parliament, "The affidavit before the Supreme Court and the parading of MLAs in five star hotels doesn't matter much as it does on the floor of the assembly where MLAs can vote as they want. They can change their mind."
A senior Maratha Congressman, who has been part of the negotiations, is worried about the BJP's "capacity to take brazen decisions before the floor test is conducted in the assembly."
"Look at the impropriety of the Anti-Corruption Bureau giving Ajit Pawar a clean chit!" he exclaims.
Congressmen involved in the trilateral negotiations are also suspicious of Sharad Pawar's ability to retain his party MLAs with him and seriously worry about the Sena-NCP-Congress mustering a majority in a floor test.
When I ask a senior Maratha Congressman to rate the chances of the Shiv Sena-NCP-Congress forming a government in Maharashtra on a scale of ten, "I think, six," he says, doubt highlighted in his assessment.
The BJP's confidence is spawned, its leaders claim, by the fundamental contradiction of a tie-up between the Shiv Sena and Congress. More than a dozen Sena MLAs, BJP leaders point out, find their ultra Hindutva ideology unwanted in the new political set-up that Sena leaders have thrust upon them.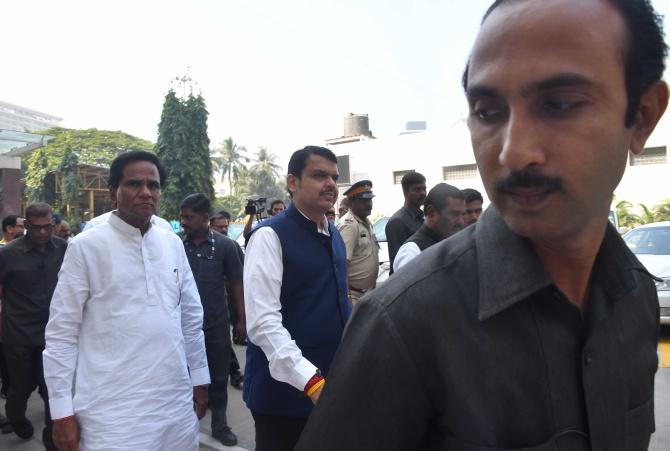 "A few assumptions are easy to make. Ajit Pawar can't do anything without the knowledge of his uncle Sharad Pawar," says a senior BJP leader who is closely monitoring the Sena-NCP-Congress front. "But it is also true that they are not on good terms. We know Ajit Pawar controls the NCP infrastructure and the party itself."
When I ask a senior BJP leader in New Delhi why his party is reluctant to have a floor test as soon as possible, he says, "We seriously believe that it is the governor's prerogative to decide the date of the floor test in such circumstances."
If the Fadnavis government wins the floor test, will it be with the help of NCP MLAs or because of the NCP faction loyal to Ajit Pawar? "It is their internal matter, but it will be sorted out once they see the outcome of the floor test," says a BJP leader.
The BJP's confidence in Ajit Pawar to bring in MLAs and the Sena-Congress- Sharad Pawar's near perfect demonstration of confidence in their parties's respective MLAs visible at Mumbai's Hyatt hotel on Monday makes the current political events in Maharashtra appear like the memorable friendship sequences from the 1975 film Sholay.
Quizzed about the bonhomie between Shiv Sena President Uddhav Thackeray and Congress-NCP MLAs, between Congress leader Mallikarjun Kharge and Sena MLAs, and NCP MP Supriya Sule's warm greetings to all, a member of the BJP's core committee in Maharashtra quips, "Achcha hain. Milna achcha hota hain. Sansar main aapas main prem hona galat to nahin hain. (It's good. It's good to see. Nothing wrong in this world to have mutual love)."