J R D Tata and Air India... Mrigank Warrier explores one of India's eternal love stories.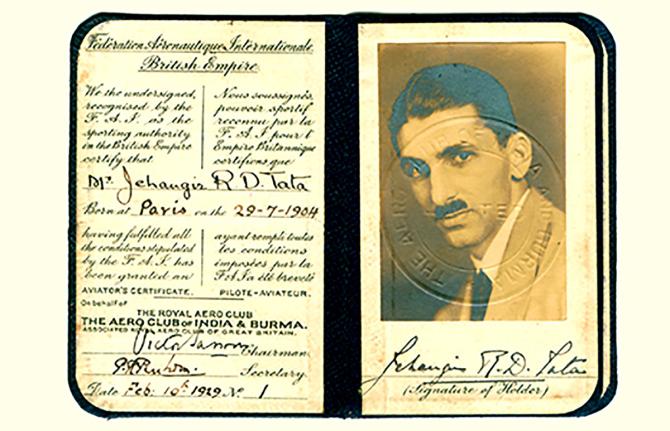 Barely a decade after the Wright Brothers first took off in the United States, a small plane prepared to land in the French resort town of Hardelot. The pilot was a legend in his time, the first man to fly solo across the English Channel. The only passenger was a 10-year-old boy whose father was praying for his safe return.
There was no runway. The plane landed and skidded to a halt on the public beach. Beaming after his joyride, Jehangir Ratanji Dadabhoy Tata decided that one day he too would become a pilot.
Ten years went by.
In 1929, Bombay finally got its own flying club; 12 days later, with three hours and 45 minutes of supervised flying under his belt, Jehangir was permitted to fly solo.
Within a week, he was awarded a flying certificate by the Aero Club of India and Burma. It bore the number 1; he had just become India's first qualified pilot.

Have wings, will fly
Within a month of earning his license, JRD -- as he would come to be known -- met Nevill Vintcent, a flying wizard with big dreams for India's non-existent civil aviation sector.
Imperial Airways (an ancestor of present-day British Airways) was planning to link Britain with Australia by connecting the dots of the Empire. The India leg would be Karachi-Calcutta; Vintcent and JRD proposed a Karachi-Madras offshoot via Bombay.
The Tata Group was recovering from an economic downturn and had exited some businesses. JRD persuaded its reluctant chairman to invest Rs 2 lakhs and sought a government contract to carry airmail along his proposed route.
The government dilly-dallied and JRD grew impatient. He wrote to Vintcent: 'I think that Government are treating us shabbily... I hope that you will be able to... find out whether Government intend to say yes or no within the next 100 years!' A sentiment JRD's successor, Ratan Tata, must have identified with lately.
But we are getting ahead of our story.
On April 24, 1932, the contract was signed and Tata Air Mail came into being.
Its successor, Air India, would become the first Asian airline to introduce jumbo jets (Boeing 747s) in its fleet. On the other hand, when the wings of Tata Air Mail's first plane were folded, the plane shrank to the width of a car.
Strapped to the deck of a ship as part of JRD's personal luggage, it was ferried to Bombay and transported by bullock cart to the mud-flats of Juhu, which were flooded due to heavy rains.
The inaugural flight was postponed by a month.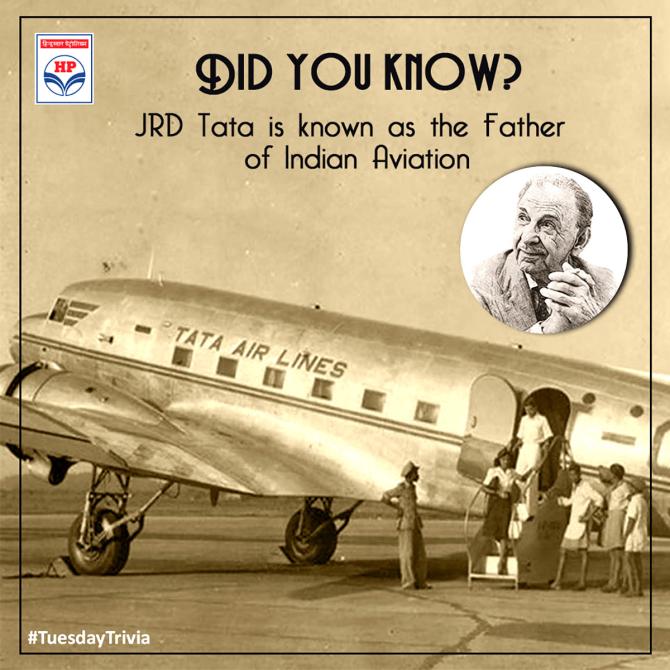 Up in the air
At 6.30 am on September 15, 1932, JRD -- dressed in long white trousers and a short-sleeved white shirt -- piloted his Puss Moth out of Karachi with a pair of goggles and a slide rule as his only equipment.
'Those were adventurous days,' he would recall. 'We had no navigational or landing aids whatsoever on the ground or in the air, and no radio.'
The plane was refuelled at Ahmedabad with four-gallon petrol cans transported onto the runway by bullock cart. At 1.50 pm, JRD landed with his cargo of mail at those Juhu mud-flats and Indian civil aviation was born.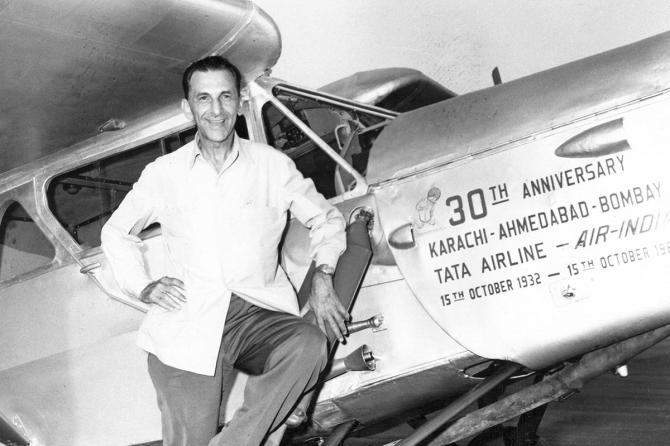 Spreading its wings
Some flights, which had only transported mail, began to carry a maximum of one passenger.
The pilots of Tata Airlines (its new name) were unused to human cargo. Once a pilot, after devouring a leg of chicken, flung the bone out of the cockpit. Carried by the wind, it landed in the lap of his startled passenger.
Bombay-Nagpur-Jamshedpur-Calcutta, Bombay-Hyderabad-Madras, Bombay-Goa-Cannanore-Trivandrum. The route map grew and Tata Airlines covered the equivalent of 60 times the Earth's circumference in just five years of its existence. Its recorded punctuality was 99.94 per cent, a statistic present-day airlines can only dream of.

Air India flies abroad
After Independence, JRD proposed Air India International, a joint venture with the government to take his airline to Western skies.
The government would hold 49 per cent of the equity and the Tatas, 25 per cent; the public held the remaining 26 per cent. JRD offered the government the option to take over another 2 per cent from the Tatas and become the majority holder whenever it desired. It was an offer he would come to regret.
'Who', JRD remembered being asked, 'would want to entrust himself on long overseas journeys to a small Indian airline, its planes flown and maintained by Indians, in preference to such experienced giants as Pan Am, Trans World Airlines or Air France?'
He needn't have worried. Within two decades, 75 per cent of Air India International's passengers were foreigners who chose it over their own countries's flag carriers.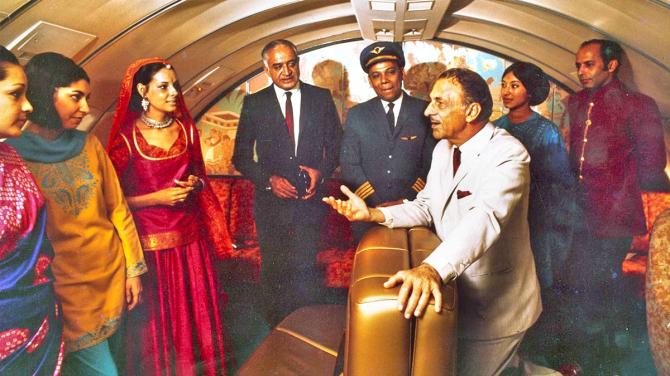 Business or Economy: A class apart
JRD prioritised aircraft maintenance, decor, safety, punctuality and service quality to distinguish Air India from its competitors.
As a passenger, he was not above wiping down a dirty counter or helping clean a filthy aircraft toilet.
He laboured over minutiae: 'I am told that while the scrambled eggs and omelettes we serve for breakfast in the first class are excellent, the bacon and tomatoes that go with them are often served stone-cold. I suggest that appropriate action be taken to ensure that bacon and tomatoes are served hot along with the eggs.'
The death knell of nationalisation
By 1952, many other airlines had taken off and saturated India's fledgling civil aviation market; too many aircraft spent too little time flying on too few routes.
While Air India still stood tall, its rivals allowed services to deteriorate, and bled money.
To salvage this situation, the Planning Commission recommended the merger of all airlines into a single government-controlled corporation.
JRD objected. 'Nationalised airlines would be subject to political influence and pressure in their management, with disastrous results,' he said with prescience.
Nevertheless, the government proceeded with nationalisation.
It accepted JRD's suggestion to keep the domestic (Indian Airlines) and international carriers (Air India) separate and appointed him chairman of both entities. For the next 25 years, he would dedicate nearly half of his time to these roles, although they offered no financial benefits to him or any Tata company.
Six years ago, the Tatas re-entered the aviation segment in partnership with Singapore Airlines (as Vistara).
So impeccable was Air India's reputation during its JRD years that when Singapore Airlines was being established, it modelled its service standards on Air India.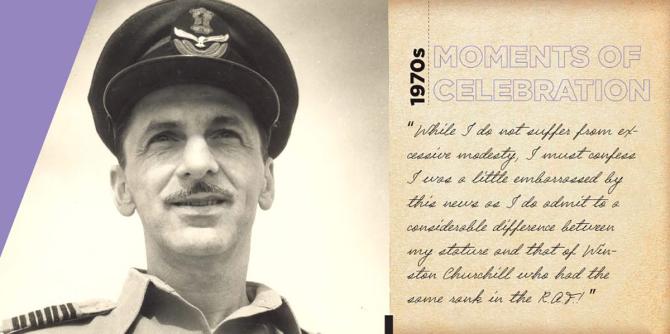 Ejected!
On New Year's Day 1978, Air India's first Boeing 747 plunged into the sea off the coast of Bombay. All its passengers and crew were killed.
JRD already had an uneasy relationship with the new PM Morarji Desai. The disaster was reason enough for the Cabinet to drop him from both airline boards.
No one from the government bothered to contact him personally. He was informed of his ouster by the man chosen to replace him, ironically, an MD of a Tata Group company.
Someone asked JRD how he felt. He replied, 'I feel as you would feel if your favourite child was taken away.'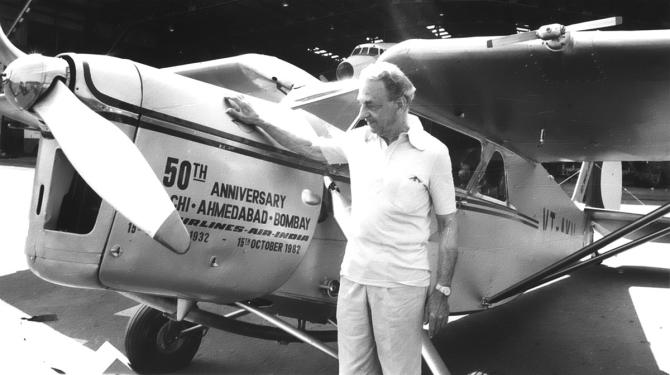 Circles in the sky
Fifty years after his historic first flight, JRD flew a Puss Moth from Karachi to Bombay again. He was 78 and had recently experienced chest pain, but insisted on flying solo.
Carrying a mailbag of messages from the president of Pakistan and the mayor of Karachi to their counterparts in India and Bombay, the plane circled before landing. If JRD had landed any sooner, he would've been five minutes early!
A journalist asked if he expected to be around for the hundredth year of Indian civil aviation. JRD's witty reply: 'Of course I will be there. You see, I believe in reincarnation.'
With Air India back in the Tata fold, perhaps he will.
Sources: Beyond The Last Blue Mountain: The Authorised Biography Of J R D Tata by R M Lala, The Great Aviation Story by R K Murthi and The Tata Group: From Torchbearers To Trailblazers by Shashank Shah.