Most judges who retire never engage with public issues.
But Justice Suresh was so sensitive to injustice that even after retirement, he remained a judge at heart.
At the same time, he had moved far away from the rarified world of judges; he strove to be the voice of the people.
Jyoti Punwani remembers Justice Hosbet Suresh who passed into the ages on Thursday.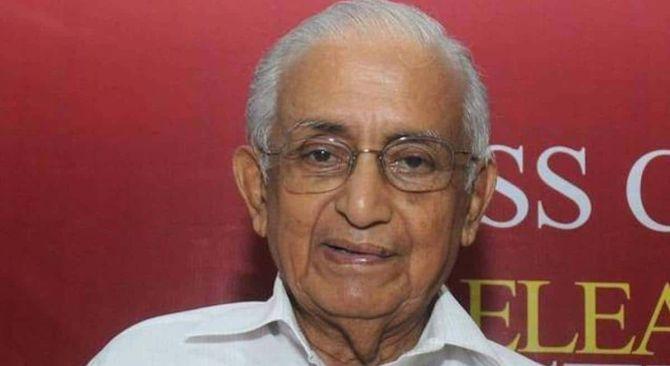 Few people have the honour of being loved and respected at the same time. Even fewer would be loved and respected by a spectrum of people, both peers and juniors.
Retired Justice Hosbet Suresh, who passed away suddenly on Thursday night aged 91, was one of those rare personalities.
Justice Suresh retired as a high court judge in July 1991, and the very same year, became part of a fact-finding mission organised by the Indian People's Human Rights Tribunal to investigate the riots that broke out in Karnataka over the decision of the Cauveri Water Tribunal.
From then till almost the end of his life, the retired judge was part of similar fact-finding missions organized by human rights groups, travelling with them to remote places.
Nirbhay Bano Andolan activist and lawyer Shakil Ahmed recalls an Adivasi village where the fact-finding team used bricks to make a makeshift Western-style toilet for the judge who because of his age, had a problem squatting.
"He didn't grumble at that; in fact, he never demanded special treatment," recalls Ahmed. "We would often wonder whether a retired judge would agree to come to certain places, but every time we called him, he would respond with a warmth that floored us. He never asked whether the meeting would be well-attended or not."
Dalit rights activist Yogesh Kamble remembers how the judge accepted his request to address his slum at Ambedkar Nagar, Elphinstone Road, central Mumbai, on how to deal with builders appointed by the Slum Rehabilitation Authority.
At another meeting in a slum in Wadala, north central Mumbai, Justice Suresh was to release a fact-finding report on police harassment of a slum activist. After the police dismantled the stage set up by the Nirbhay Bano Andolan, recalls Ahmed, the judge climbed up on a stool and addressed the frightened slum dwellers gathered there.
No wonder the judge wasn't exactly the police's favourite.
In October 2018, Maharashtra Additional Commissioner of Police Shivaji Pawar, the officer handling the Bhima Koregaon case, in response to a question in court, told the court that he would arrest Justice Suresh if he found any evidence against him.
The retired judge was then the president of the Indian Association of People's Lawyers. Advocates Sudha Bharadwaj and Arun Ferreira, both arrested in the Bhima Koregaon case, are members of the IAPL.
That veiled threat didn't faze the then 89 year old. For one, he didn't think of himself as old.
"After he turned 80, we would hesitate to call him," recalls Ahmed. "But he would turn around and say: 'Just tell me where to come, don't think of my age'."
Secondly, he was, as retired Chief Justice of the Delhi high court A P Shah says, "completely fearless."
"The charm of his personality was that he never minced words, at the same time he was such a compassionate human being," recalls Justice Shah.
Justice Shah recalls Justice Suresh's hard-hitting address to a conclave of sitting and retired judges where he criticised many judgments of the Bombay high court authored by some of the judges in the audience.
"He spoke like one of us, like a human rights activist. Which retired judge does that?" asks advocate Mahrukh Adenwala, member of the Committee for the Protection of Democratic Rights.
"Because he had been a judge, his words carried so much weight," Adenwala points out, "but he never ever used his stature to pull rank. His fact-finding reports had the mark of a judge, infused with his unique pro-people legal perspective; they remain documents worthy of study."
"We often felt we were using him, by calling him again and again for fact-finding missions, or to address press conferences," adds Adenwala ruefully, "but we just could not find anyone of his stature who would take a stand against injustice the way he did."
It wasn't only after his retirement that Justice Suresh became a fighter for people's rights. As a judge too, recalls Justice Shah, he was humane.
"He was a judge in the Bombay high court only for five years, but he left a memorable legacy," says Justice Shah.
"Any member of the Bar preferred to appear in his court: he was not just hard-working and quick to understand issues, but also very equitable."
Senior advocate Yusuf Muchhala, who shared office chambers with Justice Suresh for 37 years, echoes that.
"As a judge of the city civil court, he was known for his sense of justice and total impartiality in dealing with the issue, irrespective of which lawyer was appearing. All of us loved to appear before him because we were sure of getting justice," says Muchhala.
"Also, no one could tamper with the board in his court; he managed matters himself, and ensured no lawyer was left wondering whether his matter was going to come up that day," recalls Muchhala.
It wasn't just his individual qualities that Justice Suresh brought to the Bench; he tried to change things there too.
As a budding lawyer in 1989, Pradeep Mandhyan remembers Justice Suresh calling a meeting of the high court bar to discuss ways to cut the delays that are the hallmark of our judicial system.
"The Bar agreed with him, but finally said that the measures he suggested were beyond their control; the State had to step in," recalls Mandhyan, who made a presentation at the meeting.
For Mandhyan, the retired judge was an inspiration. "Often we in CPDR felt like giving up on a certain issue because it was going nowhere. But then we would think of him; even at his age, he never gave up."
As in office, so out of it, Justice Suresh stood out.
"Most judges who retire never engage with public issues. But Suresh was so sensitive to injustice that even after retirement, he remained a judge at heart. At the same time, he had moved far away from the rarified world of judges; he strove to be the voice of the people," says Muchhala.
"Justice Suresh is one of the few giants on whose shoulders stands the current civil liberties movement," says Justice Shah. "He was inspired by Justice V R Krishna Iyer, and the contribution of both of them to the poor and marginalized and to human rights is immeasurable."
Production: Aslam Hunani/Rediff.com