With Muthappa Rai's death ended a life that highlighted the dark side of Bengaluru's often delirious growth to become India's IT capital, notes Vikram Gopal.
Illustration: Dominic Xavier/Rediff.com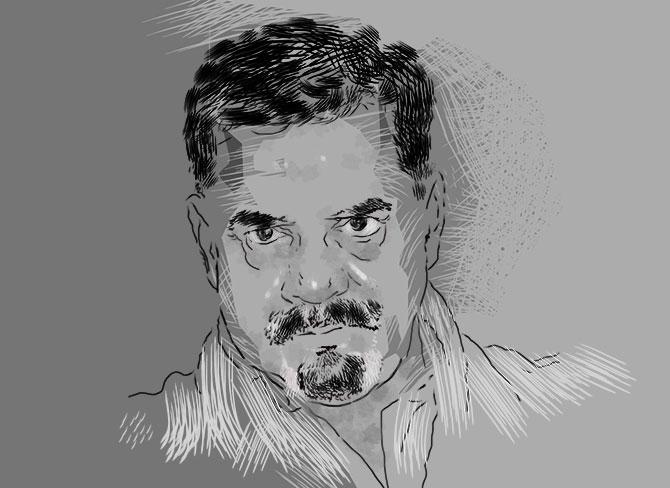 A hearse made its way slowly across Bengaluru on May 15, flanked by a convoy of SUVs and supporters showering flower petals along the route.
Casual onlookers might have mistaken the dead man for a political leader, but it was in fact the funeral of former underworld don Muthappa Rai.
Rai, 68, had died earlier that day after he lost the battle with cancer. With him ended a life that was symptomatic of the dark side of Bengaluru's often delirious growth to become the IT capital of the country.
This metamorphosis of the city was shadowed by Rai's own life. Born in a small town called Puttur in the coastal district of Dakshina Kannada, Rai started out as a clerk at Vijaya Bank, where he was hired to help defeat the employees union.
In the middle of the 1980s, he shifted from Puttur to Bangalore (as it was then known) to run a bar. This was when he had his first brush with the underworld.
By the end of that decade, Rai stamped his imprint on the city's underworld after he masterminded the murder of M P Jayaraj, Bengaluru's first don, with the help of the Mumbai underworld.
A few years later, Rai's notoriety reached its peak after he survived a murder attempt in a courtroom, where a gunman shot him five times.
Rai fled to Dubai in 1996, where he was arrested and extradited to India. He was acquitted in all the cases against him and subsequently transformed into a real estate baron and leader of a political organisation.
Rai was in many respects the beneficiary of a near complete overhaul of Bengaluru.
From 2.5 million in 1981, the city's population grew to 6.54 million in 2001, and by 2011 it had reached 9.62 million.
This rapid rise was also mirrored in the huge growth in the physical dimensions of the city.
This provided Rai, and many others like him, opportunities to exploit a justice system creaking under the burden of history and a civic administration that could barely cope with the huge increase in population.
Speaking about that time, Rai's former nemesis and another reformed gangster Agni Sridhar says it was apparent to all those who lived in the city at the time that Bengaluru was about to witness a boom.
Even then, Sridhar says, nobody could predict the massive impact that liberalisation and globalisation would have on the city after 1991.
"Land rates shot up beyond anybody's imagination. A one-acre plot that was earlier worth about Rs 1 lakh was suddenly worth Rs 1 crore," Sridhar says.
This increase in land prices led to an increase in litigation. "Courts just weren't able to cope with this," says Sridhar, whose autobiography, My Days in the Underworld, captures this shift.
This changed the character of the underworld as well. "Before the underworld turned to real estate, it was involved in resolving minor disputes not related to land, and in selling drugs," explains Sridhar.
"We realised that the real money was to be made in land litigation, because people were desperate for quick resolutions."
To be sure, Bengaluru had seen massive decadal increases in population earlier too. What had changed now was the influx of massive amounts of capital after liberalisation.
"Businessmen from across the country suddenly saw the tremendous opportunity the city provided at that time and a lot of capital splashed into the real estate sector," says Congress MLA K R Ramesh Kumar, who was speaker of the Karnataka assembly between 1994 and 1999, and once again in 2018-2019.
In an attempt to come to grips with this change in the city, the state government decided to bring more order into the management of its land records.
It digitised the records, through a programme called Bhoomi which was lauded by multilateral organisations.
However, rather than eliminate corruption, this centralisation of information led to a more sophisticated form of corruption, according to Solomon Benjamin, faculty at the Indian Institute of Technology Madras, who has studied Bengaluru's transition extensively over the past three decades.
"Earlier, it was a very localised kind of corruption at the village level. The programme centralised information to the district level, and this changed the institutional and political dynamics," Benjamin says.
This was where people like Rai came in.
"We found that specialised agents came into play to influence the land market when the government sought to acquire land for the IT industry in the late '90s and early 2000s," Benjamin says. "All this was aided by a centralised accessible system of land records," he says.
These interventions in ensuring development often translated into displacement for the oppressed.
Bengaluru's expansion into the hinterland often came at a huge cost for Dalits, says activist Mavalli Shankar.
"Most Dalit settlements did not have proper records." However, overt political intervention was not possible because Dalits in these areas were organised.
"In such cases, the political class relied on the underworld to address these problems, at times violently."
Around the 1990s there was also a shift in the economics of politics in the state.
It had so far been dominated by the private education and liquor lobbies, Sridhar says.
However, by the middle of the decade a new set of businessmen-politicians with access to land entered the fray.
"Over time, winning elections became more of an art than a contest of competing convictions. Every party was handing out election tickets to the rich," Ramesh Kumar says.
"Things changed with the influx of builders... governments became subordinate before them."
The dynamic changed in favour of real estate interests in politics in 2003, after S M Krishna, then the chief minister, floated a government undertaking through which liquor was to be traded, eliminating a thriving business in 'seconds', or non-duty-paid liquor, which had lubricated the political system for decades.
After this, the real estate lobby emerged as a dominant force, Kumar says. "All sorts of elements entered the political fray at the level of corporators and subsequently MLAs."
Attempting to make this change himself, Rai, too, floated a political organisation called Jaya Karnataka in 2008, seeking to promote 'Kannada identity'.
Politics though proved to be much harder to master, even for Rai. He never contested an election.
Political analyst Narendar Pani, faculty at the National Institute of Advanced Studies, says the rise of real estate interests in politics was symptomatic of a shift away from state patronage to one of individual, constituency-level patronage.
"This system required some amount of corruption, including the profits that accrued from real estate," Pani says.
"However, Rai and other criminal gangs were in fact on the fringes of politics. They supported politicians, but could never make it themselves."
Production: Rajesh Alva/Rediff.com