'A P Venkateswaran left an indelible impression on Indian diplomacy and made an incredible number of friends, who kept remembering him more than other Indian diplomats who served at those posts.' Ambassador T P Sreenivasan salutes a legend of the Indian Foreign Service who passed into the ages.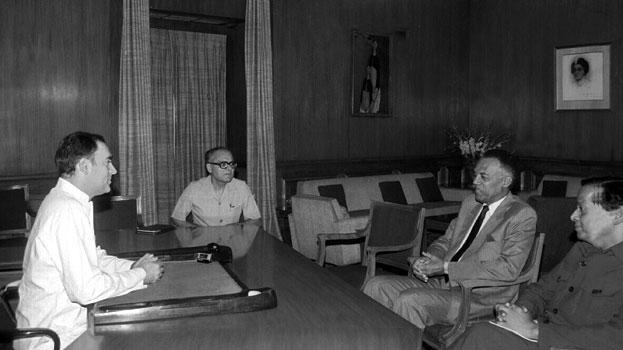 Image: A P Venkateswaran, right, then India's secretary in the ministry of external affairs, at a discussion on international terrorism with then prime minister Rajiv Gandhi in New Delhi, July 19, 1985.
'An outspoken Chanakya with irreverence for authority and a great sense of humour' is the best way to describe the brilliant, efficient, dynamic and popular diplomat of his time, A P Venkateswaran, APV.
'Venkat', as his peers knew him, breathed his last in Bengaluru at the age of 84, while engaged in intellectual pursuits, particularly as the head of the Asia Centre.
APV must have found an appropriate Sanskrit shloka or a quote from Aristotle or Dante to greet his maker, as he did on every occasion on earth.
His erudition was beyond question, his sense of national interests was impeccable and his sense of humour was irreverential, bordering on the mischievous.
If he had any setback in his illustrious diplomatic career, the reason was exactly his irrepressibility, not irresponsibility. His inimitable style may have irked some, but even they acknowledged his extraordinary contribution to the national cause.
The enduring image of APV among the public is a scene on live television on a day in January 1987 in which the then prime minister Rajiv Gandhi told a press conference that 'Soon you will be talking to a new foreign secretary.' APV put in his papers within hours and the entire foreign service, in a rare display of solidarity, stood like a rock behind him.
It was known for some time that Rajiv Gandhi was uncomfortable with the APV style of functioning. The prime minister had weighed the pros and cons of appointing him foreign secretary for long and, according to APV, the decision to appoint him was conveyed to him with the preface, 'Let us have a bash at it!'
Rajiv Gandhi did not take kindly to some of APV's comments on various matters, official and administrative. In the circumstances, his premature departure from the foreign service was not entirely unexpected. Perhaps, the episode was the beginning of the end of the popularity of Rajiv Gandhi. India Today magazine characterised the incident as an avoidable, insensitive blunder at that time.
Even in distant Fiji Islands, where he had served long ago from 1968 to 1971, the disbelief over the fall of a great diplomat was palpable. I wrote to him from Fiji: 'The sense of surprise and anguish that your wide circle of friends in Fiji felt should be seen to be believed. I received a number of calls in the last few days from ministers, senior officials and others, enquiring as to what had actually happened. The Governor General, Ratu Sir Penia KGanilau, sought me out at a reception last night to enquire what had happened to his "dear friend". Permanent Secretary James Maraj said that you would be welcome in Fiji if you chose to retire here. The Fiji leadership must feel deprived of a trusted friend in the higher echelons of the Government of India.'
Indeed, if APV had remained foreign secretary till May 1987, India would have dealt with the coup in Fiji very differently. Even from outside the government, he influenced the government to react strongly to the coup.
Having chosen me for the Fiji assignment, with the warning that it was a sensitive post, he reprimanded me on the phone for continuing the old policy of seeking communal harmony even after the Fiji Indians were stripped of their political rights.
When I quoted my instructions, he got them changed and made me fight for the rights of the Fiji Indians. He accompanied the ousted prime minister Timoci Bavadra and the Fiji Indian leaders to London to remind the British of their obligation to protect the Fiji constitution.
He even told me that, since India did not recognise the military government in Fiji, I should not leave Fiji even after the Fiji government 'downgraded' the Indian Mission and gave me 72 hours to leave. Such was APV's loyalty to the Fiji Indians 20 years after he had left.
A way to pay respects to APV and to perpetuate his memory is to compile the extensive folklore of his anecdotes, witticisms and pithy statements, which remain green in the minds of his colleagues.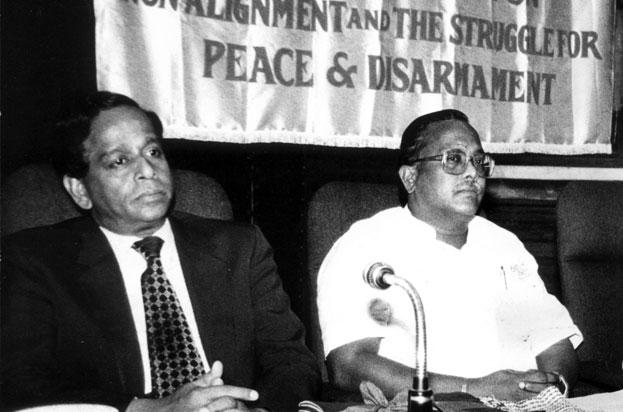 Image: A P Venkateswaran, left, with former MP K Ramamurthy at a seminar on disarmament in New Delhi, March 13, 1986.
One of the stories which took the rounds relate to the tense days of the Bangladesh war in 1971. As the point person for the Soviet Union in the ministry of external affairs, APV played a crucial role in the whole operation. He visited Moscow very frequently together with D P Dhar to strategise with the Soviets. A four star Soviet general could not quite place APV in the Indian hierarchy. He took APV aside during a coffee break and asked him what his position was. 'Look, General,' said APV, 'I cannot explain it in either English or Russian. But in my mother tongue, Tamil, I am D P Dhar's "water pot" (Kuja) and in my national language, Hindi, I am his "spoon" (Chamcha)!'
The bewildered general walked away, more confused than before.
While chairing a UN Committee on Disarmament in New York, APV addressed the delegates as 'Gentlemen' a couple of times. An agitated woman delegate took the floor and protested that the chairman was guilty of gender discrimination.
APV smiled heartily as he always did and said, 'Madam, as a rule, gentlemen embrace ladies!' The whole committee, including the offended lady delegate, burst into laughter.
In a tense situation in Tokyo, when Prime Minister Rajiv Gandhi's Air India flight returned to the pavilion on account of the failure of a crucial valve, APV was the only person among all of us at the airport, who went up to the agitated prime minister.
'What can we do, sir, this is an act of God,' he said, which provoked the former pilot to say, 'This is no act of God. This is bad maintenance.'
APV contested elections in Tamil Nadu and lost, as his UN style campaign did not make much headway. I asked him why he chose to contest against Vyjayanthimala, still an attractive and popular personality. 'If I have to face an opponent, I would choose a pretty woman rather than an ugly man,' he said. Every conversation with him was a treat and most memorable.
From Fiji to the Soviet Union, to the US to the UN and to China, APV left an indelible impression on Indian diplomacy and made an incredible number of friends, who kept remembering him, more than any other Indian diplomats, who served at those posts.
At the UN, delegates huddled around him to get his insights and forthright reactions. I never served directly under him, but was posted to some of his postings long after he had left. He was a truly an iconic figure everywhere, much loved, much admired.
In the foreign service, officers become stars often either by receiving accidental attention of celebrities, who take them on as blue-eyed boys or girls or by political manipulation and meticulously cultivated connections. Very few have attained stardom by sheer dint of brilliance and hard work. A P Venkateswaran was one among the latter group.
T P Sreenivasan is a former Ambassador of India and Governor for India at the IAEA; Executive Vice-Chairman, Kerala State Higher Education Council and Director General, Kerala International Centre. You can read his earlier columns here.