The boat's Arab owner says he has paid the Rs 29.5 lakh fine, but the Iranians now have a fresh demand.
As the Arab-Persian standoff continues, the Indian fishermen's families live in a state of limbo.
Rediff.com's A Ganesh Nadar reports.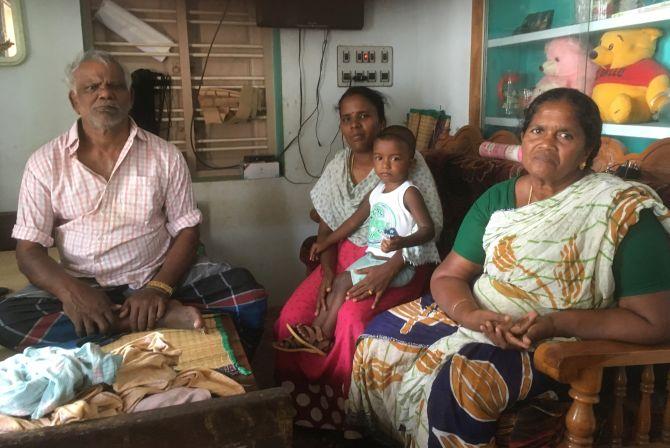 IMAGE: Fisherman Albert Newton's family.
Photograph: A Ganesh Nadar/Rediff.com
Fifteen fishermen from Tamil Nadu detained by the Iranian government on October 24, 2017 continue to be held captive on Kish island in the Islamic republic.
Chief Minister Edappadi K Palaniswami took up the matter with Prime Minister Narendra D Modi, seeking the Centre's intervention in the fishermen's release, but there has been no progress so far.
The fishermen, who were engaged in fishing from their base in Dubai, were arrested by the Iranian coast guard after they 'inadvertently' strayed into Iranian waters, the CM told Modi in a letter.
Natives of Kanyakumari, Tirunelveli and Thoothukudi districts in Tamil Nadu, the fishermen 'are detained in their fishing boats in Kish island, Iran,' the chief minister noted.
Back in Tamil Nadu, the fishermen's families are in a state of limbo.
In Rajakkamangalam, on the beach road from Nagercoil to Colachel in Kanyakumari district, a bed-ridden Silvaiadi looks bewildered that he cannot do anything to help his imprisoned child while his wife speaks through tears about her only son.
An infant grabs my visiting card, pausing to call me grandpa. His father, 33-year old Albert Newton, left for Dubai on July 3, 2017. His wife Babita said he sent money irregularly depending on the work.
"He spoke to me on October 21 and said they were leaving on a trip that day. After that there were no calls for four days. He normally calls when the mobile gets a signal. On the 26th he called from another phone to tell me that he had been arrested by the Iranian coast guard," Babita says.
"He said his owner (the fishing boat's Dubai-based Arab owner) had sent 2,000 dirhams (about Rs 34,800) to a local provision store for provisions," Babita adds, "after the money ran out, the Iranian police have made arrangements for their provisions."
"When that too stopped, the Indian embassy made arrangements on and off," Babita says.
"To meet their expenses they do menial jobs on Kish island," adds Newton's mother.
"This is not the first time he has been arrested, he was caught twice earlier," Newton's wife reveals.
"Once he spent 17 days in custody and the other time, 22 days. But this is the longest he has been in jail," she says, before bursting into tears.
"The Indian embassy contacts us on and off," Albert Newton tells me in a phone call from Kish island.
"They (Indian embassy staff) are saying our fine has been paid by our owner," he adds, "in that case, why are we still here?"
"Our owner too says he has paid the fine, but the Iranians say he has not. We don't know what to do," Newton says. "We cannot ask the embassy to send us back as our passports are with our boss (in Dubai)."
The fishermen, he adds, live on their boat, but are free to roam around the island.
"I have paid the fine for my sailors, I have paid a fine for my boat," Abdulla Saeed, the owner of the fishing boat, tells me in a phone call from Dubai.
"Now they (the Iranians) are asking parking fees for keeping my boat there for 75 days. I am waiting for them to tell me how much and I will pay that. So far it has cost me 170,000 dirhams (about Rs 29.5 lakh/Rs 2.95 million)," Saeed adds.
While the Indian embassy in Tehran puts me on hold, the joint secretary at the ministry of external affairs in New Delhi is constantly in a meeting till his secretary finally get back with: "Don't call us, we will call you." Ahem.
Meanwhile, old parents, a young wife and an 18-month-old-child wait anxiously with prayers on their lips and hope in their heart.
"We petitioned (External Affairs Minister) Sushma Swaraj through a friend, but she did not respond," Albert Newton tells me.
As I file this report, Abdulla Saeed calls to tell me that he has "paid all penalties and the parking fees for my boat."
"Once the papers are ready," Saeed hopes, "the boat will leave with all the crew on board."
Unless, of course, the Iranians come up with a fresh demand.