Nationalism and a sense of pride will push Prime Minister Narendra Modi for harder negotiations on security issues, but his craving for faster development, investments and harmony with India's neighbours will ensure that his China visit is successful, feels Sheela Bhatt/Rediff.com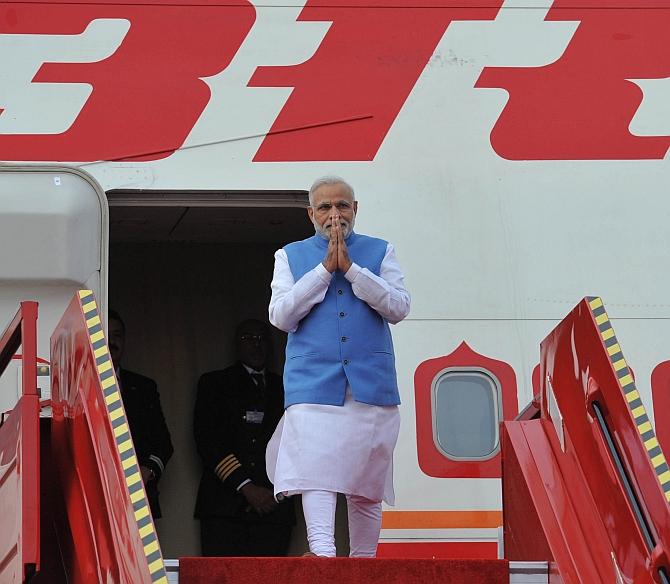 How much warmth will Beijing demonstrate when Prime Minister Narendra Modi arrives in Xi'an, the capital of Shaanxi province and Chinese President Xi Jinping's native place?
This is the only unknown factor in the prime minister's China visit, a government source told Rediff.com
How China views India and its new leadership will be judged by the Chinese spread out in the coming three days.
In September 2014, Xi and his wife Peng Liyuan received extraordinary warmth on their visit to Ahmedabad, Gujarat.
After experiencing Indian hospitality in Gujarat, the kind of hospitality Xi exhibits in return and how well the Chinese conduct Modi's visit to Xi'an would more or less decide the tone and tenor of the prime minister's first visit to China as India's leader.
In other words, the ball is in China's court to make Modi's visit historic.
Both sides are quite realistic, if not upbeat.
"It will be a normal and successful visit or an outstanding and highly successful visit," the government source said, adding, "Such visits normally do not go wrong as so much homework is done before the actual visit. Many Indian critics who are cautioning the prime minister and creating fears about China are unaware of what all goes behind such visits."
India will assess China's thinking when Xi and Modi meet at Xi'an.
India has demonstrated adequately that there is a change in the air insofar as New Delhi is concerned.
With his visits to the United States, Japan, Canada, Australia, Germany and France, Prime Minister Modi has shown the kind of leadership he wants to provide India.
Modi is a leader nurtured in the Rashtriya Swayamsevak Sangh's nationalist sanskar (tradition). While on the one hand he has exhibited his nationalist leanings, on the other he has been showing his Gujarati wisdom which pushes him to be practical and realist enough to work towards creating wealth.
Also, if compared to the United Progressive Alliance government and its prime minister, Dr Manmohan Singh, the confidence level of Modi's office is different.
Dr Singh and Modi's understanding and approach to the global economy are different.
Modi's foreign policy premise is nationalism and business.
If one applies the twin ideas in relation to China it is easy to understand why Modi's visit is so important, maybe the most important foreign visit he has made so far.
His trick lies in balancing the security aspect and trade potential.
His Gujarati mindset would argue that better relations and expanding the trade basket with China will help him handle the security issue, eventually.
The insecurity that prevails in New Delhi deep down can be addressed by the Chinese leadership if they understand that dealing with a confident leader like Modi, who enjoys a majority in Parliament, is easier than with a weak Indian leader without an electoral mandate.
The element of drama and hype in Modi's visit is due to his understanding of television and social media, but behind his dramatic addresses to the Diaspora there is an effort to push business interests.
It is believed that in the coming year, Modi's foreign visits will be planned differently and his much-published addresses to non-resident Indian supporters may not be held.
Modi's approach with China should work wherein he will not bend any terms to negotiate the border issue because he has fanatic nationalist supporters in abundance, but he will remove all obstacles to get the people of India and China closer.
He will remove the clogs with more confidence than Dr Manmohan Singh could ever do.
When Xi was in Ahmedabad, the Chinese border incursion triggered panic, but Modi demonstrated confidence in handling the situation.
It is unlikely that the Chinese have not read Modi's mind yet.
Nationalism and a sense of pride will push Modi for harder negotiations on the security issue, but his equal craving for faster development, investments and harmony with India's neighbours to get on with his mission to boost the Indian economy to touch $3 trillion will ensure that his China visit is successful.
Of course, the Bharatiya Janata Party, like the Congress, is acutely aware that when dealing with Europe or the United States, New Delhi is somehow less wary.
Fears over security creep in unwittingly when Indian diplomats talk of China. The government source claimed that this was 20th Century thinking.
Modi, in his speeches and at public platforms abroad, has shown the confidence to deal with complex historical baggage and will find the balance between security concerns and trade interests.
If in the next three days China shows that it is ready to work and walk-the-talk with Modi on a long term perspective, the government source said, there is nothing to stop both countries on the global stage.
When asked why India decided to club the visit to China with Mongolia, the source said that New Delhi had not informed Beijing before fixing the prime minister's itinerary.
Foreign Secretary Dr S Jaishankar, in his press conference on the eve of the prime minister's visit, revealed that India had raised its concerns over huge Chinese investments in Pakistan occupied Kashmir after Xi's trip to Pakistan.
When asked about the last minute negative vibes emanating from both sides, the government source said, "Nawaz Sharif's column or a column or two in an erratic Global Times can't influence such a significant visit. Countries go by what they say to each other at the official level."
"Don't forget," the government source added, "the world is watching India and China's leaders."