Zardari's Ajmer visit: What Dr Singh is thinking
Last updated on: April 2, 2012 09:03 IST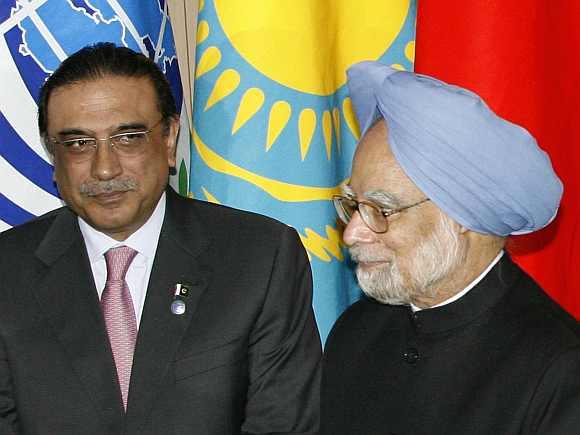 Prime Minister Manmohan Singh wants to encourage what he hopes is beginning of change of the Pakistani mindset towards India.

Prime Minister Dr Manmohan Singh is keen to encourage what he hopes is the beginning of a change in the Pakistani mindset towards India -- at least in the political class if not in the army. That is the message behind his decision to transform the planned religious visit of Pakistan President Asif Ali Zardari to the Ajmer dargah into a soft political one -- to add to the improving ambiance in bilateral relations.

According to present indications, Zardari is expected to arrive by air in Delhi on April 8, have an early lunch with the PM, visit Ajmer's famous Sufi shrine of Khwaja Moinuddin Chishti and fly back to Islamabad from there. The programme is still tentative. There is unlikely to be any joint statement at the end of the lunch. It has not yet been decided whether there should be a joint interaction with the media.


Protocol demands that an important State personality should receive Zardari on his arrival at Ajmer, accompany him to the Ajmer Sharif and see him off. It has not yet been decided whether this would be done by the Governor of Rajasthan or somebody from Delhi will head to Ajmer.

Click NEXT to read further...

For Rediff Realtime News on Zardari's visit to India, click here 
Visit to reflect comfort level between Indo-Pak leaders
Last updated on: April 2, 2012 09:03 IST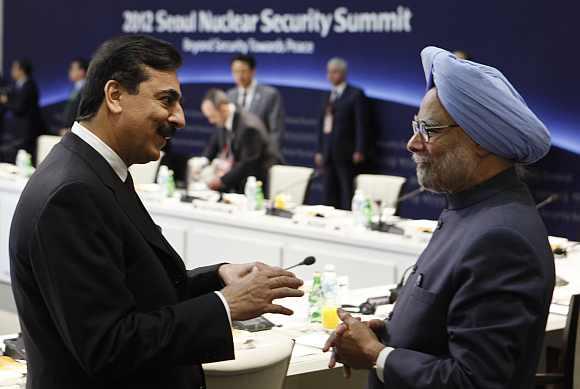 The visit will reflect the improving comfort level between the leaderships of the two countries as noticed during the brief interactions between Dr Singh and Pakistan Prime Minister Yousuf Raza Gilani in the margins of the recent nuclear security summit in Seoul.

The Government of India has noted with interest the benign rhetoric in recent references of the Pakistani leadership towards India and the initiative taken by the Gilani government for breaking the issue of bilateral trade relations with India from being a hostage to the Kashmir issue.

More significantly, there has been no evidence of any involvement of Pakistan's Inter-Services Intelligence in any of the jihadi terrorist strikes that have taken place in different cities of India since the 26/11 in Mumbai. It is too early to assess whether there would be any change in the ISI's proxy war against India under its new chief Lt Gen Zahir-ul-Islam.

India needs to note with concern strengthening of Pak-China ties
Last updated on: April 2, 2012 09:03 IST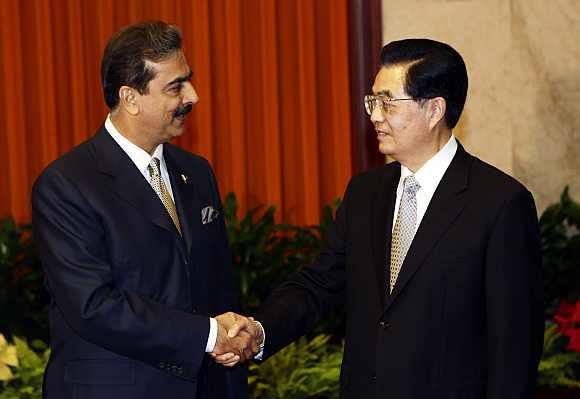 While reacting positively to Zardari's planned pilgrimage to Ajmer, one has to note with concern indications of a further strengthening of Pakistan's relations with China as seen during the current visit of Gilani to China to attend a regional security forum.

The Associated Press of Pakistan has reported that Gilani and the Chinese Vice-Premier Li Keqiang, who met on April 1, agreed to stand with each other "in all circumstances" and vowed to uphold their sovereignty and territorial integrity at all costs. Gilani was reported to have told the Chinese leader, "China's friend is our friend and China's enemy is our enemy."

The APP quoted the Chinese vice-premier as saying that China would also support Pakistan's sovereignty and territorial integrity in all situations. "No matter what changes take place at international level, we will uphold Pakistan's sovereignty and territorial integrity," he reportedly said.

TOP photo features of the week
Last updated on: April 2, 2012 09:03 IST
Click on MORE to see another set of PHOTO features...