2013: A year of power struggle in Indian politics
Last updated on: December 31, 2012 09:34 IST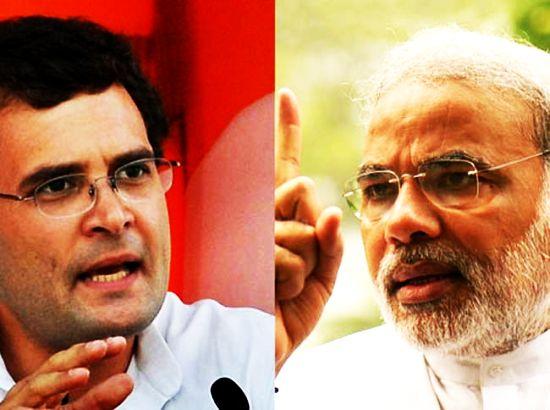 Whether they or their parties like it or not, the battle of 2014 will be between Narendra Modi and Rahul Gandhi. Aditi Phadnis on how the next year will pan out for the two
Where is the prime minister?" asked Pinki Virani, author of
Bitter Chocolate,
a pioneering exploration of incest in Indian society, on TV when protests against the rape of a 23-year-old woman held New Delhi to ransom this month.
"Where is Rahul Gandhi?" shrieked a young woman with rage as she was bodily lifted by the police and flung across the road on Raisina Hill. Both were asking the same question: where is the leadership? Is there a leader? If there is, who is it?
In 2002, after the Godhra riots, several asked the same question about Gujarat Chief Minister Narendra Modi.
For the record, Modi apologised, almost. Speaking in the Gujarat assembly in March 2002, he said: "Are we not supposed to soul-search ourselves? Whether it is [the] Godhra incident or post-Godhra, it does not enhance the prestige of any decent society. The riots are a stigma on humanity and do not help anyone to hold his head high."
But make no mistake. Modi, no matter how good his record of governance and no matter how much Gujarat has progressed, will never be the leader of all Gujaratis, and logically, all Indians.
So will 2013 be about politics that is inclusive? Or politics that excludes?
Have you taken the 2012 News Quiz?
Click on NEXT to read further...
2013: A year of power struggle in Indian politics
Last updated on: December 31, 2012 09:34 IST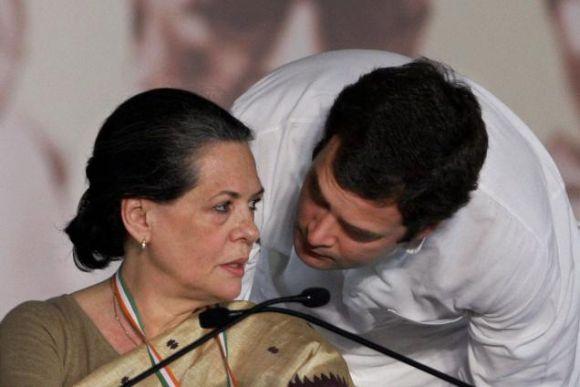 At the end of 2013, as India prepares to elect a new prime minister in 2014, where will Modi be? And Gandhi?
The coming month will hold some clues. Gandhi will almost certainly take over the Congress in 2013. An organisational reshuffle in the first week of January will see his elevation that will be endorsed by the chintan shivir to be held just after Makar Sankranti in Jaipur.
The timing is propitious. In the various state elections in 2013, the Congress is expected to do well.
In Karnataka, B S Yeddyurappa's rebellion is sure to divide and damage the ruling Bharatiya Janata Party.
The Youth Congress has grown a lot and several of the Gandhi brigade are expected to find a place in the state assembly.
In several north-eastern states where Gandhi has been working quietly, some results should be expected.
True, together the number of Lok Sabha seats that these states represent is just over 50; but what's important, at this stage, is not how many seats Gandhi can get but whether he can be the leader his party wants and expects him to be.
Click on NEXT to read further... 
2013: A year of power struggle in Indian politics
Last updated on: December 31, 2012 09:34 IST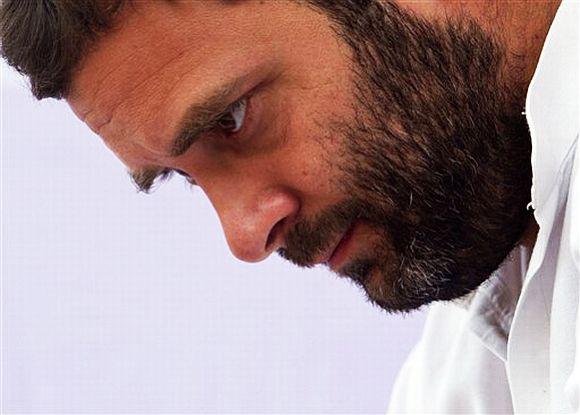 Gandhi too has become more pragmatic.
In the past, his endeavour had been to distance the Youth Congress and the National Students' Union of India from the Congress as much as possible and retain the autonomy of these groups.
In Tamil Nadu, for instance, in the run-up to the assembly elections, the Youth Congress tore into the Dravida Munnetra Kazhagam despite that party's alliance with the Congress.
It is another matter that when people saw that Congress leaders were publicly praising DMK, while Youth Congress leaders were attacking them, the credibility of both became questionable.
Nevertheless, in the past, Gandhi had said that the Congress's salvation lay in a bottom-up reconstruction of the party: building a party that is substantive, where Congressmen are well informed, disciplined and thoughtful.
In the hunt for fresh young leadership, on a (hypothetical) scale of 10, a person from an NGO background got eight. A person who wanted to enter public service got five. The least favoured was a boy or girl who wanted to enter politics through the Youth Congress but was the son or daughter of a Congress politician.
Click on NEXT to read further...
2013: A year of power struggle in Indian politics
Last updated on: December 31, 2012 09:34 IST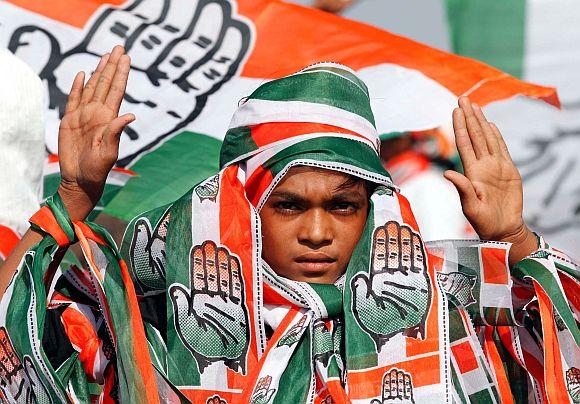 In July 2011, we saw the limits to this project.
The future of the then Goa government headed by Congressman Digambar Kamat hung in balance because the Alemao brothers -- Churchill, public works department minister, and Joaquim, urban development minister -- threatened to resign.
The reason was that Churchill's daughter, Valanka, was disqualified from the Youth Congress elections because she had used strong-arm tactics and had accepted help from her father.
Kamat rushed to Delhi and Rajiv Shukla, the minister of state for parliamentary affairs, had to work on the Alemao brothers for two hours to tell them they were assets for the party and should withdraw their resignation. (Congress had 20 legislators in the 40-member house).
True, Valanka stayed out of the Youth Congress, but the two leaders who were alleged to have threatened her rivals also stayed on in government!
And, of course, there is that permanent bugbear, Uttar Pradesh.
But if Gandhi was to dwell too much on Uttar Pradesh and his party's performance -- or lack thereof -- he would be beating himself up needlessly. For, BJP's showing there has been hopelessly below par as well.
Which then boils down to the question: what is Gandhi's challenger, Modi, going to do?
Click on NEXT to read further...
2013: A year of power struggle in Indian politics
Last updated on: December 31, 2012 09:34 IST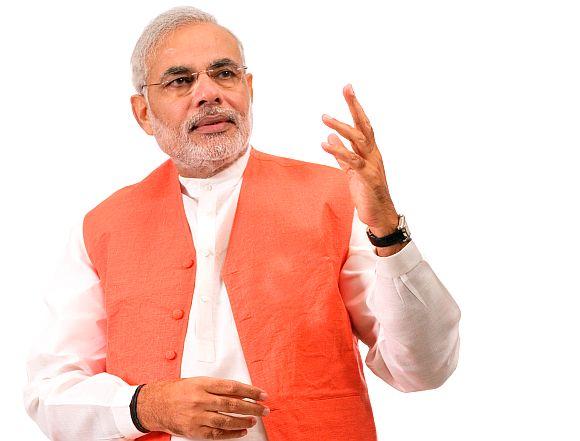 Nothing, it appears, is going to happen in BJP in a hurry.
The party would like Modi to be elevated as party president immediately for reasons that are obvious.
"After this election, his stature has become even higher than before because, apart from Pawan Chamling of Sikkim, no chief minister has held three full terms consecutively," says a BJP leader who is NOT a Modi supporter. "
Modiji
used no emotive issues this time, there was no personal attack on anyo#8800 this was a positive election that focused on his governance record".
This much is true that within BJP, Modi is now a phenomenon. In the past, while L K Advani was seen largely as an organisational influence but not a leader with mass appeal, Atal Bihari Vajpayee was the opposite -- a great public speaker but with little hold on the organisation.
Modi, in contrast, is a strategist, has some degree of control over the party (witness the fate of Sanjay Joshi) and, it goes without saying, is a stirring public speaker. That he is not acknowledged as a leader of all communities is, in BJP's eyes, an advantage, not a disadvantage.
Click on NEXT to read further...
2013: A year of power struggle in Indian politics
Last updated on: December 31, 2012 09:34 IST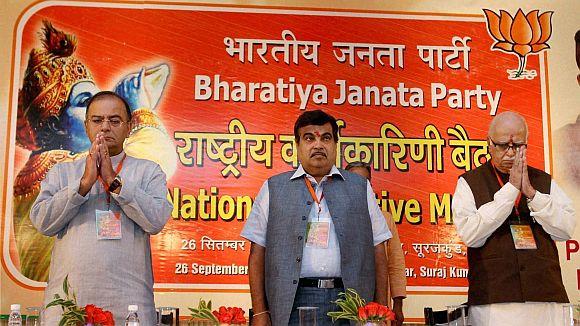 Of course, BJP might shout 'Modi' till it is blue in the face. But the Rashtriya Swayamsevak Sangh (RSS) stands to lose the most if Modi becomes party president. Why?
In the last one decade, BJP, several leaders believe, has become too dependent on RSS. It has tolerated, in many cases suffered, presidents foisted by RSS only because these individuals have been good Sanghis and not because they have been good for the party.
Modi is the first BJP leader who is seen dealing with RSS as an equal -- without putting it on a pedestal.
The RSS, which has lately got used to an unequal equation (and quite enjoys it), is resentful, even fearful, of anyone who can square the circle.
Modi's supporters in BJP say this is at the crux of his face-off with Nitin Gadkari. Gadkari, they charge, is trying to manipulate RSS to safeguard his position; Modi, on the other hand, is trying to recast BJP's relations with RSS by appeals to reconsider its role.
Click on NEXT to read further...
2013: A year of power struggle in Indian politics
Last updated on: December 31, 2012 09:34 IST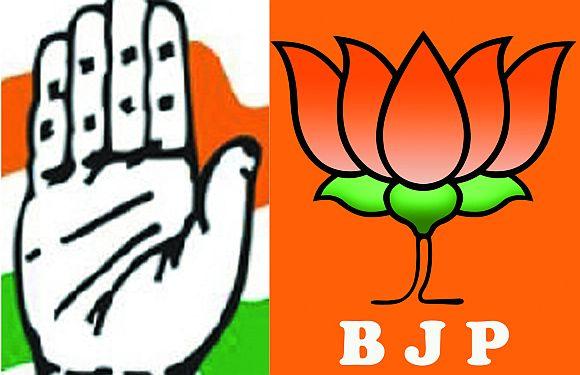 Bureaucrats in the Gujarat government, who are usually a good barometer of political moves, say they have no indication that Modi is thinking of shifting to New Delhi.
Even before he took oath on December 26, Modi has decided what he wants to take up in his new term: irrigation, education and housing.
Two other BJP chief ministers, Shivraj Singh Chouhan of Madhya Pradesh and Raman Singh of Chhattisgarh, will seek re-election for the third time in 2013. Like Modi, they too have a story of development and growth to tell.
Next year will see a struggle of power in a way that will be very different from 2014: it will be a struggle of Modi and Gandhi to gain control not just of the party apparatus but also of key individuals. This apparatchik is being identified by both in their respective organisations. What lies at the end of 2013? That will be decided only in May 2014, when the general elections are held.
No doubt India will get a coalition in 2014. But are the people of India so undecided that the result of the general election will be a hung house, causing tortuous number crunching and opportunistic alliances? It doesn't seem like it.
Efforts towards a clean two-coalition election have already started -- with the beginning of 2013. And their leaders are Rahul Gandhi and Narendra Modi.
Source: