The perfect tee for flat-chested women
May 29, 2014 08:12 IST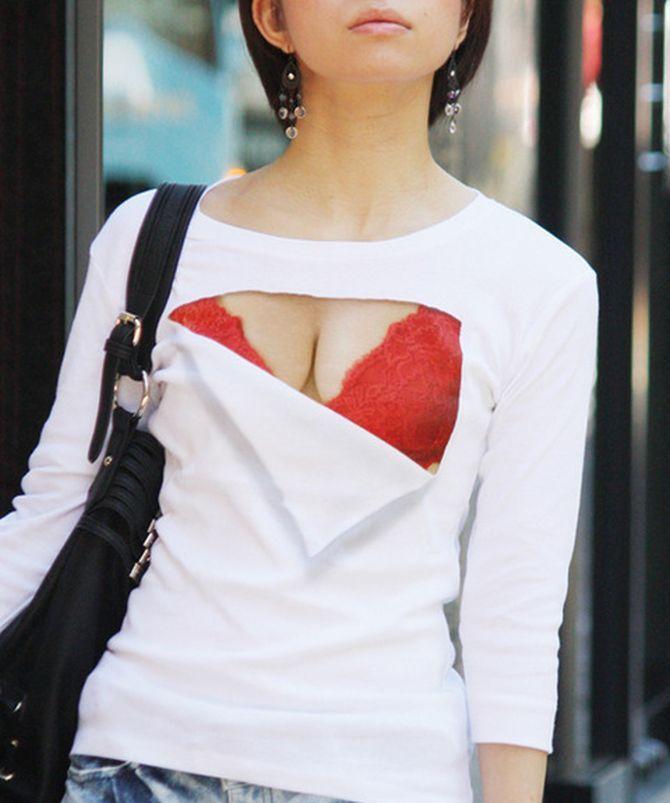 We bring you a fresh collection of offbeat, quirky stories from around the world.
Those not naturally blessed in the cleavage department have previously only had the option of stuffing their bra or surgery to grab eyeballs. But now a similar effect can be created without all the discomfort and hassle - by simply slipping on a T-shirt. Called the 'peek-a-boo', this printed T-shirt the Japanese designer Takayuki Fukuzawa aims to, in the words of the designer, 'bring to life the world of delusion that people secretly envision.'
Click NEXT to read more…
Tiny tots become huge bodybuilders
May 29, 2014 08:12 IST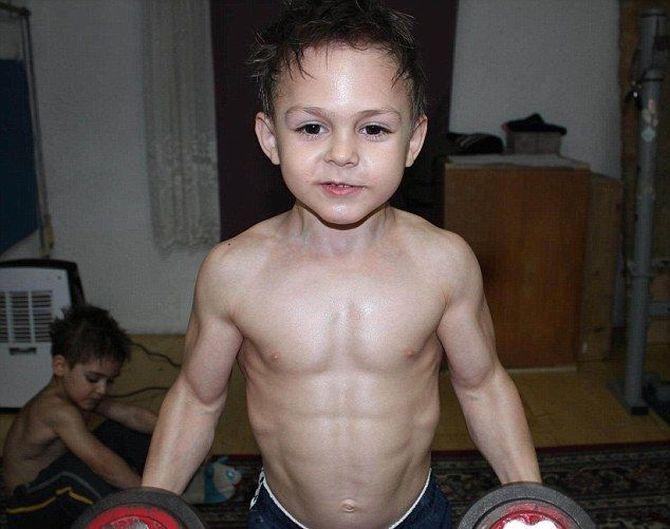 Lifting 4kg dumb bells and heavy weights for two hours a day would be an impressive fitness regime for an adult. But the gruelling sessions are in actual fact exercises for a pair of Romanian brothers who part of a family dubbed 'The Hercules'. Giuliano Stroe, 9, and his brother Claudiu, 7, hit the headlines as they train to be the world's strongest boys in a family of bodybuilders.
Click NEXT to read more…
At 85, she's Britain's oldest escort
May 29, 2014 08:12 IST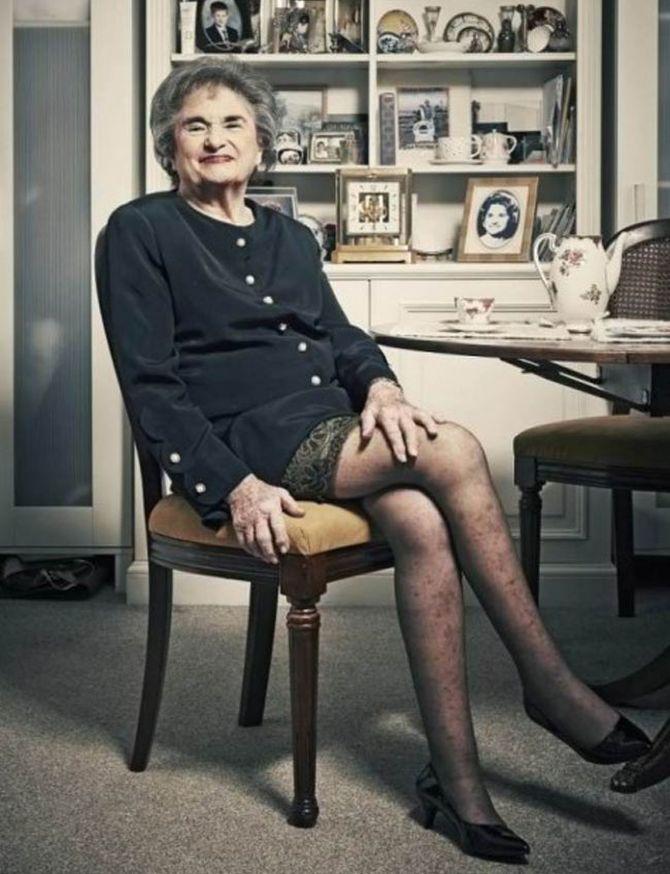 As one of the oldest practitioners of the world's oldest profession, Sheila Vogel-Coupe, 85, would have good reason to retire. But she's digging in her heels. Vogel-Coupe, said to be Britain's oldest prostitute, reportedly earns about $420 (Rs 25,000) per hour and was servicing as many as 10 clients a day until she underwent surgery to have part of her intestines removed. She entered the sex trade four years ago to overcome loneliness after the 2004 death of her second husband.
Click NEXT to read more…
Around the world in tutus
May 29, 2014 08:12 IST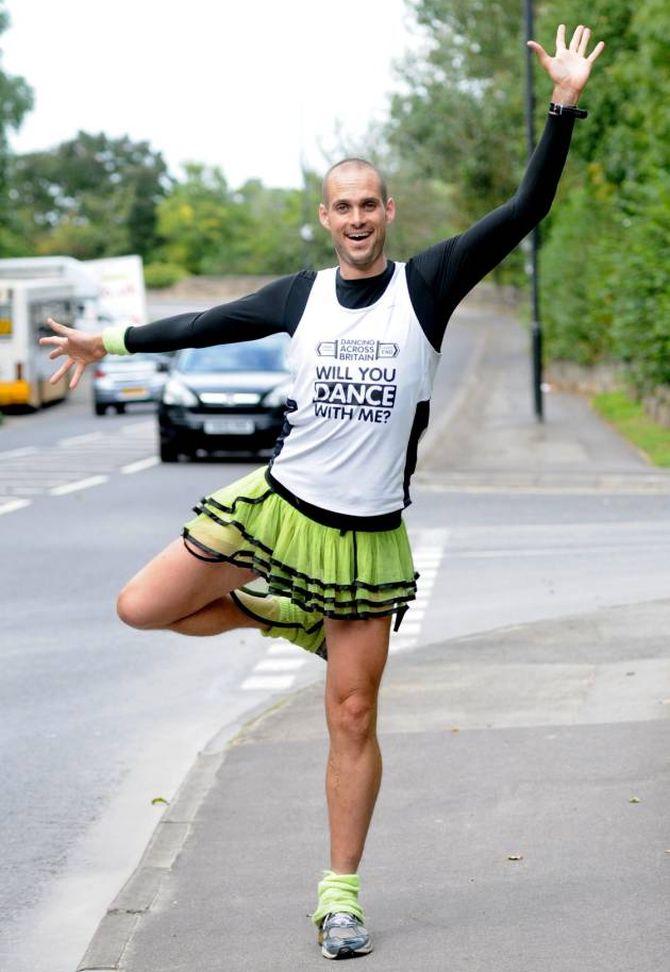 A teacher has decided to dance around the world while dressed in a tutu. If that wasn't exciting enough, Ben Hammond's ballet skirt will be a bright, luminous yellow. The lecturer at the Institute of Education, in London, hopes to raise money for UNICEF as he travels 28,393 km across the globe. 'I am going to be doing this challenge for a number of years and wanted a charity that can stay relevant,' he said.
Click NEXT to read more…
Bar for the bald
May 29, 2014 08:12 IST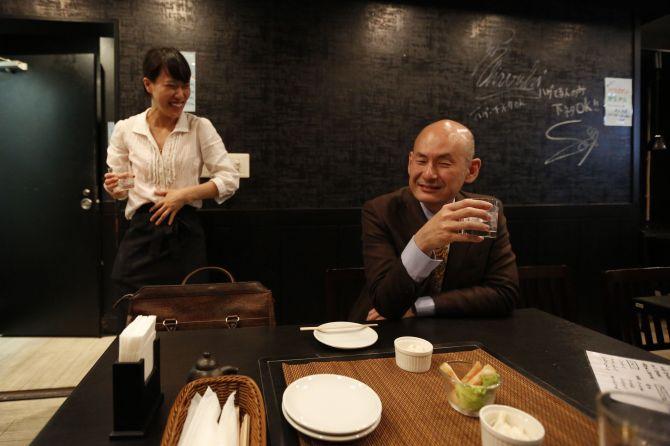 No hair? No problem. A Japanese-style pub in Tokyo is offering discounts and a sense of community for bald — and balding — patrons. Otasuke, an "izakaya" in the city's Akasaka district, is like a safe haven for the hairless. Bald customers each get 500 yen (about $4.94) trimmed from their group's buffet bill, and the discount increases per follicly-challenged customer in the party. If five bald men go to Otasuke together, one will get to drink for free.
Click NEXT to read more…
South Korea creates parking spots for women only
May 29, 2014 08:12 IST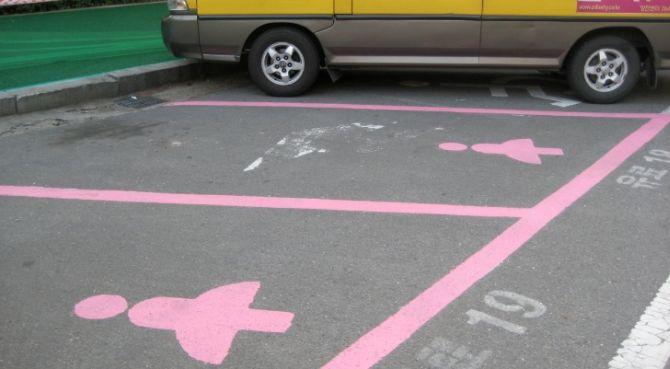 The South Korean government has said it is adding "a female touch" for car users in the capital Seoul – by creating women-only parking spaces which are longer, wider and marked with pink outlines and mini-skirted logos . Though it seems they will only promote further the stereotype that women are worse drivers, the so-called "she-spots" come as part of a programme to make the city more female-friendly.
Click NEXT to read more…
Britain gets cheesy!
May 29, 2014 08:12 IST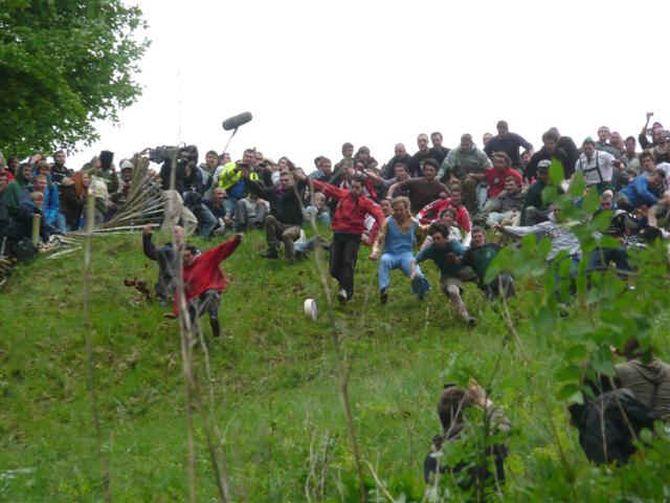 Thousands of people in Gloucestershire in Britain, rolled down a hill as part of the traditional cheese-rolling tournament. Several runners were injured during the annual Gloucestershire affair, where revellers hurtled down a 200-yard hill in a bid to become the first to catch a rolling wheel of cheese - including one man who broke his collarbone and another who snapped his wrist. Dozens of the runners also suffered cuts, scrapes and bruises after the treacherous run, and one young man suffered a suspected dislocated shoulder and a woman is thought to have broken her ankle.
Click NEXT to read more…
Millionaire hides cash, tweets clues from @HiddenCash
May 29, 2014 08:12 IST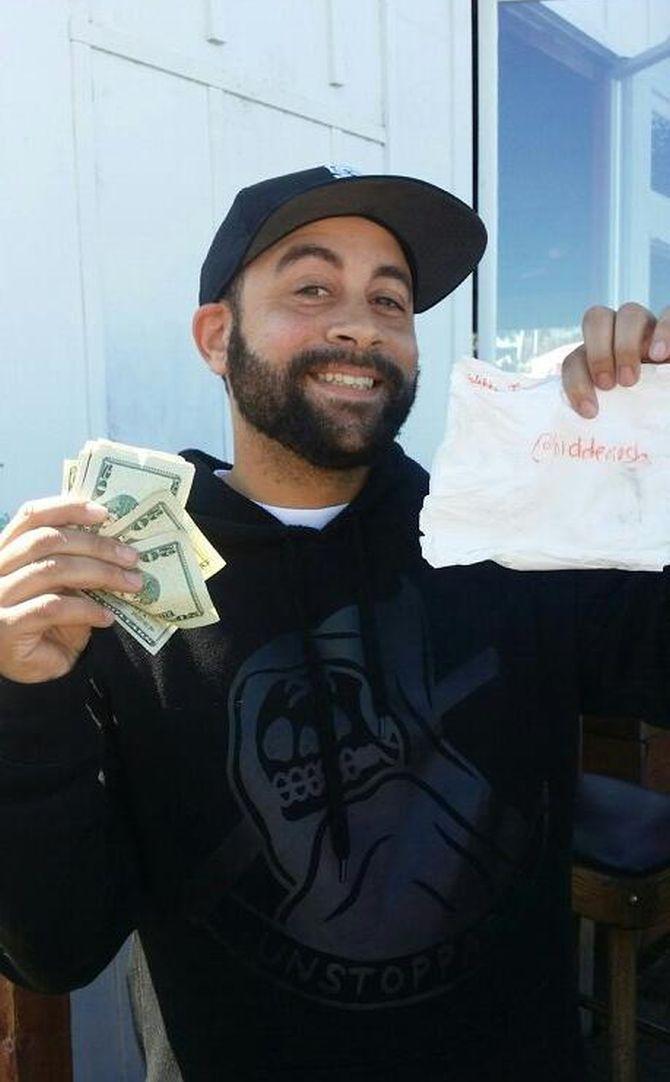 It's a scavenger hunt for cash through the most modern of means -- social media. An anonymous, wealthy California man is hiding up to $100 or so in public places in San Francisco and then posting clues on the money's whereabouts through his Twitter page, appropriately dubbed @HiddenCash. The $100 bills or envelopes containing several $20 bills are amounting to $1,000-a-day philanthropy in what the Twitter account calls "an anonymous social experiment for good".
Click NEXT to read more…
Fat cat loses weight by cycling
May 29, 2014 08:12 IST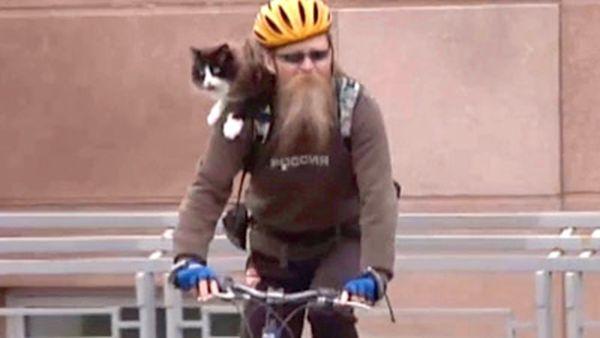 A Russian fat cat is a lot slimmer now - thanks to an exercise regime of intense cycling. Morda -- Mush in English -- rides along on the neck of his owner Vladimir Ilivanov in Krasnoyarsk Krai, central Russia. And Mr Ilivanov says his pet has lost two kilogrammes from the effort of clinging on to his owner. He bought Morda six years ago and the pair have been inseparable ever since.
Click NEXT to read more…
Now, a range of teabags for dogs
May 29, 2014 08:12 IST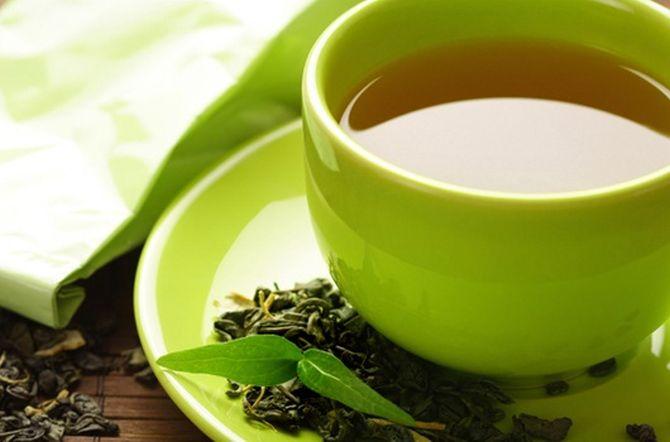 Man's best friend may soon want owners to turn their kettles on, thanks to a British company that has launched a range of premium teabags for dogs. The herbal tea is available in seven varieties and promises to give your pet better breath, improved digestion and a shinier coat. The tea costs as much as £11.99 (Rs 1,200) for 28 bags.
Click NEXT to read more…
China erects dome over stinky factory
May 29, 2014 08:12 IST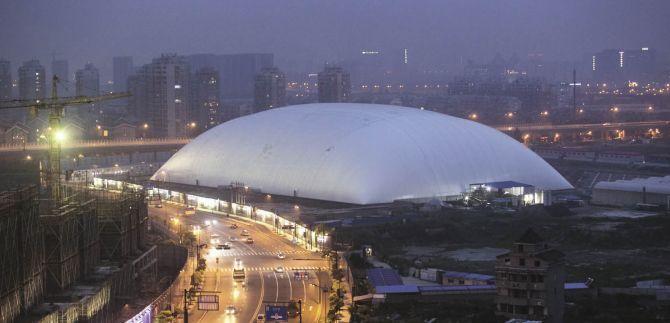 A Chinese company in the eastern city of Hangzhou has constructed a massive inflatable dome over the site of a closed down pesticide factory. While it covers an area the size of roughly three soccer fields, the 20,000-square-meter polyester dome still covers less that half the contaminated zone. The factory was shut in 2009, but the stench emitted by the soil still forces nearby residents to cover their mouths and noses.
Click NEXT to read more…
US professor gives extra marks for dating
May 29, 2014 08:12 IST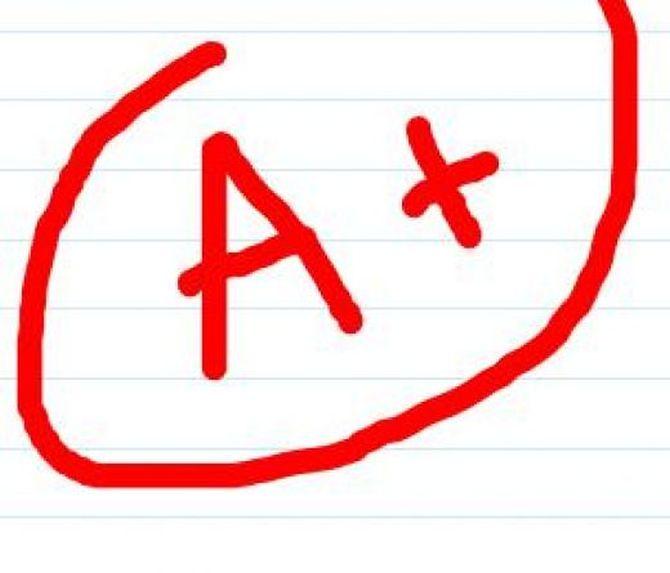 An American university lecturer has started giving out extra marks to students who go on dates with each other. Kerry Cronin, a lecturer at BostonCollege, was apparently disappointed by the internet's destructive effect on her students' social skills and was prompted to take this measure. However, Cronin dates' are not allowed to involve kissing, sex or even alcohol.
Click NEXT to read more…
Philippines zoo offers python massage
May 29, 2014 08:12 IST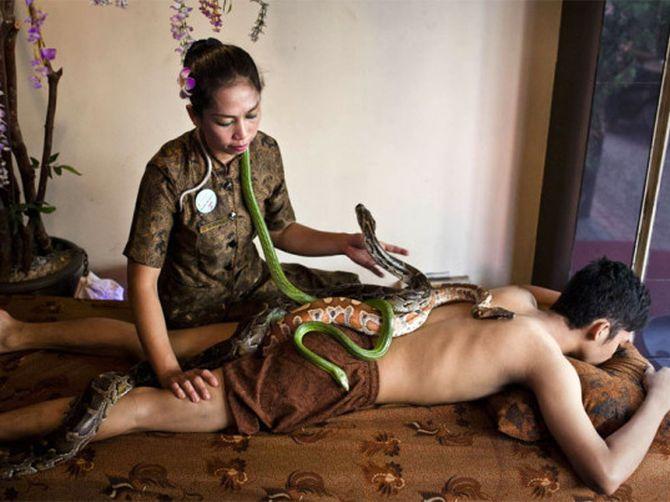 Cebu zoo in the Philippines has started offering visitors the chance to receive a relaxing 15-minute massage from its four Burmese pythons that it currently has in captivity. During the 'therapeutic and calming' massages, zookeepers keep watch as the snakes slither back and forth across a bamboo bed.
Click NEXT to read more…
Buddhist monk leaves his mark
May 29, 2014 08:12 IST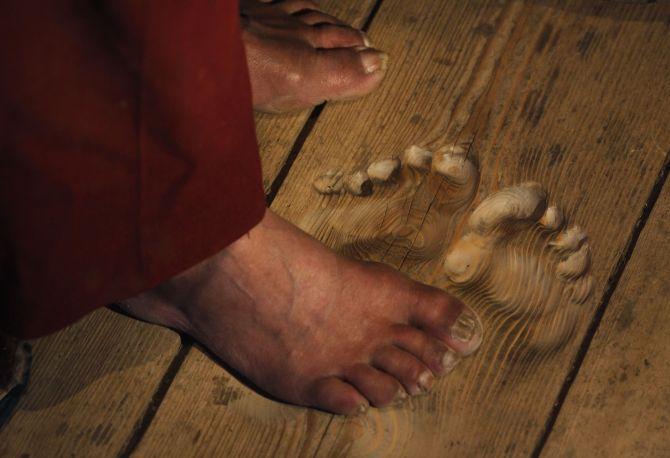 Hua Chi, a 70-year-old monk has been praying in the same exact spot for over 20 years creating an exact footprint into the centuries old wood of a monastery. He has knelt to pray so many times that his footprints remain deeply, perfectly ingrained on his temple's wooden floor. The footprints are 1.2 inches deep where the balls of his feet have pressed into the wood.
Click NEXT to read more…
Women and their relation with food
May 29, 2014 08:12 IST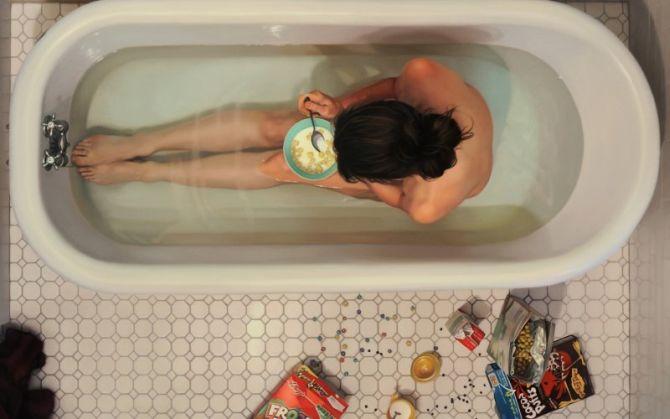 New York-based portrait artist Lee Price is fascinated with the relationship between women and food. In a series that has taken over seven years to produce, Price features herself as the subject (with the exception of two images, one with her mother, one with a friend) gorging on bags of Cheetos, boxes of sweets, and pints of ice cream in very solitary, almost obscure locations.