World remembers Mother Teresa
Last updated on: August 26, 2009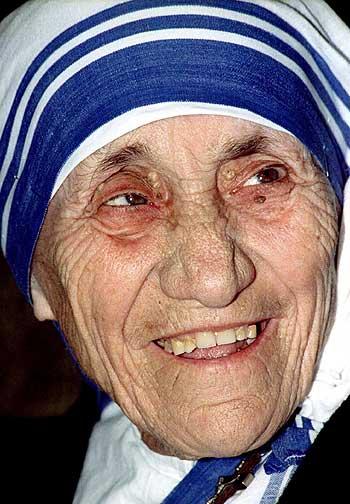 Special prayers were held at the headquarters of the Missionaries of Charity in Kolkata on Wednesday on the occasion of Mother Teresa's 99th birth anniversary. A mass was organised at Mother''s House where visitors joined nuns of the missionary. Mother's admirers across the world have also remembered her on the occasion.
Sister M Prema, superior general of the Missionaries of Charity in Kolkata, said everyone prayed and remembered Mother Teresa for her teaching everyone "how to look at the poor and give them the dignity of a child of God".
Remembering Mother Teresa
Last updated on: August 26, 2009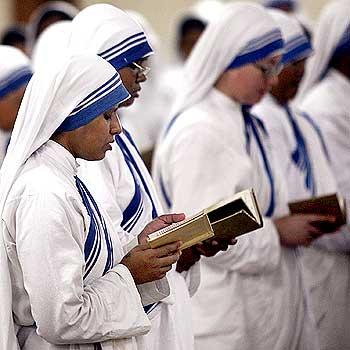 "The birth of Mother Teresa to the world has become a great event and a great message for every person. And, her birthday is just giving us another chance to remember what she wanted us to know... She wanted everyone to know that God has created us to love and to be loved," said Prema.
Remembering Mother Teresa
Last updated on: August 26, 2009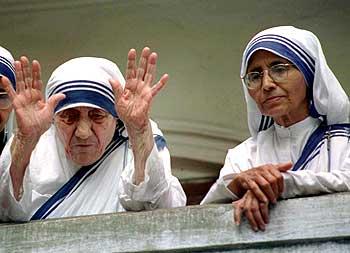 Albanian- born Mother Teresa made Kolkata her home and dedicated her life to the service of the poor and the destitute. Mother Teresa was beatified by the Pope in October 2003, paving the way for her canonization, or being declared a saint.
She qualified for beatification after Vatican officials acknowledged that she was responsible for a miracle in which an Indian woman was cured of stomach cancer through her intervention.
Mother Teresa died at the age of 87 on September 5, 1997. She was popularly known as the "Saint of the Gutter" due to her extraordinary love and dedication for poor, homeless and the needy.
Remembering Mother Teresa
Last updated on: August 26, 2009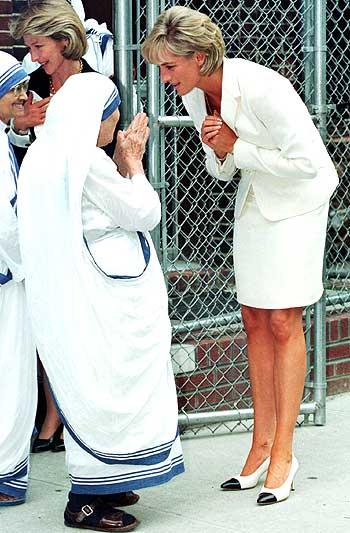 Teresa came to India in 1929 at the age of 18 and took up teaching and became an Indian citizen in 1948.
The nun started working in slums and later set up her Missionaries of Charity, which was approved by the Vatican in 1950.
The organisation now runs more than 500 charity homes in over 100 countries.
Mother Teresa received several national and international awards for the social service that she did during her lifetime. They include the Magsaysay Award in 1962, the Pope John XXIII Peace Prize in 1971, the John F. Kennedy International Award in 1971 and the Nobel Peace Prize in 1979.
Text: ANI