Why women are rubber stamp leaders in Bihar's villages
Last updated on: February 26, 2013 12:39 IST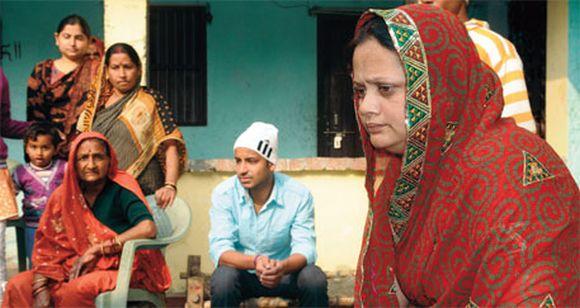 Violence mars Bihar's efforts to empower women, promote self-governance, reports Alok Gupta
Kunti Devi, candidate for the mukhiya's post in Marmakha panchayat, Motihari, was riding pillion with her husband on a motorbike when four pistol-borne youngsters intercepted them and sprayed bullets on Pradeep Gupta. He bled for three hours and eventually died on the road. Kunti Devi lost the elections and returned to living a low-profile life. That was in 2006.
On December 17, 2012, two criminals riddled with bullets the body of Amod Kumar Tiwari, husband of Poonam Devi, with AK-47s at the block development officer's chamber in Gopalganj. Poonam Devi was an elected representative of eight villages in Manjha Gusai panchayat in 2011.
Bihar, which is among the first few states to reserve 50 per cent seats for women in panchayat polls, is yet to see women's empowerment. "Everyone knows that women are rubber stamp mukhiyas and sarpanchs," says Priyadarshini Shahi, president of Bihar Mukhiya Association. "Men pitch their wives in elections because the seats are reserved for women. It is the husband who does all the work," he says.
More often than not, men force their homemaker wives to contest the coveted posts. Emerging out of the four walls of their houses, they suffer bouts of nervousness while facing an agglomeration of people and panchayat office-bearers. Husbands, therefore, follow the mukhiya or the sarpanch at all places. In fact, during one meeting of mukhiyas, Chief Minister Nitish Kumar had to ask the husbands to step out of the hall, says Shahi. The result was that the loyal wives walked out, too.
The MPs and the SPs, or mukhiya patis and sarpanch patis as they are called, are eliminated to scare women mukhiyas away, says Shahi.
Source: downtoearth.org.in
Click NEXT to read further...
Root of evil
Last updated on: February 26, 2013 12:39 IST

A mukhiya, who has administrative powers, looks after planning and execution of development projects. Sarpanch has judiciary powers and solves village disputes. In Bihar, there are 8,442 posts of mukhiya and sanpanch. The mukhiya can sanction up to Rs 80 lakh for a total of 31 development projects. The mukhiya is also the signing authority for construction of school buildings, sewage systems and roads under the chief minister's rural roads construction programme; has the authority to issue job cards under Mahatma Gandhi National Rural Employment Guarantee Schemes and Indira Awas Yojana, and appoint aganwadi sevaks, says Panchayati Raj Minister Bhim Singh.
Earlier, the administration had the authority to issue tenders for development. But ganglords had a big say in the issuing of contracts. After the creation of the panchayati raj institution, power shifted to the mukhiya which resulted in awarding of contracts to the mukhiyas' close aides. "This is why mukhiyas are being killed," says Shahi.
Click NEXT to read further...
Role police play
Last updated on: February 26, 2013 12:39 IST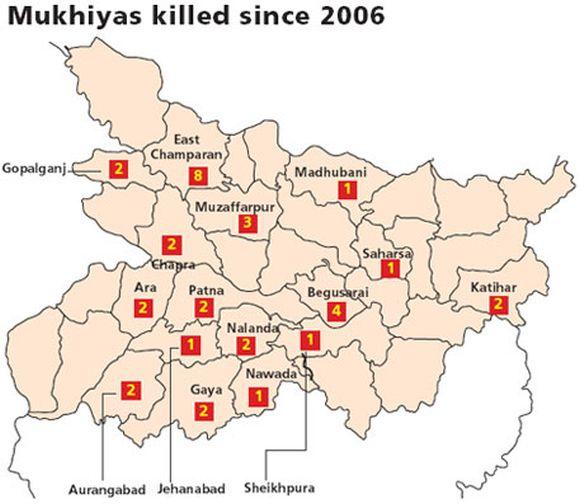 Panchayat elections started in Bihar in 2001, but it was in 2006 that the state announced reservation for women. Enthusiasm in villages was so intense that poll percentage exceeded that of assembly and parliamentary elections. According to the state election commission, in 2006 voting percentage was 64 per cent, about 10 per cent higher than the Bihar Assembly election in 2010.
Because of this, the state needs much more security forces in panchayat elections than in assembly elections, say SEC officials. But local police also play a dubious role during elections. "In 2011, SEC was flooded with such complaints," says Abhi Bhusan Pandey, joint election commissioner of SEC. They often get involved in local politics to get a cut from development projects. "We had to issue orders to rotate the police force," says Pandey.
Despite the effort, the next year by-elections had to be organised for 4,037 vacant posts. Of these, 160 posts had to be filled because the representatives died. Pandey refused to divulge if they had been killed.
In the three panchayat elections, in 2001, 2006, 2011 and 2012, as many as 191 people were killed in pre-poll and poll violence, says Shahi. The brutal killings were with the sole aim of forcing women candidates to withdraw their nomination papers.
In 2001, Bindheshwar Yadav, 45, was shot at the ballot counting centre the moment he was announced winner. His wife Sumitra Devi was given Rs 1 lakh as compensation. "Now, I have to feed my three children alone," she says.
In 2006, Sirja Devi's teenaged son was shot while pasting election posters for her mother at Roophara panchayat, East Champaran. The same year, Uma Devi's husband and two children, aged seven and nine, were dragged to the field and their stomachs slit open with an axe. Uma Devi dared to contest elections despite the triple murder. She ensures that a group of musclemen accompany her to every meeting, says Shahi.
In 2010-11, two women mukhiyas -- Baby Devi of Phulwarisharif and Malo Devi of Dhobdih --were also shot. At least 10 others have become victims of poll violence. Either their children or close relatives were killed.
Protection from criminals
One mukhiya needs five to 10 musclemen for protection, says Shahi. Pramod Tiwari, the elder brother of Amod Tiwari, claims to have submitted a dozen letters to the district magistrate and the director general of police requesting for bodyguards. "But the government did not provide any protection," he says. "Government inaction killed my brother more than the two AK-47-borne criminals," he says.
Nearly 6,000 applications for arms licence have been submitted by mukhiyas and sarpanchs in the past five years, say police sources. But the government is wary of giving licences. "It will trigger more violence during elections," says Bhim Singh.
In the past five years, the number of widowed mukhiyas and sarpanchs has spiraled, casting doubt if the Bihar government's efforts to empower women were merely yet another political sop.
TOP photo features of the week
Last updated on: February 26, 2013 12:39 IST
Click on MORE to see another set of PHOTO features...