Why this indifference to Tejas fighter jet?
Last updated on: December 11, 2012 11:15 IST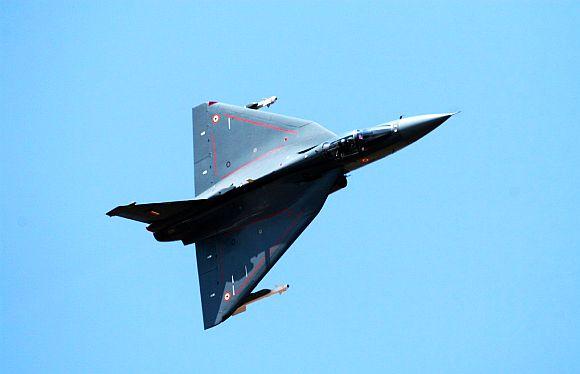 Ask any of the 20-odd Indian Air Force test pilots who have flown the Tejas Light Combat Aircraft and they will all swear that it is a great fighter to fly. It handles beautifully, screams along at Mach 1.6 (2,000 kilometres per hour) and fires the full range of air-to-air and air-to-ground weaponry. With 2,000 test flights under its belt, it has already proven that it can fly and fight better than most fighters on the IAF inventory. It is vastly superior to the MiG-21, and is not too far behind the Mirage 2000.
It certainly outclasses the Pakistan Air Force JF-17 Thunder, a light fighter like the Tejas, which Pakistan pretends to have developed jointly with China, but is actually Chinese through and through. Unlike the Tejas -- a contemporary fighter made of composite materials with an advanced design and sophisticated avionics -- the JF-17 is an outdated design. But the PAF has already inducted 60 of these fighters and will eventually operate 250 to 300 JF-17s, half its total fleet.
Yet the IAF is cool towards the Tejas. It is desperate for more fighters -- against an assessed requirement of 42 fighter squadrons, the IAF has 34 squadrons today, which will fall to 26 in 2017 if the Rafale is not inducted by then. But the IAF chooses to live with this dangerous shortfall rather than inducting the Tejas more quickly.
Please click NEXT to read further...
Tejas jet and Arjun tank have a common problem
Last updated on: December 11, 2012 11:15 IST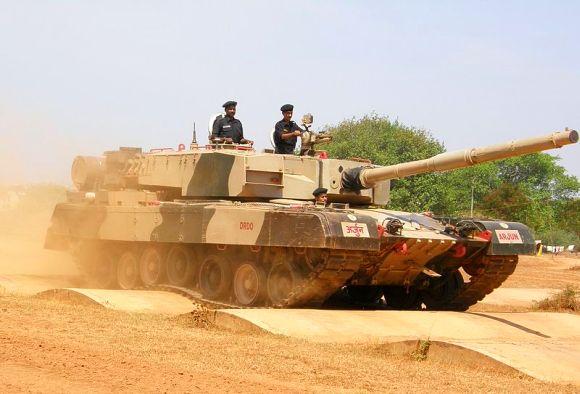 Why this indifference towards the Tejas, the alert citizen would ask? She might also have noted a parallel: the Indian Army sticks with the decrepit, night-blind Russian T-72 tank rather than embracing the far more capable and modern Arjun. The Tejas and the Arjun have a common problem: they are excellent indigenous designs that are undermined by poor production quality.
Just as the Heavy Vehicles Factory, Avadi, mismanaged by the Ordnance Factory Board, causes the army to believe that the Arjun is unreliab#8804 similarly Hindustan Aeronautics Limited, a public sector undertaking under the ministry of defence, makes the IAF sceptical about the Tejas.
HAL's poor production fails to translate the Tejas' contemporary design into a reliable fighter that takes to the air day after day. Most of Tejas' problems stem from poor production, not from an inadequate design. But they prevent the fighter from flying, slowing down the flight-test programme and making the IAF believe that the Tejas has serious reliability issues.
None of this gives HAL sleepless nights, since it regards the Tejas as the problem of the Aeronautical Development Agency, which oversees the LCA programme. HAL prefers to focus on building foreign aircraft under licence, a mechanical task that it has done for decades with ever-increasing levels of inefficiency.
Please click NEXT to read further...
HAL ill-inclined to engage in setting up Tejas assembly line
Last updated on: December 11, 2012 11:15 IST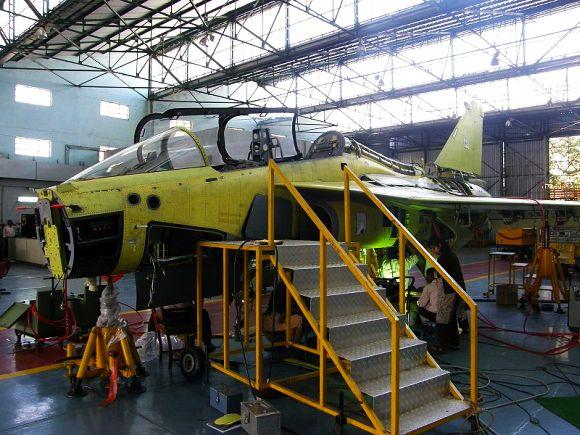 The Sukhoi-30MKI, which was initially bought fully built from Russia for Rs 30 crore per fighter, is now built by HAL (substantially from Russian systems and sub-systems) for well over 10 times that figure. Building expensively suits HAL well; since its profits are a percentage of production costs, higher costs mean higher profit.
HAL's indigenisation is nominal and restricted mainly to low-tech components. High-tech assemblies and sub-assemblies are simply imported from Russia and knocked together expensively into "HAL-built" fighters. Everyone is happy: HAL makes hefty profits; Russia sells lots of Sukhoi-30 kits; and the IAF would much rather rely on Sukhoi-built assemblies than on HAL's dodgy manufacture.
With so much money flowing in from assembly line manufacture, HAL is ill-inclined to engage in the messy business of setting up an assembly line for the indigenous Tejas.
For decades, HAL has obtained production drawings, tools and jigs from abroad, most recently from BAE Systems for manufacturing the Hawk trainer.
In building an assembly line for the Tejas, HAL will have nobody to pass the buck to. The ad hoc Tejas assembly line, which HAL set up two years ago to build 40 Tejas Mark I fighters by 2017, has not yet produced its first fighter.
Please click NEXT to read further...
HAL gets away thanks to its cosy relationship with MoD
Last updated on: December 11, 2012 11:15 IST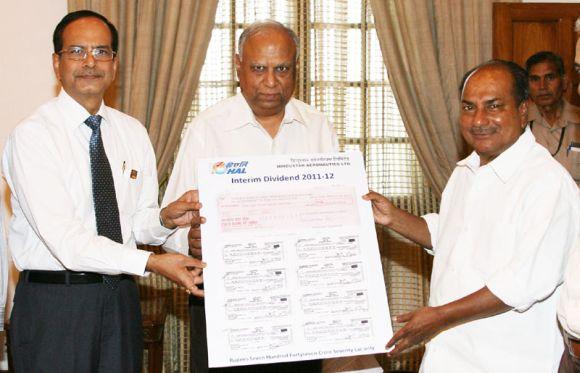 Now a foreign consultant will teach HAL to do what it has done for decades. HAL gets away with its disinterest in the Tejas thanks to its cosy relationship with the MoD.
Each year the ministry releases a photo of the HAL chairman handing over a large cardboard dividend cheque to the defence minister, as if A K Antony were being presented the Man of the Match award for some intra-office cricket match.
But, in successive photo releases, Mr Antony appears glummer and glummer -- and that is probably because the realisation is dawning on him that a technology company's success is measured not in financials but in technological breakthroughs and user satisfaction.
In those departments, HAL is deep in the red.
HAL must work with the ADA to set up the Tejas Mark I assembly line and to churn out the aircraft in numbers. The ADA's eagerness to develop the Tejas Mark II has resulted in the neglect of the Mark I, which is shaping up as an adequate light fighter for the IAF.
The MoD must ensure that the Mark I design is stabilised, it is built in numbers, operated by the IAF and user feedback obtained. Only after that should the ADA design the Mark II with well-considered enhancements. And HAL must be held to high production standards and low production costs.
Our top photo features of the week
Last updated on: December 11, 2012 11:15 IST
Click on MORE to see another set of PHOTO features...
Source: