Why Pranab Mukherjee is NOT an ungenerous man
Last updated on: June 16, 2012 11:52 IST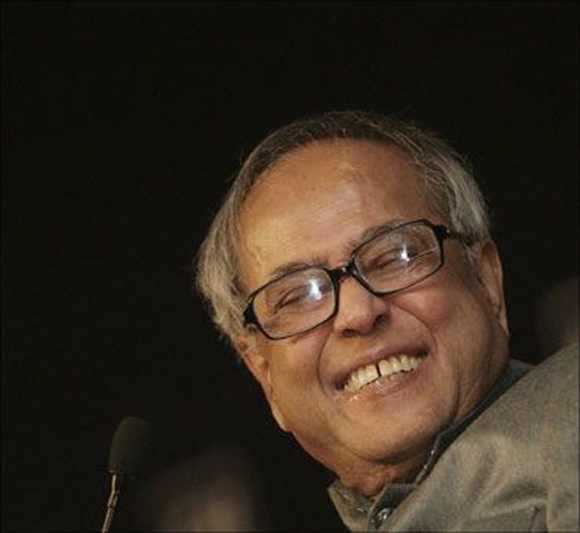 Pranab Mukherjee, the United Progressive Alliance's presidential candidate, has friends across the political spectrum, in the Left as well as the Bharatiya Janata Party, says Aditi Phadnis
This happened as recently as December 2008. An angry Congress president, Sonia Gandhi, had convened a meeting of the Congress Working Committee after terrorists had attacked Mumbai killing more than 170 people, to send a strong message and also pave the way to sack some ministers.
Gandhi didn't lose her temper but let principal troubleshooter Pranab Mukherjee do as he liked. One after another, senior members of the CWC got up to demand that India launch an attack on Pakistan to teach that country a lesson.
Finally, when veteran Kashmir leader Karan Singh demanded the same, Mukherjee erupted: "Do you understand what you are all saying? If we do that (attack Pakistan), foreign forces will enter Kashmir the next day. We have kept them out of Kashmir all these years. And now you want us to invite them in?"
Prime Minister Manmohan Singh quickly intervened to support Mukherjee and defuse the tension. Meanwhile, some members quietly ascertained that the reporters waiting outside hadn't heard what Mukherjee was saying -- he was speaking so loudly.
That voice, robust, though thickly accented, will no longer be heard in the All India Congress Committee. Mukherjee will move to the more equable climes of Rashtrapati Bhavan, on an assignment that will cap an illustrious political career.
Click NEXT to read further...
Mukherjee's biodata speaks for itself
Last updated on: June 16, 2012 11:52 IST
His biodata speaks for itself. He was elected to the Rajya Sabha for the first time in July 1969 and was re-elected in 1975, 1981, 1993 and 1999. He has been finance, commerce, steel and mines, external affairs and defence minister in a political career spanning 40 years.
During PV Narasimha Rao's prime ministership (1991 to 1996), he was appointed deputy chairman of the Planning Commission. Mukherjee has been treasurer and chairman of the Campaign Committee of the Congress and president of the state unit of the Congress in West Bengal.
He was a member of the Congress Working Committee in 1978-86 and 1997 onwards. He has been the Leader of the House, Rajya Sabha (1980-85), and received the Best Parliamentarian award. Later, when Manmohan Singh became the leader of Opposition in Rajya Sabha, Mukherjee became the Chief Whip.
In 2004, because Prime Minister Manmohan Singh was a member of the Rajya Sabha, Mukherjee became the leader of the Lok Sabha.
However, the appointment he cherishes the most was finance minister in the Indira Gandhi government. Ask him who is favourite leader is and he will reply without hesitation: Indira Gandhi.
Click NEXT to read further...
Mummy is very angry with you, Sanjay Gandhi said
Last updated on: June 16, 2012 11:52 IST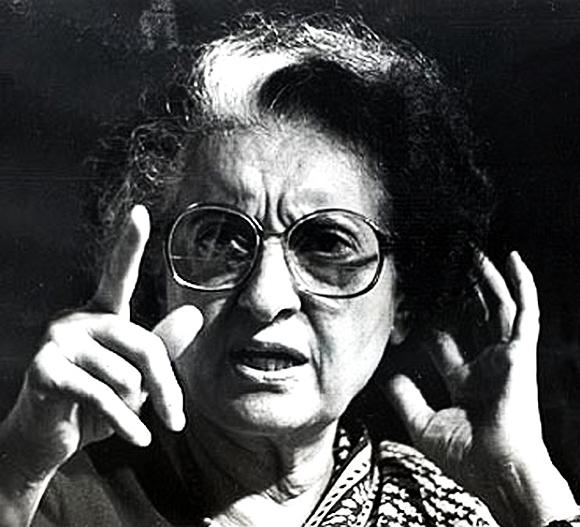 She taught him both administrative skills and the tactics of managing party politics. Stories about that relationship are legion. Despite Gandhi's advice, he contested -- and lost badly -- the Lok Sabha elections in 1980.
Gandhi telephoned Mukherjee a few hours after the results were out, "Everyone in this country knew that you would not win. Even your wife, Suvra, knew it. What made you think that you could do it?" she said and without waiting for an answer slammed down the phone.
Two days later, Mukherjee got another call from Delhi. This time it was Indira's son, Sanjay Gandhi, "Mummy is very angry with you. But she also said that there cannot be a cabinet without Pranab."
Mukherjee was chairman of the Congress manifesto and campaign committee before the 2004 elections. His interventions suggested his worldview. He emphasised on the need for clarity on disinvestment and committed the party firmly against the privatisation of profitable public sector units.
He said the Congress needed to emphasise on issues such as incentives for increasing domestic savings and import substitution. "These words may be relics of an outdated era. But they continue to have great deal of relevance in the current economic scenario," he said in his paper that formed the basis for the party's economic manifesto.
He also told colleagues that they needed to abandon the idea that the State can continue indefinite subsidies. "In 1978-79, we had a net revenue surplus that is no longer the case. Although India's financial position is much healthier now than it was in 1991, we do have a revenue deficit. So we have to reorder our priorities," he said in the paper.
Click NEXT to read further...
In the wilderness during the Rajiv years
Last updated on: June 16, 2012 11:52 IST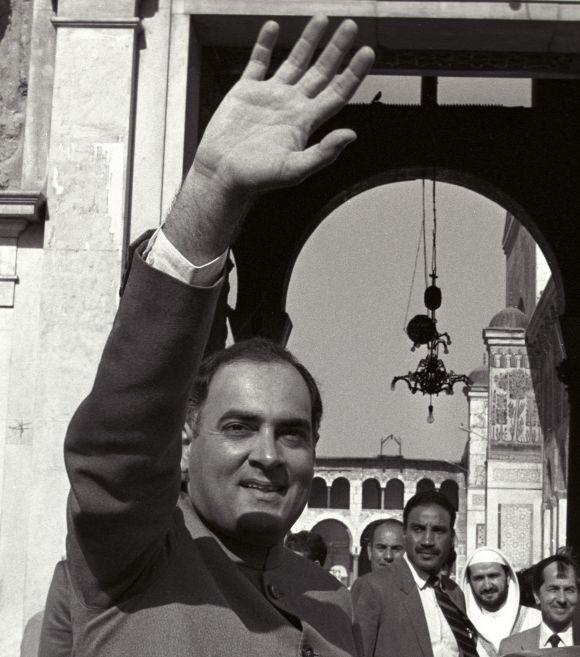 Importantly, he also argued for targetted subsidies, especially food subsidies. So those who are looking for clarity on why he introduced a step like the retrospective tax -- well, it has to do with his innate belief that India can never completely shrug off State-led economic growth.
Because Mukherjee was the recipient of Indira Gandhi's grace, he gave his advice to her son Rajiv Gandhi as an honest broker after she was assassinated: it is the finance minister who stands in for the prime minister in such a situation, he said, when he was asked who should take charge.
Gandhi was encouraged by his advisors to misunderstand this remark. Mukherjee found himself in the wilderness during the Rajiv Gandhi years; so much so that a Congressman to the core, he even tried to launch a new political party. Many years later, he couldn't even recall its name.
While Mukherjee was finance minister, a bespectacled, shy Sikh was heading the Reserve Bank of India as its governor. From then till 2004, Manmohan Singh used to call Mukherjee 'Sir'. After 2004, Singh became the prime minister and Mukherjee became his defence minister.
A courteous Singh didn't stop calling him 'Sir' even as the prime minister of India. Mukherjee had to persuade him to drop the appellation. Top Congress sources say that at a core committee meeting of the party, Mukherjee told Singh that he would have to stop attending these meetings if he continued to refer to him as 'Sir'.
But that doesn't mean Mukherjee refers to his prime minister as 'Sir'. On the phone, he opens his conversations with 'Um, Pranab here'. In cabinet or public meetings, he addresses him as 'Prime minister'.
Click NEXT to read further... 
The honeymoon with the Left ended in bitterness
Last updated on: June 16, 2012 11:52 IST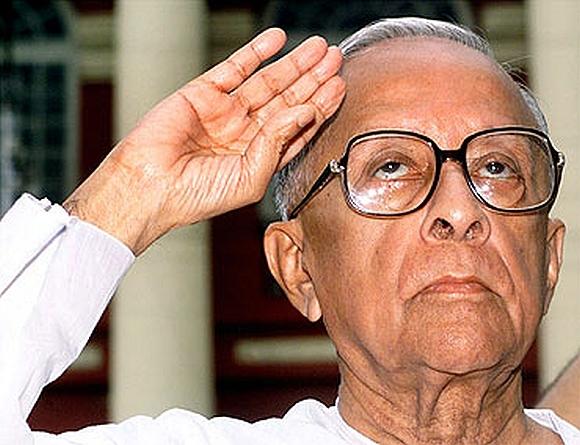 Mukherjee's importance during the first United Progressive Alliance regime attained great heights because of his relations with the Left, the alliance's key supporters in the last four years.
Mukherjee and the Communist Party of India-Marxist's Sitaram Yechuri were the two pointsmen from their respective sides to liaise with the other.
Although Mukherjee couldn't finally convince the dogmatic and all-powerful CPI-M general secretary Prakash Karat that signing the Indo-US nuclear deal did not make India a vassal of the United States, he kept the Left engaged till July 2008 -- precious time needed for the government to carry out many of its promises and also prepare an alternative support base to replace the Left and run the UPA government for the next few months.
While the honeymoon with the Left ended in bitterness, Mukherjee immediately jumped into action because his political acumen told him that in the prevailing coalition era, the Congress might need the Left's help again to form a government.
This is probably why Mukherjee and Yechuri held long meetings over two days after the Left went to Rashtrapati Bhavan to withdraw support from the UPA, discussing how to salvage the situation.
Mukherjee's personal touches with Left leaders helped a lot in smoothening the path of the coalition. A few days after Mukherjee met with a serious car accident on a narrow National Highway in West Bengal, former chief minister and CPI-M patriarch Jyoti Basu called him.
In his inimitable style, Basu said, "No, no. This can't continue. I have pulled them up." Mukherjee took some time to grasp that what Basu was referring to was that the highway needed to be expanded to avoid accidents and that he had rebuked the chief minister and other ministers for not taking care of the roads properly.
Click NEXT to read further...
Pranab has excellent personal equations with leaders
Last updated on: June 16, 2012 11:52 IST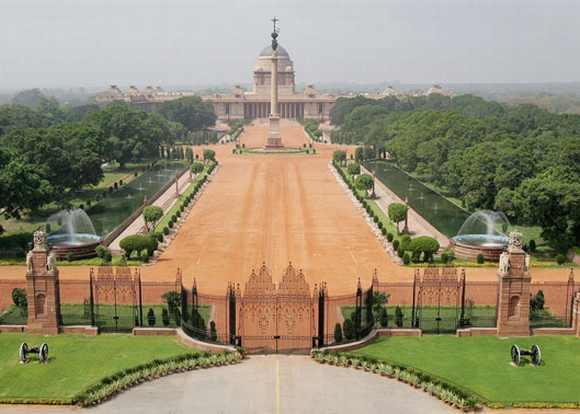 But his friendship with the Left proved a double-edged sword. When his name was mentioned for the post of President of India five years ago, his party, much to his disappointment, turned it down, saying he was needed too much to run the government.
The real reason was: the Left parties spoke to some leaders in his party about how he could be the most suitable candidate and the party thought he would end up being President of India for the Left parties instead of his own!
An area of his strength is his excellent personal equations with leaders cutting across political affiliations. During the 1980s, Atal Bihari Vajpayee, the Bharatiya Janata Party leader who later became the prime minister of the country, was Mukherjee's neighbour.
While Mukherjee's Congress and Vajpayee's BJP fought against each other day and night on political issues, every morning the two leaders would go for a morning walk together. Vajpayee and Mukherjee both had pet dogs and they would take the pets along with them for a stroll in South Avenue and other parts of Lutyens's Delhi.
Once, Vajpayee was absent from Parliament for a few days. The reason: Mukherjee's dog had bitten him on the leg.
Now, as President, Mukherjee will have to restore dignity to Rashtrapati Bhavan -- and also be magnanimous in victory to those who nearly succeeded in preventing his elevation. Mukherjee's frustration and rage is like mercury. It rises fast but also drops fast. He is not an ungenerous man.
TOP photo features of the week
Last updated on: June 16, 2012 11:52 IST
Click on MORE to see another set of PHOTO features...
Source: