Why Pakistan can't AFFORD to tackle latest floods
Last updated on: September 14, 2011 09:45 IST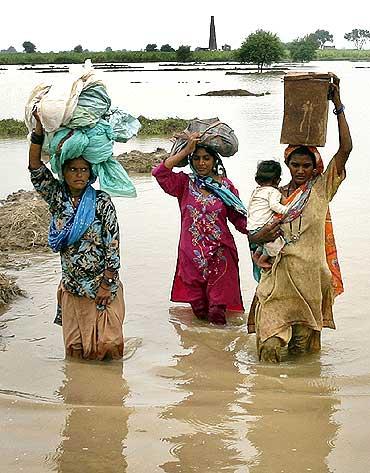 Pakistan had not recovered from the mega flood crisis of 2010 that a new flooding has hit southern parts of the country, claiming more than 200 lives while rendering thousands of people homeless, reports Tahir Ali.
The new flooding has put an additional stress on both the federal and provincial governments, as the last year floods' reconstruction and rehabilitation needs are still unmet, including the repair of embankments.
The flood-prone areas are at a greater risk as monsoon rains have intensified in the Sindh province. According to United Nations estimates, over five million people are likely to be affected by this year's flood.
Please click NEXT to read further...
'5.3 mn people affected; 1.7 mn acres of agricultural land destroyed'
Last updated on: September 14, 2011 09:45 IST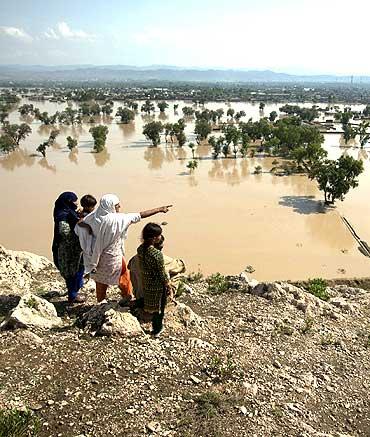 Zafar Qadir, head of National Disaster Management Authority in Pakistan, says, "So far, 209 people have been killed and 5.3 million have been affected. Around 1.7 million acres of agricultural land has also been affected by the rains and floods."
International aid agency Oxfam has already said that an effective disaster reduction mechanism could have prevented the effects of fresh flooding in Sindh province.
The agency accuses the government of failing to invest in prevention measures after floods last year hit 21 million people and cost the economy $10 billion (about Rs 45,000 crore) in Pakistan's worst natural disaster.
According to Prime Minister Yousuf Raza Gillani, "The recent rains in Sindh were nearly two-and-a-half times abpve normal levels, and inundated 4.1 million acres, including 1.7 million acres of crops. Around 700,000 houses had been damaged, 150,000 people in relief camps needed immediate assistance and that 64,000 livestock had been lost."
'2011 floods much worse than last year'
Last updated on: September 14, 2011 09:45 IST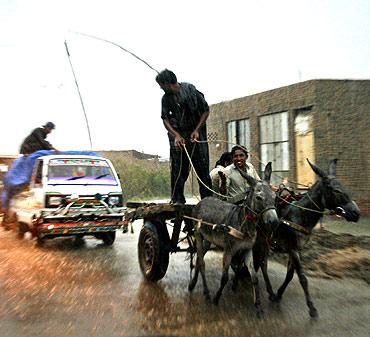 Declaring floods this year to be a more dangerous than 2010, Pakistan has appealed to the world community and international donor agencies for help, but the response has been timid so far.
Only Iran has thus far pledged a substantial contribution, promising $100 (about Rs 450 crore) million in aid, though China was the first to respond to the appeal, pledging $4.7 million in relief goods.
A briefing for foreign diplomats and United Nations officials was also arranged in Islamabad urging them to ask their governments to help Pakistan cope with the disaster which is beyond its capacity to deal with.
Emergency operations have a long road ahead
Last updated on: September 14, 2011 09:45 IST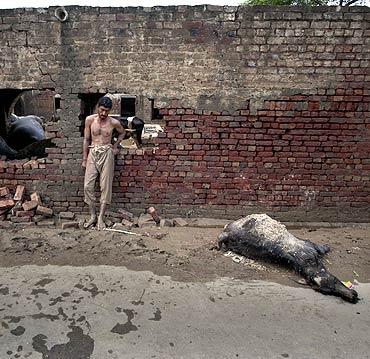 At the same time, the United Nations has begun a drive to feed half a million people affected by torrential rains in Pakistan.
The UN food agency has started to provide emergency supplies to the first of half a million people.
According to World Food Programme, the agency had provided food packages to more than 600 families in Badin (one of the badly affected districts in Sindh province) but there are a number of other affected places that need help urgently.
Pregnant women among the worst hit
Last updated on: September 14, 2011 09:45 IST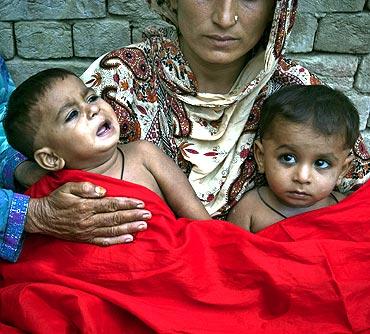 Another worrying side of the story is the presence of around 120,000 thousand pregnant women among Sindh's flood victims. "We believe around 3 percent of flood victims are pregnant women; we must prepare to provide medical care to 120,000 pregnant women", says Dr Jahanzeb Orakzai, the head of NDMA medical task force.
It is apt to mention that the 2010 floods brought to the forefront an estimated 500,000 pregnant mothers among the 21 million victims. Their vulnerability was further exacerbated by malnutrition, trauma and fatigue due to long journeys to safer areas or camps, and by subsequent poor hygiene.