Why India must be prepared to face China militarily
Last updated on: February 2, 2012 21:10 IST
Much confusion and controversy has been caused by the wishful thinking that somehow the rise of China as a superpower will be peaceful, says Colonel (retd) Anil A Athale, while pointing to several reasons why China may not be averse to inflicting a military rebuke to India.
American intelligence has leaked a document on Sino-Indian relations and has speculated that India is possibly preparing for an armed conflict with China. While the American 'leak' may well be a part of mischief mongering, we as Indians need to look a long hard look at our northern neighbour. For far too long the media focus has been on the failing State to our West.
As the 'n'th round of Sino Indian border talks ended in Delhi it is time we carry out a reality check. Many have questioned the logic in speculating an Indo-Chinese conflict in June/July 2012. Here are some of the factors that make this a possibility.
PEACEFUL RISE OF CHINA IS AN OXYMORON!
Much confusion and controversy has been caused by this 'wishful thinking' that somehow the rise of China, as a superpower will be peaceful. This would indeed be a miracle that will be contrary to the over 5,000 years of recorded history of the humankind.
Antagonists have always come in pairs -- Rome versus Cartha#8805 Kalinga versus Magadha; Spain versus Engl#8743 England versus France; England versus Germany; Prithviraj Chauhan versus Jayachand Rathore; Harshavaradhan versus Pulkeshin et al...
The rule of history has been that change in power equations in a State system is always accompanied by violence.
Please click NEXT to read further...
The Border Question
Last updated on: February 2, 2012 21:10 IST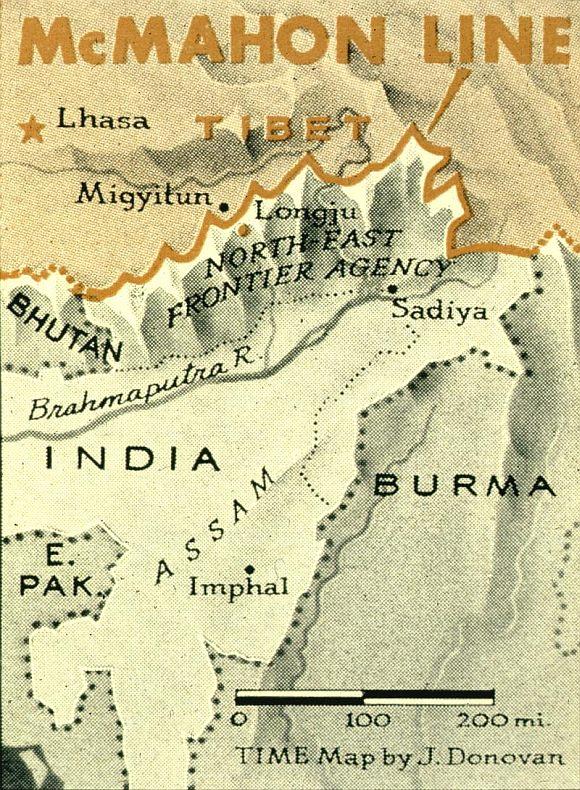 The Sino-Indian border dispute arose out of the Chinese occupation of Tibet. China's refusal to grant internal autonomy to Tibet has kept the pot boiling in Tibet and the Chinese view Indian asylum to the Dalai Lama with suspicion. This, despite the fact that India has accepted Tibet as part of China.
But there is a larger Chinese design at work here. The Chinese have kept the border 'unsettled' so as to keep it as a ready excuse to intervene in the affairs of the Indian subcontinent.
It showed this intent in 1965 though not during the 1971 Indo-Pakistan conflict due to the erstwhile Soviet Union checkmating it on the Amur-Ussuri border.
Initially, the dispute was over the Aksai Chin area and the Chinese strategic road passing through it connecting Sinkiang with Tibet, a military necessity. Its claims over Arunachal Pradesh, initially at least, were seen as a bargaining chip.
It is noteworthy that the McMahon Line -- that China refuses to accept in Arunachal Pradesh -- has been accepted as the boundary with Myanmar. This clearly shows Chinese duplicity.
Please click NEXT to read further...
China has shifted the goal posts
Last updated on: February 2, 2012 21:10 IST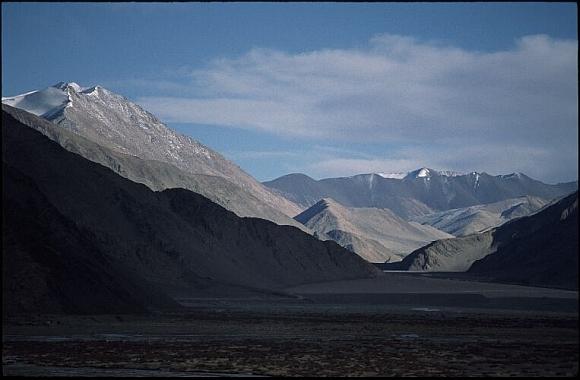 As Chinese power rose and it began to aspire to superpower status, China has upped its ante on Arunachal Pradesh. In fact, over time, the 'original' dispute over Aksai Chin has taken a back seat.
The Indian foreign policy establishment has failed to take note of the escalation of the dispute by the Chinese. The latest instance of denying a visa to an Indian Air Force officer from Arunachal Pradesh is a serious matter.
Our pussyfooting on this sends a very wrong signal of appeasement to the Chinese.
One of the original parameters for resolution of border disputes was that no territory with population centres should be involved. By staking claims to the populated areas of Arunachal Pradesh -- nay the whole state -- China has shifted the goal posts.
The Indian foreign office has done a great disservice to the nation if it has meekly accepted this. If not, then the border talks are a futile exercise, as confided by a senior Ministry of External Affairs officer to this author nearly 20 years ago!
Nothing seems to have changed.
Nearly six years ago this author had suggested to the Chinese that in a step by step approach, China and India could demarcate the boundary where no dispute exists on the alignment -- the border between Himachal Pradesh and Tibet and between Uttarakhand and Tibet. There has been no response from the Chinese to this very sensible suggestion.
Please click NEXT to read further...
India is provoking China in its backyard
Last updated on: February 2, 2012 21:10 IST
The approximate cause of the 1962 Sino-Indian border conflict was the militarily unsound 'forward policy' (establishing token military posts) in Aksai Chin. It was a legalistic aggressive policy not backed by adequate military force.
In 2012, by challenging Chinese claims in the South China Sea, India is repeating the 1962 folly. It is a no-brainer that India lacks the naval muscle to challenge China off the coast of Vietnam.
In addition, by joining multilateral US efforts to 'balance' China, India has joined Vietnam, South Korea and Japan in the formation of an alliance backed by the US.
This is a viable option and China would be wary of taking on this formidable combination. Unfortunately, this is still a work in progress.
The US seems reluctant to follow up on this and help India build its military muscle to balance China. Thus, India seems to have been provoking China in its backyard and is militarily unprepared for the consequences.
The Indians are not the only ones to misread the Chinese. The Korean War of the early 1950s is a dim memory today, but it is worthwhile to recall some events of that major conflict.
On October 15, 1950, in a strategy meeting between then US president Harry Truman and General Douglas MacArthur, the general felt the Chinese would not intervene directly as the 'moment for that has passed.'
Exactly 10 days later, the Chinese intervened, attacked the Americans with 200,000 soldiers, and drove back the coalition forces right up to the 38 Parallel -- the dividing line between the two Koreas.
Please click NEXT to read further...
The endgame in Afghanistan is likely to gather steam
Last updated on: February 2, 2012 21:10 IST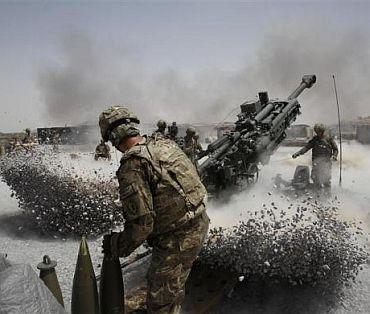 That is where the two nations face each other to this day. The retreat of the US Eighth Army from the Yalu river on the China-Korea border is the longest retreat in American military history.
Prime Minister Jawaharlal Nehru, ignoring the history of Chinese behaviour, flippantly told the media that he had asked the Indian Army to 'throw out the Chinese' on that fateful day in September 1962.
Right through Sino-Indian tensions in 1960-1961, Nehru stuck to his mantra that China would not attack India. In a repeat of sorts, Prime Minister Manmohan Singh told Parliament on December 14, 2011 that he did not think the Chinese would attack India.
Do the Indians think that the Chinese will watch silently while the US-led alliance takes shape to challenge China in South East Asia?
The end game in Afghanistan is likely to gather steam in the coming months. China would want its all weather friend Pakistan to emerge successful in that contest. It would help the Pakistani cause if India is kept engaged on the Tibetan border at that time.
In addition, a sharp military rebuke to India will dent New Delhi's credibility in South East Asia and at least provoke a rethink in countries like Vietnam on the desirability of aligning with India.
It needs to be noted that in 1962 as well the Chinese aim behind the military attack was to dent Indian credibility and its leadership of non-aligned nations.
Please click NEXT to read further...
Can we prepare ourselves to face the Chinese?
Last updated on: February 2, 2012 21:10 IST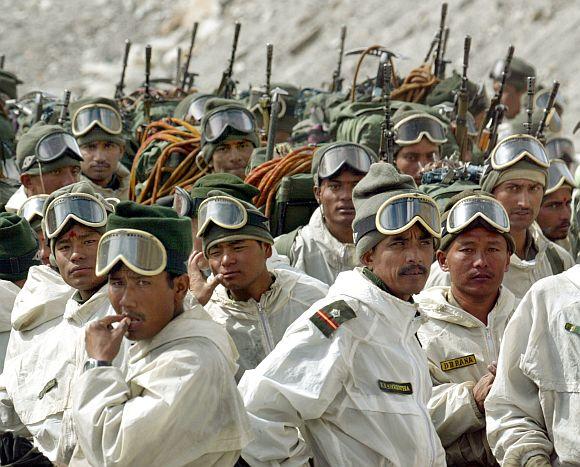 Internally, China faces problems due to uneven economic development. But in fiercely nationalistic China, a border war can mobilise public opinion and suppress internal dissent.
It must not be forgotten that the bulk of the Chinese population today consists of 'little emperors,' the product of China's 'one child' policy.
One does not have to be a psychologist to note that a single child develops into an intolerant, aggressive and demanding individual. Adjustment and compromise are not part of the DNA of such individuals.
When such individuals form the bulk of a nation's population, it is bound to reflect on that country's external policies.
Fifty one years ago, the battalion commander of my 'paltan (first battalion 9 Gorkha Rifles)' was one of the first to be inducted in the Tawang sector in Arunachal Pradesh (it was then called the North-East Frontier Agency).
Such was the lack of preparedness and logistics to face the Chinese, that Eric Vas, then a lieutenant colonel, wrote to his superior on a chappati to highlight the issue!
In the Hindi-Chini bhai bhai atmosphere of New Delhi, this was seen as an affront and he was sacked from active command.
Within two years China launched an attack and proved Vas right. Field Marshal Sam Manekshaw picked him from the backwaters of the National Cadet Corps in Mumbai and Vas went on become an army commander!
It is ironic that nearly 50 years later, another officer from the same battalion has to write similar dire warnings on Chinese intentions!
Can one hope that this time we will wake up early and prepare ourselves to face the Chinese?
Please click NEXT to see more slide shows...
Other TOP photo features
Last updated on: February 2, 2012 21:10 IST
Click on MORE to see another set of PHOTO features...