China's meteoric military rise alarms India
Last updated on: March 9, 2011 09:20 IST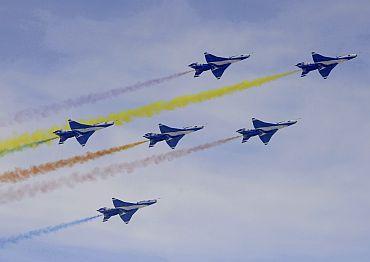 China has set its sights on joining the ranks of the world's leading defence-industrial powers, amid growing concerns in India over Beijing's recent assertiveness and its change in policy towards New Delhi's row with Pakistan over Kashmir, a top British think tank said on Tuesday.
"China possesses many of the vital ingredients for success as world's leading defence-industrial powers -- ample funding, strong political support and selective access to foreign technologies," The International Institute for Strategic Studies said in its Military Balance 2011.
Releasing the think tank's annual assessment of global military capabilities and defence economies, Dr John Chipman, director-general and chief executive of IISS, said: "The new-found dynamism in China's defence industry contrasts sharply with its struggle for survival only a decade ago."
"It suffered a prolonged downturn after China's economic reforms began in the late 1970s, when defence spending was sharply curtailed in favour of economic development," Chipman said.
He said this situation "was exacerbated by the unwillingness of conservative defence-industry leaders to reduce enormous waste, inefficiency and widespread obsolescence."
Please click NEXT to read further..
India fears China is strategically 'encircling' it
Last updated on: March 9, 2011 09:20 IST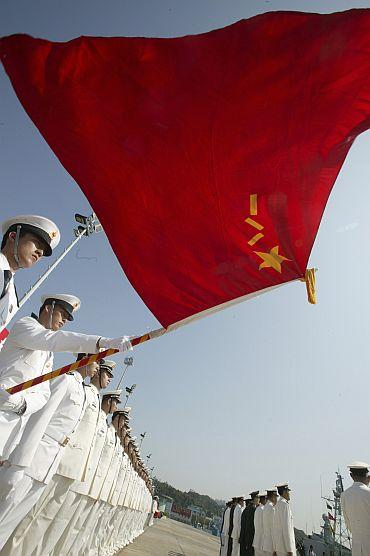 The IISS report said Indian security officials are concerned by what they see as China's recent assertiveness in the two countries' long-standing border dispute, and by a change in policy towards India's dispute with Pakistan over Kashmir, and they have reacted accordingly.
"They are also suspicious of China's bolstered military presence in Tibet and of its involvement in infrastructure projects in South Asia with the potential for dual civil military use," it said.
According to the IISS: "India sees these as an attempt to contain and encircle it strategically, while China gains permanent access to the Indian Ocean for the first time, through the Chinese-built port of Gwadar on Pakistan's Baluchistan coast."
The report said India is concerned that new Chinese roads, rail lines and airports near the two countries' 4,000 km de facto border will provide China's armed forces with enhanced access to the region.
How India reacts to China's assertiveness
Last updated on: March 9, 2011 09:20 IST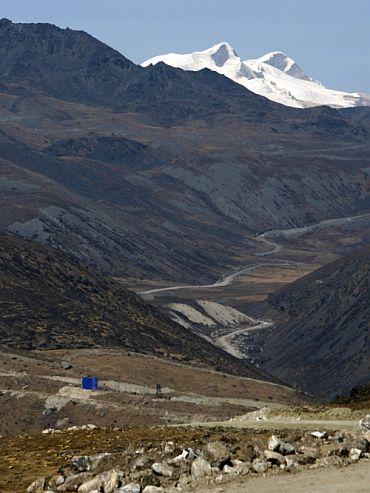 The London-based think tank said India has nearly finished raising two new mountain divisions of 36,000 troops each.
Two new battalions of Arunachal Pradesh and Sikkim scouts, comprising 5,000 locally recruited troops, are also being raised, with plans for a new mountain strike corps and a third artillery division for the area.
Meanwhile, it said the Indian air force has begun to deploy two squadrons of Su-30MKI aircraft to Tezpur air base, close to the Line of Actual Control with China.
India is also upgrading six airstrips in Arunachal Pradesh, as it has already started to in the Ladakh region of Jammu and Kashmir bordered Pakistan occupied Kashmir, the report said.
The IISS report said along with the acquisition of AWACS aircraft and ground-based air defence close to the LAC, India has reportedly bolstered its security with 19 low-altitude transportable medium-power radars.
Pakistan a gainer
Last updated on: March 9, 2011 09:20 IST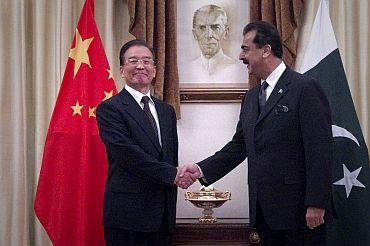 "The Indian navy also plans to strengthen its eastern fleet, notably by basing an aircraft carrier in the Bay of Bengal. At the same time, India has stepped up its naval interactions with the United States and with Southeast and East Asian states," the IISS said.
An increased Chinese naval presence in the Indian Ocean is being countered by bilateral Indian naval exercises with Singapore and Vietnam in the South China Sea, and with trilateral exercises with the US and Japan off Okinawa," the report said.
It noted that modernisation of Pakistan's air force continues, with acquisitions from both the US and China.
At the 2010 Farnborough air show, the jointly developed Chengdu/Pakistan Aeronautical complex FC-1/JF-17 combat aircraft was displayed for the first time.
The Pakistan Air Force is reportedly seeking to acquire up to 250 of these aircraft in the next five to ten years.
© Copyright 2021 PTI. All rights reserved. Republication or redistribution of PTI content, including by framing or similar means, is expressly prohibited without the prior written consent.