'Why does Obama need so many people to protect him'
Last updated on: November 6, 2010 23:39 IST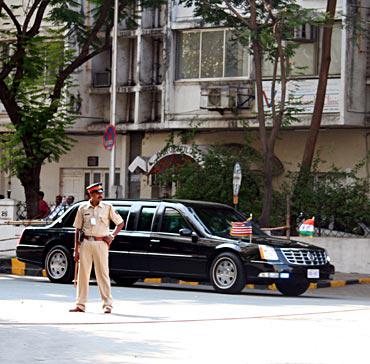 Residents of Gamdevi, the plush area in South Mumbai that houses Mani Bhavan, welcomed Barack Obama with a frown on Saturday. Sonil Dedhia and Abhishek Mande listen in.
A little before 3 pm, the calm that had enveloped the area around Mani Bhavan was broken by at least two dozen vehicles.
They came in all sizes -- SUVs, mini buses, large buses, police vans, a SWAT Team-like vehicle, an ambulance and two limousines.
In one of them sat the most powerful man in the world.
The irony of it all wasn't lost out on the hundreds of people who were waiting to catch a glimpse of him.
Christina Starr was acidic about it. "Why does Barack Obama need so many people protecting him if he's so powerful?" she demanded to know.
The 20-something resident of Thane, a distant suburb of Mumbai, is an employee of a prominent lifestyle store in the area. She had stepped out for lunch an hour before the entire area was cordoned off. When she wanted to get back to her place of work, she was in for a rude shock.
'We haven't had lunch for three days'
Last updated on: November 6, 2010 23:39 IST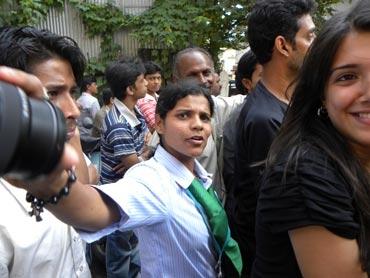 All the roads leading there were blocked. Armed policemen guarded each of the lanes.
"What do you expect me to do? Not have lunch?" she yelled out at one of the constables.
"We haven't had lunch for three days. What do you have to say about that," the cop retorted.
Starr was not the only one whose life was put on hold because of President Barack Obama's visit to Mani Bhavan.
Then again, she was in elite company. Even the gods were under surveillance.
A temple that stands across the road from Mani Bhavan was shut and had a handful of cops kept a hawk's eye on the activities around the area.
'It seems like we are in a state of emergency'
Last updated on: November 6, 2010 23:39 IST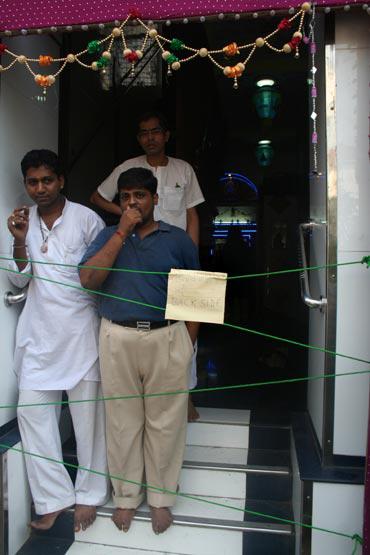 Adurait Mangalore, the trustee of the temple, was not happy about it.
"For the last two days, it seems like we're in a state of emergency! The police have asked us to shut the temple. It's sad that people aren't even allowed to worship (because Obama is here)," he said.
The half km-long Pandita Ramabai Marg wore a deserted look. Every single shop barring a medical store along the road was shut.
There were at least a dozen cops at every crossroad, inside every lane and atop strategically located buildings.
This was how it has been for the last few days.
While the news about branches of coconut trees around Mani Bhavan being pruned has been widely reported, a local resident who lives in the next lane told us that branches of trees along their road were felled too!
'Obama supports Pakistan'
Last updated on: November 6, 2010 23:39 IST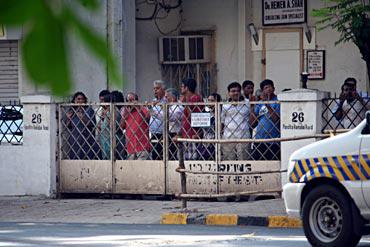 Earlier this morning, the police ensured that all the parked vehicles were shifted within the housing society premises too.
This, of course, was after thorough security checks of all the shops in the area. 
Vitthal Shetty, who runs a laundry in the area, was disgruntled. "Obama supports Pakistan," he complained. "Besides it's not like he will give us anything."
Tushar Sawant, a small-time politician from Shiv Sena, also took the opportunity to voice his dissatisfaction.
"I wanted to go and fill petrol from the petrol station which is right around the corner but they aren't allowing anyone to go there," he told us animatedly but after he spotted a cop behind him, Sawant began singing a different tune.
"In a way it's good that there is security all over," he said "For once, the city looks very clean and well maintained."
'We had no clue about Obama's visit'
Last updated on: November 6, 2010 23:39 IST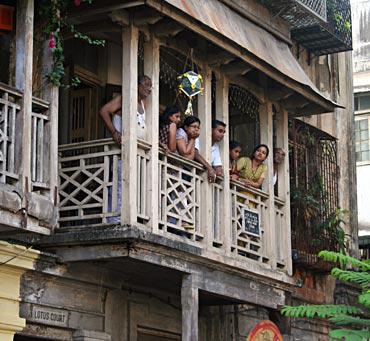 Barack Obama's visit, however, spelt doom for tourists such as Karine and Janina from Germany, who could not visit Gateway of India.
"We are here for just a few hours and were looking forward to visiting the Gateway of India. But the police told us to return on Monday," Karine said.
"We had no clue about Obama's visit and we didn't expect that the security would be so tight and some of the roads would be shut to the public," she added.
Bob and Tom, from Canada, were also spotted walking around somewhat dejectedly. "We were hoping to visit the museum (Mani Bhavan)," Tom said, "But that's evidently not happening!"