Why Arvind Kejriwal's ambition is also his dilemma
January 20, 2014 23:52 IST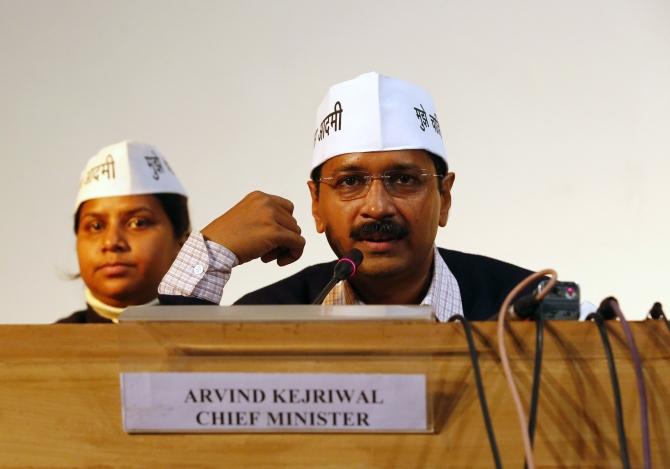 Arvind Kejriwal, Mr Anti-Establishment, wants to play politics without being branded as the typical Indian politician so that he can make a mark in the 2014 general election.
While hiding his political manoeuvring, the Aam Aadmi Party's maverick leader is seeking fresh intervention in the agenda of the nation by agitating on the footpaths of New Delhi, says Rediff.com's Sheela Bhatt.
In 1947-1948, Sardar Vallabhbhai Patel, while presiding over the merger of hundreds of kingdoms into the newly-born Indian Union, gave several concessions to the maharaja of Bharatpur in Rajasthan, a principality bordering New Delhi.
Ranbeer Singh, Haryana Chief Minister Bhupinder Singh Hooda's father, was present at that meeting. 'Sardarsaab,' the elder Hooda asked Patel later, 'why did you agree for so much? You could have bargained better with him.'
'Bharatpur is closer to New Delhi,' Patel said. 'Even if a sparrow is killed in New Delhi, all of India talks about it.'
Arvind Kejriwal has done exceedingly well by agitating in New Delhi. India has been talking about it since April 2011 and he has got the taste of power as well. But before he could settle down as chief minister, Kejriwal has stepped out of his posh secretariat to squat on the footpath to dominate the headlines once again.
What is he up to?
Kejriwal is a man possessed. He saw how the voters of New Delhi have been eating out of his hands. The adulation for Kejriwal has been melodramatic.
After becoming chief minister, in less than a fortnight, on January 11, he invited people to deliver their complaints personally to him.
A tsunami of issues cropped up in his jansunvai (hearing of the people) literally held on the footpath.
It was if in the last 15 years Sheila Dikshit's Congress government had not done anything. Kejriwal demonstrated that well through that mismanaged meeting on January 11.
There were some tension-filled, risk-fraught, moments when poor people saw Kejriwal pleading with them to keep calm. They obeyed and slowly dispersed without even getting a hearing about their pain.
Kejriwal's political purpose was served even though people suffered in the chaos. It was sheer good luck that no stampede took place and there were no casualties.
There was no blood on the street that Saturday, but Delhi voters saw the face of Kejriwal, the hardcore politician.
Till he became chief minister, Delhi residents focused only on the activist Kejriwal. He was not seen as an an Indian politician as Indian voters understand them.
Kejriwal got adulation and even acquired credibility because he was untainted by the taint of being a politician.
His dress sense, his Hindi, his ideas and vision, his action plan -- nothing matched Narendra Modi, Rahul Gandhi, Nitish Kumar or any other politician of note.
Kindly click NEXT to read further...
The pied piper of New Delhi needs to nurture his future too
January 20, 2014 23:52 IST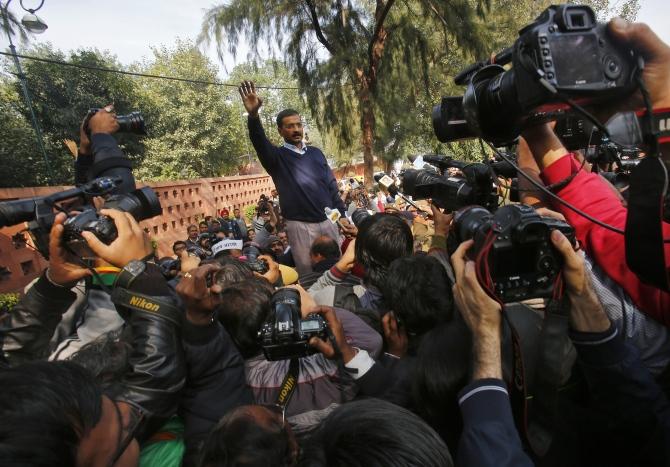 Each and every vote Arvind Kejriwal and his Aam Aaadmi Party won was the manifestation of the arrogance of the Congress and the Bharatiya Janata Party.
Kejriwal and AAP won votes of people who were against the corrupt administration run by the bureaucracy, a slow-grinding justice delivery system and an uncontrollable police.
One positive emotion, too, worked for Kejriwal. That was his promise to reduce the price of water and power.
In just 22 days, there have been so many ups and downs in the Aam Aadmi Party and its politics.
When Kejriwal became chief minister, he was supposed to act. That was the apolitical expectations of the aam aadmi.
But the AAP has political ambitions. How do you sit in the edifice of the establishment and still win anti-establishment votes in the critical 2014 general election.
Time is playing a crucial role in what Kejriwal and AAP ideologues Prashant Bhushan and Yogendra Yadav are doing.
The pied piper of New Delhi needs to nurture his future too.
While keeping his anti-establishment identity intact, Kejriwal has played enough clever politics without acting on expected lines.
His avatar as the politician took shape the day he decided to form the party in spite of promising on camera that he would never do so.
Then, he consolidated his political position when he accepted, quite brazenly, Congress support to form the government. He broke the vow he took on camera.
Kejriwal's own 'politicisation' accelerated when he awfully supported Delhi Law Minister Somnath Bharti against whom the Delhi court has passed damaging observations.
The reality check has begun.
The difference between the activist Kejriwal and the politicking Kejriwal reminds one of the lover promising the moon before marriage and the lover-turned husband handing over a paltry salary after marriage.
New Delhi voters are watching Chief Minister Kejriwal with amazement.
'Yeh kuch kar dikhayega ke nahi (Will he perform or not?)' is the anxiety-ridden question most Delhi voters are asking.In the era of Twitter and Facebook, even classical politicians are impatient with Kejriwal and his politics which they dub pure nautanki (melodrama).
Rediff.com spoke to more than a dozen politicians from various parties and a few Cabinet ministers to find out what they felt about the Aam Aadmi Party and Kejriwal.
In off-the-record, but detailed, discussions, many powerful politicians including senior central ministers expressed, not surprisingly, anger about the current events in New Delhi.
One senior Cabinet minister told Rediff.com, with irritation, envy and frustration, "You have no idea! Kejriwal is the jinn released from the bottle. The Congress will regret this for years to come. What Indira Gandhi did in Punjab, Rahul Gandhi has done in New Delhi. To quell the Akali Dal, Indira Gandhi created destructive counter forces. Now to counter Narendra Modi, the Congress has unleashed Kejriwal on Modi and the system."
One Modi admirer in Ahmedabad compares Kejriwal's politics with a cottage industry; Modi, for him, represents sure shot ideas of 'nation building'.
Kindly click NEXT to read further...
Leaders are disgusted by Kejriwal's informal way of ruling
January 20, 2014 23:52 IST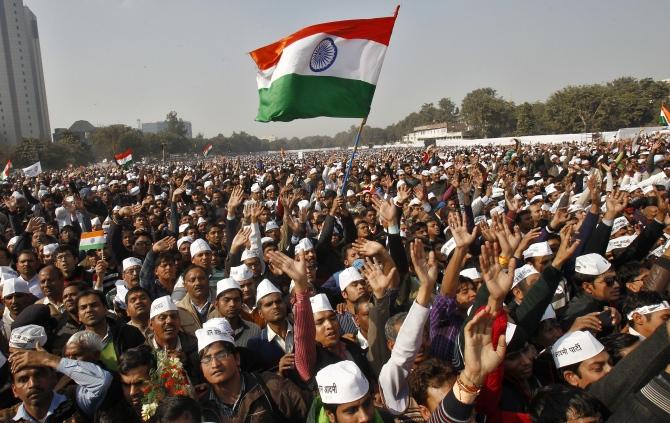 Second-rank leaders of the Bharatiya Janata Party and the Congress in New Delhi are shocked and disgusted by Arvind Kejriwal's informal way of ruling and his no-frills approach to his own mobility and his party using transparency in governance as its trump card.
Kejriwal's blue Wagon-R car has become the subject of many debates. Delhi's district-level leaders allege Kejriwal has brought municipality issues onto the national agenda.
An elected BJP member of the Delhi legislative assembly from East Delhi asked, "Don't you media guys have some sense of national priorities? How can the national media not worry about environment, inflation, security, Kashmir and other national issues and waste so much time 0n matters of subsidies which is just an administrative or at most a political issue?"
The jhadu (broom, the AAP's party symbol) is no more untouchable. Many BJP MLAs claimed that Kejriwal is being watched by the other parties only because money is pouring into the AAP coffers -- as much as between Rs 1.5 million and Rs 2 million a day!
Donors are listed on the AAP Web site (external link).
After an initial scare, Congress and BJP leaders now believe that by March 15, Kejriwal will begin wilting. They are confident that once the drama of "item numbers" unleashed by the AAP government like giving missed calls and having janata darbars cease to impress, people will see that Kejriwal has not shown any sign of good governance.
BJP and Congress leaders say the issue with Kejriwal's kind of politics is that it is difficult to assess accurately. Due to his clever politics, he can be underestimated or overestimated, easily.
Veterans of Indian politics occupying space in the corridors of power for decades decry Kejriwal and his politics. He is called childish and foolish by the typical political class. They cannnot bear to see how he dominates the Delhi media completely.
On January 6, the New Delhi edition of the Economic Times newspaper published nine reports on the AAP on its first three pages.
Kejriwal commands more time on television screens than Narendra Modi or the Gandhis.
The Times of India's Delhi edition has more stories on the AAP than on issues affecting the Indian economy. The chief minister's press conference attracts more outdoor broadcasting vans then all the central ministries' events put together. And that makes the old establishment nervous.
In Delhi, the existing hospital management societies, called the Rogi Kalyan Samitis, have been dismantled. They have been replaced by cap-wearing Aam Aadmi Party volunteers. They inspect, they advise and they roam around hospitals.
Similarly, Aam Aadmi volunteers go around inspecting schools to keep Education Minister Manish Sisodia informed about shortcomings in schools.
Kindly click NEXT to read further...
How Kejriwal is a typical politician!
January 20, 2014 23:52 IST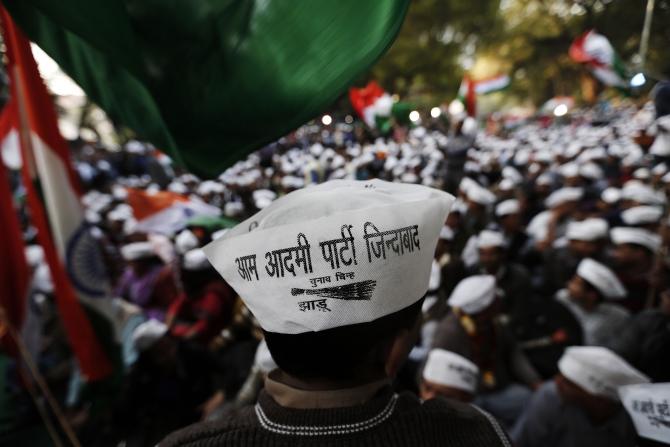 Arvind Kejriwal's actions are too political and have nothing to do with setting the structure and system and good governance to deal with people's woes, says an elected BJP MLA.
The most revealing moment came when Kejriwal's political face overshadowed his previous avatar of the agitator when at a press conference he asked BJP leader Dr Harsh Vardhan to send him proof of former Delhi chief minister Sheila Dikshit being involved in various scams. See the video (external link)
A typical Indian politician, one would think!
That was the beginning of the 'arrogance' in Kejriwal that the Delhi voters has been seeing day in and day out in the Congress and the BJP.
Kejriwal is powerful today also because he promised that would give cheap power and water to the capital's citizens. In both cases there is evidence that voters feel that it is like a dazzling marketing gimmick.
The chief minister has sold the product (external link) that is quite different at time of delivery.
There are so many well-researched articles showing that the AAP is not faithfully revealing all the facts (external link). The facts now known to the larger audience must have been known to him.
Kejriwal has seen that he can't reduce the power subsidy anytime soon. It will -- if ever it happens -- reach consumers only after the Lok Sabha election.
It is also clear that New Delhi voters, whose vote has elevated him to the chief ministership, are too small for him now.
Amitabha Pande, a former Indian Administrative Service officer, wrote on his Facebook page that, 'Am I the only one struck dumb at the imbecility of the idea of making every citizen into an anti-corruption Gestapo?' when he read about Kejriwal's idea of asking people to run sting operations on corrupt officials.
The problem with the AAP is that the party does things like this when it does not have the mandate. Yogendra Yadav, the AAP's sober face, recently noted about the party's success that, 'What is being called success is actually a very partial success. After all, we were technically the runners-up in Delhi. Normally, the party which gets this much of votes and seats should not draw this kind of attention.'
The New Delhi voters' dream romance with Kejriwal was about to end as other news stories started appearing in the national dallies.
Delhi voters first got an uncomfortable feeling that Kejriwal would soon be part of the same old political world when he almost finalised a 10-bedroom house-cum-office on Bhagwan Dass Road.
That was when Kejriwal stumbled badly -- he supported the selection of a house for himself where none of his voters could ever dream of living.
The Kejriwal political story based on an anti-VIP culture was going all wrong and voters could see that. He sensed it and retreated.
Kindly click NEXT to read further...
Kejriwal is in a dead hurry
January 20, 2014 23:52 IST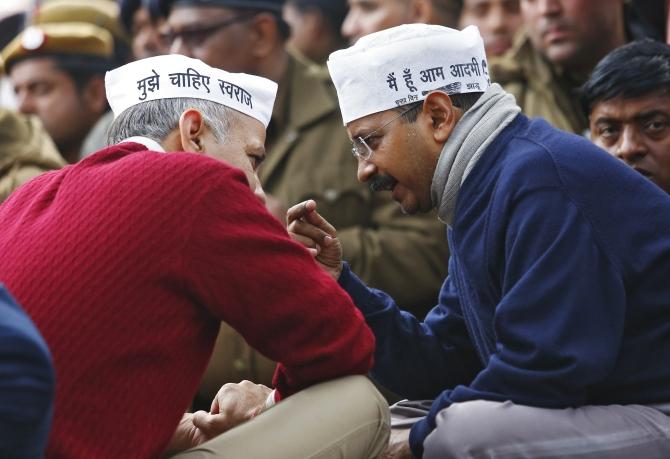 The way the politician Kejriwal dealt with the Congress and the BJP and the way he succeeded in placing himself in a win-win situation gave a clear sense that posturing, symbolism and rhetoric will be his tools as it is used with consummate flair by all major political parties in the country.
The leader who could not finalise his home for more than a fortnight, the man who runs the administration of New Delhi from Uttar Pradesh has severe limitations.
Neither Kejriwal nor his party was prepared for the game they were playing. They were not equipped to rule Delhi.
Kejriwal has huge personal capacity, but his mandate is limited to 28 seats and his party does not have enough talent and leaders in a historical and huge city like Delhi.
Kejriwal is lucky that AAP-related negative news are published on pages 2 and 3 of the city pages of the morning dailies and not accessed outside Delhi. His three junior ministers' interviews in the newspapers read like nursery rhymes. They are so bland that it worries people in the know.
It is to his credit once again he saw so quickly that he would have to throw away the 'political identity' that was eroding his support at lightning speed.
So on Monday morning he went straight to the footpath outside Rail Bhavan from where he addressed the people and the police.
In a style very similar to Jayaprakash Narayan ithe days preceding the Emergency in June 1975, he told the police to abandon their uniforms and join him.
He is provoking the Congress to withdraw support so that he can be free of the burden of running a government that is impossible to run without the wherewithal of a nascent party.
It is not Kejriwal's genius alone that has landed him in a win-win situation. It is that time favours him.
Before the rest of India discover the complexities and the weaknesses inherent in his party and his leadership, Arvind Kejriwal wants to spread the charm of his disarming smile.
He wants to fully and finally establish his monopoly on the anti-corruption plank.
Nothing more, nothing less is acceptable to him.
Like the Hindutva identity, like poverty, like class struggle, the issue of corruption is not going to die from our political world any time soon.
Kejriwal is in a dead hurry to take a grip on anti-corruption, clean-public-life and no-VIP-culture politics.
Since 1980, the way the BJP has used different shades of Hindutva in different elections and the way the Congress fights elections on the pro-minority-Dalit card, Kejriwal thinks the 2014 election should be his entrance test to the Lok Sabha, and in the process he wants to register his party for the long haul in politics.
The biggest advantage he has over non-BJP and non-Congress leaders is that he is neither region centric nor does he have a limitation of language identity. Then why confine himself to New Delhi?
Arvind Kejriwal has to leave Delhi to embrace India.
So Kejriwal had to step out today to take the higher orbit. Kejriwal had to give the interview to CNN-IBN Editor-in-chief Rajdeep Sardesai and display political bravery, saying 'Police ko theek kar lenge hum log, police ko theek karna ata hai hum logo ko. (We will make an example out of the police. We know how to make them behave).'
The most pertinent comment came from a Congress leader when he told Rediff.com, "Nikla tha Mahatma Gandhi ban ne, V P Singh bane to bhi kaafi hai. (Kejriwal set out to be Mahatma Gandhi, but it will be an achievement even if he can become V P Singh)."
Fear surges forth in the minds of New Delhi residents when their elected chief minister tells policemen, 'Tujhe theekane kar dunga.'
Not at the aam aadmi's cost, please.