Who'd have known? Mamata's 5 years younger
Last updated on: January 25, 2012 16:39 IST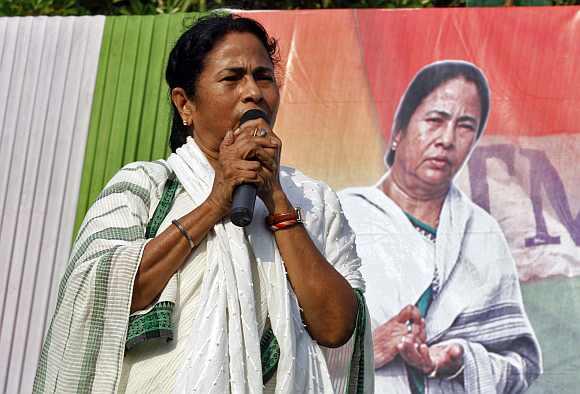 West Bengal Chief Minister Mamata Banerjee is younger than her official age.
How! The devil lay in a fake certificate, procured by her father, which put five more years to her age to help her appear in the school leaving examination.
In her recently published memoirs My Unforgettable Memories, the politician revealed the truth about her age, which was so far believed to be 57.
"I was not even 15 when I wrote my school final examination and would have been disqualified for being underage. So, my father gave a fictitious age and birthday to get around the problem. The result: a new birthday and five years added to my real age," writes Banerjee.

Click NEXT to read further...
Who'd have known? Mamata's 5 years younger!
Last updated on: January 25, 2012 16:39 IST
Apparently Didi was born on October 5, instead of January 5, as the book says that her mother had once given her a horoscope with that date mentioned in it.
Her mother used to celebrate her birthday every Ashtami (the eighth day of Durga Puja which falls in October) with a special preparation of rice pudding, she says while explaining how she has had two birthdays so far.
Even the Lok Sabha website shows January 5, 1955 as her date of birth. She had resigned as MP last year to take over as the chief minister of the state.
"To the world at large, my school certificate with its erroneous date of birth is the legally valid document," she rues in the book published by Roli Books.
Who'd have known? Mamata's 5 years younger!
Last updated on: January 25, 2012 16:39 IST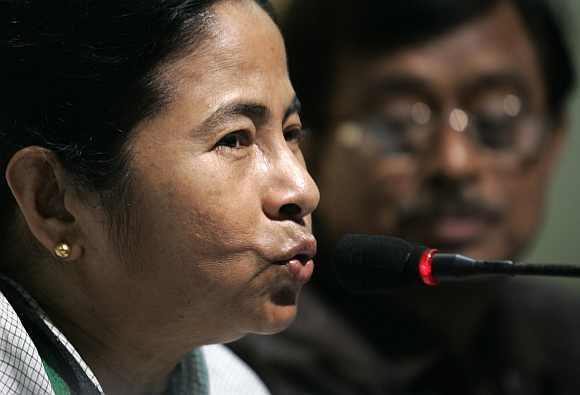 When Banerjee once confronted her mother over the mistake in her official date of birth, she had replied, "Darling, we are not city-bred people. Neither you nor your elder brother was born in a hospital. Where would I get a birth certificate detailing your birthday and year?"

However, the confusion over her birthday has always been a personal issue with her as ever since she became an MP in 1984 she routinely gets birthday wishes on January 5.
"However as my real birthday is nowhere close to it, I simply do not feel like accepting the wishes...I never celebrate my birthday, its not a part of my DNA," she says.
Even her elder brother used to tease her saying that according to the school certificates, she is only six months younger to him.

Who'd have known? Mamata's 5 years younger!
Last updated on: January 25, 2012 16:39 IST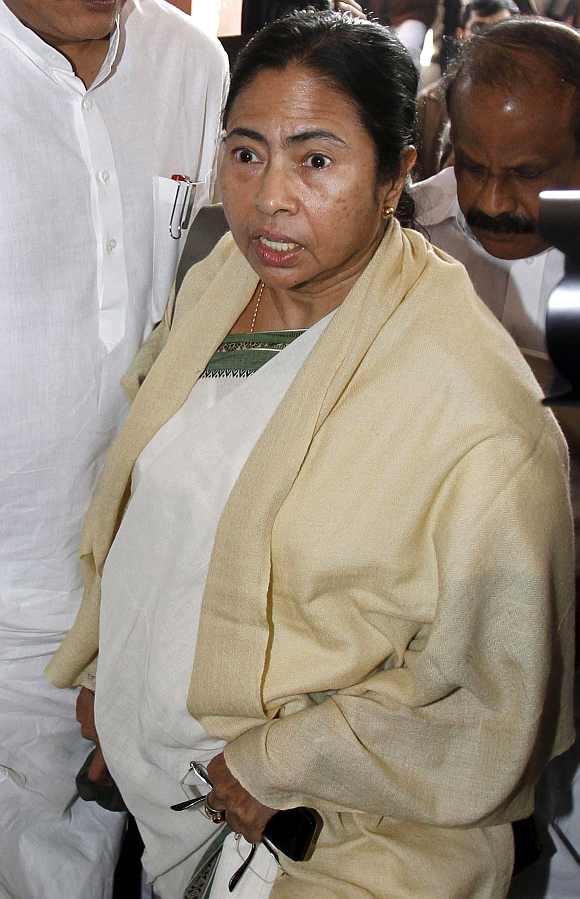 "The confusion over my date of birth in not something unique. Thousands of children born in Indian villages face the same problem. I have seen people work way beyond their retirement age, thanks to their fake birth certificates," Banerjee writes.
Stating that she wanted the truth about her age to be out in the public, the Trinamool Congress chief hopes that she will not attract fresh criticism over this from her opponents.
"But who can I blame for this mess? Who is responsible for creating this confusion? Parents should for the sake of their children's future be careful about documenting their date of birth correctly. No one else should suffer the way I did," she writes.
With some rare photographs, the book reveals many unknown facets of the chief minister's personal life, including childhood.
Check out our TOP photo features
Last updated on: January 25, 2012 16:39 IST
Click on MORE to see another set of PHOTO features...
© Copyright 2023 PTI. All rights reserved. Republication or redistribution of PTI content, including by framing or similar means, is expressly prohibited without the prior written consent.