'Sorry for bunking school, but we have to finish this first'
Last updated on: April 8, 2011 08:50 IST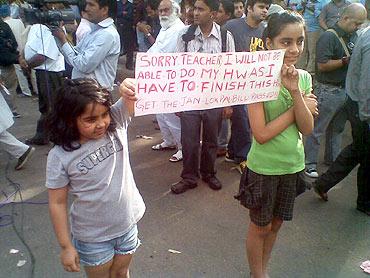 Sahim Salim writes an eyewitness account from Jantar Mantar, the spot which activist Anna Hazare has chosen for his hunger strike, demanding changes in the Lok Pal bill.
People from all walks of life flocked to the grounds, adorned with the Indian flags and placards. The usual brigade looking for political mileage was present as well, but they were far outnumbered by the aam aadmi. The atmosphere was electric and it was difficult not to get sucked into the anti-corruption energy ebbing through Jantar Mantar, considered India's protest bhoomi.
Updates on social networking sites such as Twitter and Facebook have changed from India's World Cup victory to invites of joining Hazare, as he takes on the government to formulate a stronger Lok Pal bill.
Ever since the 72-year-old retired army man started his fast-unto-death protest on Tuesday, demanding changes in the anti-corruption Lok Pal bill, the number of people responding to his call is only increasing. It was a weekday, and Parliament Street police, which controls Jantar Mantar, estimated that nearly 3,000 people had assembled at the square in support.
Disha and Nandini are students of a private school in Malviya Nagar. Encouraged by their mother, Shobhi Tandon, they have bunked school to show support for Hazare. They were carrying a placard apologising to their teachers in advance, for not doing their homework for Friday.
"My grandfather, Kali Charan Tandon was a freedom fighter, who fought for India's independence alongside Gandhiji. He passed away two years ago and often used to remark that this was not Gandhi's India. When I heard about Hazare's fast, I asked myself what he would have done and concluded that he would have made Disha and Nandini come here and register their protest. So I did it for him," said Shobhi.
Disha, a class V student, when asked if she knows what she is protesting for, flashed a smile and said, "Of course I know. We read newspapers too, you know. We know corruption is a bad thing and there is so much corruption in today's India."
Her sister, Nandini, who is in class VI, said, "Our mother did not force us to come here. She asked us if we wanted to and we said yes."
Click NEXT to read further...
'We are not idiots'
Last updated on: April 8, 2011 08:50 IST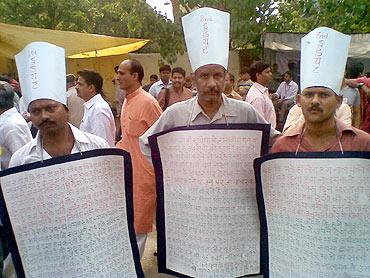 Everywhere, the people have found innovative ways to protest. For instance -- Ravinder Yadav, Akhilesh Yadav and Sivaji Singh all farmers from Ghonda in Uttar Pradesh, were wearing chef's hats labeled first idiot, second idiot and third idiot. They were calling themselves the 3 Idiots, inspired by a movie of the same name.
"The government really thinks of us as idiots. We wish to make them happy by confirming the same. But the truth is, they are the idiots. There have been so many scams, and so much corruption, and its all coming out in the open," said Akhilesh, Idiot no 1.
The people had ignored the corruption earlier, but now they will rise as one. Hazare saheb's fast has given us a reason to join hands. We should show the government that it has to pay for its crimes," he said.
Sivaji Singh, Idiot no 2, said, "The laws are being broken openly. We are not idiots; the government just thinks we are. Let them live under that impression and when we bring them down they will realise the fatal mistake they have made," he said.
Click NEXT to read further...
'Raising one's voice is considered treachery'
Last updated on: April 8, 2011 08:50 IST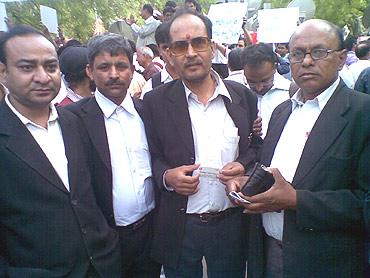 A group of 50 lawyers from a city court had also decided to join the protest.
Anu Prakash, a criminal lawyer in Karkardooma Court said, "From a legal point of view, the bill is absolute nonsense. How can a person from the government commit a crime, and pass judgement on his own crime?  And on top of that, there is no punishment too! Isn't that ridiculous?"
"Sections 121 and 122 of the Indian Penal Code deal with waging war against the state and the country. But when you read them in detail, you will realise that they are there to protect the government itself. The British had formulated it to save their government from anti-government protests," said Devendra Verma, a lawyer.
"We are a democracy now and people are considered traitors if they raise a voice against the government. It is considered as a war against the state. But it's the members of Parliament and politicians have been waging a war against the state by depleting its resources and taking from the poor," he added.
Click NEXT to read further...
'I support this cause with all my heart'
Last updated on: April 8, 2011 08:50 IST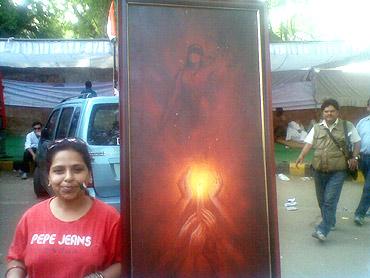 Harinansha Bhardwaj, a professional artist from Delhi, has dedicated two of her paintings to Hazare's cause. One of them have been specially made for Hazare's fight against corruption.
"When I first heard of Hazare's fast, I started painting this portrait which shows people holding a candle to the justice system, which is blindfolded. I wanted to show people's solidarity in guiding India's justice system. I have already gifted Hazare saheb another painting, which sits on his podium. I support his cause with all my heart," she said.
Click NEXT to read further...
'This is a chance people have been looking for'
Last updated on: April 8, 2011 08:50 IST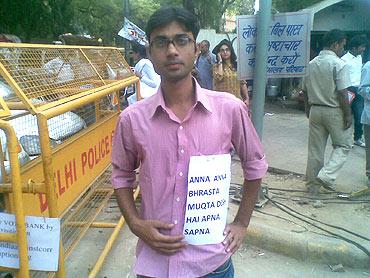 Jai Singh barely has time to even eat as he is frantically preparing for his Union Public Service Commission exams. But for Hazare's cause, he has found the time.
"I want to be an officer of the government to serve the people. So when the government is trampling on its people with its greed for people's hard-earned money, I want to stop it. If I don't show my solidarity today, my studying to become an officer holds no purpose, it becomes hypocritical," said Singh, who is a PhD in philosophy from Allahabad University.
"This is a chance people have been looking for. We, in India, are exposed to corruption right from the start of our education. Corruption is there in primary school admissions, school admissions, college admissions, job appointments, everywhere," he said.
"You pay up to become a doctor, register a case, or even buy a house. The corruption has gripped the country from its very roots. We have to stand up to eradicate it. The government, whether it's a beat constable or the prime minister, indulge in corrupt practices. It has to stop, the people are fed up," he added.
By this time, a group of protestors had gathered around him, and were listening to every word. As soon as Singh finished speaking, they clapped loudly and shouted, "Anna Hazare ki Jai!"