What Wen wants in India: More trade, fewer problems
Last updated on: December 15, 2010 11:25 IST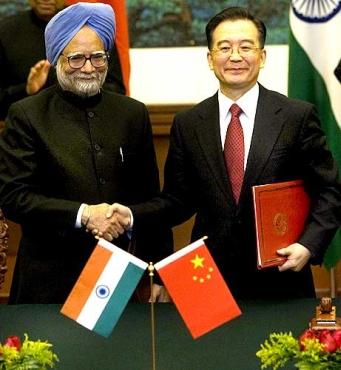 The Chinese premier will try to boost the burgeoning trade between the two nations and strive to keep bilateral differences under control, explains Sheela Bhatt
When Chinese premier Wen Jiabao arrives on his second state visit to India on Wednesday, you will be able to smell over $20 billion in the air.
Both Indian and Chinese governments have assured that Wen will leave with many more attractive deals -- in the sectors of power, finance, infrastructure, telecom, pharma -- than United States President Barack Obama or French President Nicolas Sarkozy could manage out of their India visit.
 
It is intriguing that in spite of many important private and public business deals that would be signed between India and China today in the presence of Wen, there are not too many expectations or much high drama around the visit.
 
Believe it or not, a senior officer of ministry of external affairs who is closely involved with preparations for Wen Jiabao's visit in New Delhi, told rediff.com, "We ( India and China) have lesser differences in our approaches to bilateral relationship than India and the US has. The focus is clear -- India and China both want to advance trade relations."
'Both countries will keep things under control'
Last updated on: December 15, 2010 11:25 IST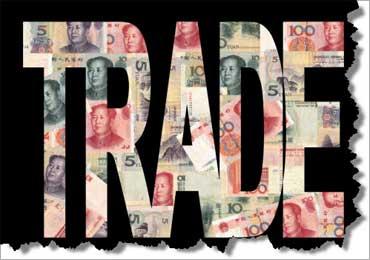 The diplomat, while continuing to talk off the record, said, "Wen Jiabao's visit will be an exercise in managing differences and keeping them under control. Also, we will work harder in the areas where more and more co-operation is possible; finally, our aim is to move forward."  
When asked about the contours of talks that would take place at the delegation level, he said, "You may say the focus during PM Wen's visit is to manage the political issues and move forward on economic issues. Both countries would keep things under control." 
The bilateral relation is certainly not glowing in spite of amazingly fast-growing trade, which was $42.4 billion in 2009-10 and aims to reach $ 120 billion by 2014 or may be before that, if possible. Still, one knows how the reality is not reflected in these rosy trade figures. Both sides have issues and they are not subsiding either. 
Naresh Chandra, former ambassador to America, says, "While assessing Wen Jiabao's visit, we should factor in a few issues. One, Wen Jiabao and Chinese President Hu Jintao will be retiring soon. They would think deep before going for a settlement of sensitive border issues. Also, in China, there is a difference between the People's Liberation Army and the civilian leadership's approach on how to handle India. Also, on the issue of trade, a fine balance should be found to make it sustainable."
'It's time India de-links its relationship with China from Sino-Pak ties'
Last updated on: December 15, 2010 11:25 IST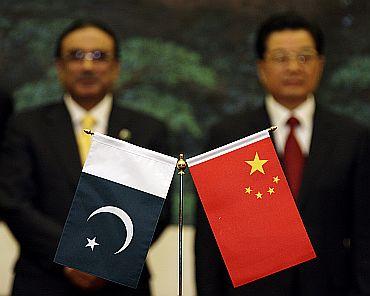 Chandra adds, "During the US President's visit to India we, justifiably, talk about Americans pandering to Pakistan at the expense of India. We should multiply our concerns with greater force when the Chinese leadership is here. They would not do anything which will make Pakistan feel unpleasant."
 
On the other hand, former diplomat M K Bhadrakumar believes that "It's time India de-links its relationship with China from Sino-Pak ties just as we are doing with the US. China has legitimate interests in developing its ties with Pakistan and they are not necessarily India-centric." 
Moreover, in the coming period, Bhadrakumar says, China would have "far more shared concerns with India with regard to the international system than it could have with Pakistan."
 
He said that unfortunately, Indian discourses regarding China are heavily influenced by western opinion and "there should be much more direct effort to understand the profound changes sweeping through China, instead of sticking to stereotyped notions of how China works."
Beijing has softened its stand on Kashmir
Last updated on: December 15, 2010 11:25 IST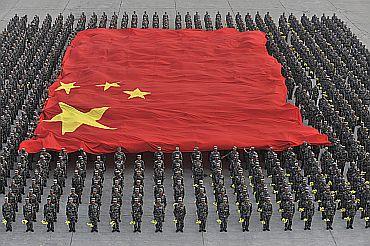 Wen's visit assumes greater importance because the past year has witnessed a decline of trust between the two nations, which have shared a link between their ancient civilisations since the 5th century.
The diplomatic tussle was mainly over the issue of borders, China's ever-growing nuclear co-operation with Pakistan and its stance towards Kashmir.
The Chinese policy of issuing stapled visas to Indians from Jammu and Kashmir even resulted in the suspension of joint military exercises and exchanges.
But in spite of a long list of grouses on both sides, there is an overarching ambience of maturity and ancient wisdom. The leadership of both countries do have control over their words and actions which helps the relationship function in the midst of adversity.
 
Experts have warned against any expectations about a major forward move on the  border dispute.
"There may be a marginal improvement on China's position on the United Nations Security Council seat for India," says Srikanth Kondapalli, the professor of Chinese studies at the Jawaharlal Nehru University.
 
On China issuing stapled visas to Indians from Jammu and Kashmir, it seems that after intense discussions, Beijing has softened its stand on the issue.
Trade relations won't save the bilateral relationship
Last updated on: December 15, 2010 11:25 IST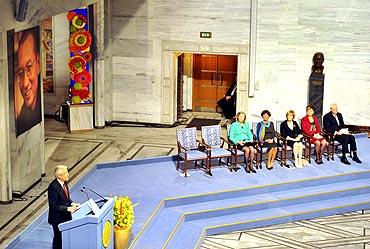 Tanya Gupta, a Kashmiri singer, was issued a stamped visa instead of a stapled visa, when she was travelling to Guangzhou to attend the Asian Games on November 27. This signals a shift in China's visa policy on applicants from Jammu and Kashmir.
 
Just a few days before Wen's visit, the issue of India attending the Nobel Peace Price ceremony to Chinese jailed dissident Liu Xiaobo in Oslo became a bitter battle between the two countries.
When asked if the Oslo event would caste a shadow on Wen's visit, Vishnu Prakash, spokesman of MEA, said, "As far as the government of India is concerned, we did not see any linkage between attendance at the Nobel Peace Prize award ceremony in Oslo and India-China bilateral relations. So, we did not see the connect between the two."
 
India and China keep demonstrating such assertiveness occasionally. In fact, many Western experts and journalists project the danger of depending too much on 'trade' relations. They think trade relations won't save the bilateral relationship because in spite of the over $130 billion trade partnership between China and Japan, both nations keep fighting over political differences. 
Big ticket event on December 15
Last updated on: December 15, 2010 11:25 IST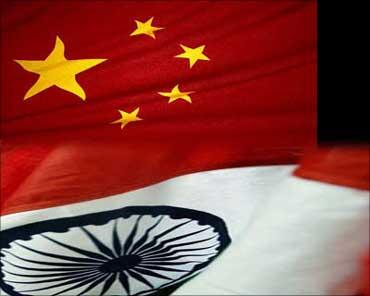 Bhadrakumar insists that deeper and expanding engagement in trade and investment will eventually prove to be a stabilising factor as an 'interdependency develops'. He questioned the analogy of Sino-Japanese ties, which are "heavily laden with painful chapters of China's modern history as well as of Japanese militarism".
 
"Besides", he said, "Japan is a military ally of the US whereas China can easily recognise that it is not in India's DNA to be any camp's follower."
 
It looks certain that as the practical Indians or the patient Chinese don't want to go for a bigger gamble to settle sensitive issues, 'trade' will remain the formula for continuity and stability. In fact, as a senior diplomat involved with China points out, the big ticket event is not the political one on December 16, when Wen and Prime Minister Manmohan Singh will meet for the 11th time. The event to watch out for will take place within a few hours of Wen's arrival.
 
From the Delhi airport, Wen is expected to drive to Hotel ITC Maurya to speak at the India - China Business Co-operation Summit.
The event will conclude with the $20 billion plus agreements, Memorandum of Understandings and business deals that would be signed.
'The relationship between China and India is fragile'
Last updated on: December 15, 2010 11:25 IST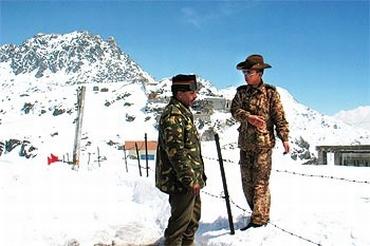 China's International Trade Representative & Vice Minister of Commerce Gao Hucheng, and Director General, Trade Development Bureau of the Ministry of Commerce Zhang Chaomei will be present at the event, along with nearly 1,000 Indian and Chinese businessmen and leaders of the corporate world.
Wen's delegations will comprise 400 businessmen and dealmakers. He will also be accompanied by Minister of Foreign Affairs Yang Jiechi; Minister of Culture Cai Wu; Minister for Transport Li Shenglin; Minister for Policy Planning and State Council Xie Wuzhan and vice-ministers.
In fact, all the powerful ministers of Dr Singh's cabinet will join the visiting dignitaries on Thursday for the delegation-level talks.
 
While talking about the new trends in Sino-Indian relations, C V Ranganathan , former Indian ambassador to China who is known for his deep understanding of  Chinese values and their diplomatic attitude, says the Chinese premier's visit is 'terribly important' given the state of the bilateral relationship and the international situation.
He said, "The relationship between China and India is fragile to the extent that public opinion matters very much in India. It is increasingly becoming so in China too. It is imperative that leaders of both countries meet frequently to increase mutual understanding".
'Chinese go berserk over the hawkish Indian media'
Last updated on: December 15, 2010 11:25 IST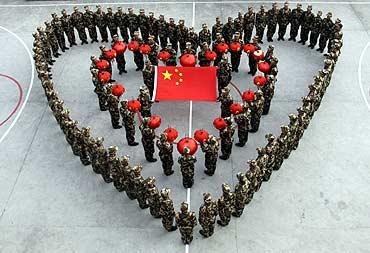 He cautions, "It is not right to expect a solution but repeating again and again and again the need to find a solution is necessary for the leaders of both countries."
Ranganathan believes that till the problems get resolved, the high-level visits are necessary to ensure that both governments work hard to get their public opinions ready for the final solutions.
 
Two days ago, Chinese envoy to India Zhang Yan said at a conference in New Delhi, "China-India relations are very fragile and very easy to damage and very difficult to repair. Therefore, they need special care in the information age."
Chandra told rediff.com, "Chinese go berserk over the hawkish Indian media. They just don't accept our word that the government can't control the media in India."
'The issues are not easy'
Last updated on: December 15, 2010 11:25 IST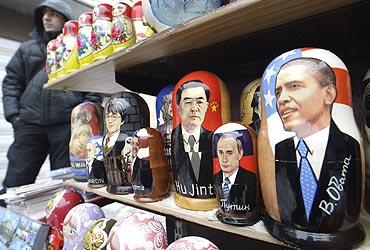 Foreign Secretary Nirupama Rao articulated the issue saying, "Often, our Chinese friends speak of a certain gulf in the appreciation of each country vis-a-vis the other, especially when it comes to opinions that are expressed in the media of the two countries."
"Our Chinese friends are increasingly exposed to the vibrant, I would say, noisy nature of our democracy. The fact is that many schools of thought contend, many opinions are expressed which are often at divergence with each other. But I would urge them to understand that there is a certain very commonsensical, very rational approach that we in India have to China," she said.
In a Europe-based think tank, whenever Chandra meets a senior officer of the People's Liberation Army, the latter complains about the Indian media's 'anti-China' stand. 
Chandra said, "The issues are not easy between us. China thinks that India and China's borders were divided by the British by force and that legacy is not acceptable to them. It is true that China lost a huge amount of territory in the 20th century. But then India also lost territory when Pakistan was created through a Constitution at the end of the British Raj. India understands China's sensitivity that the Tibet region comprises 40 per cent of China's territory. I believe we should have settled the border dispute with China when we recognised Tibet as a part of China."