'We were told that the Chinese will come in waves'
Last updated on: October 17, 2012 15:30 IST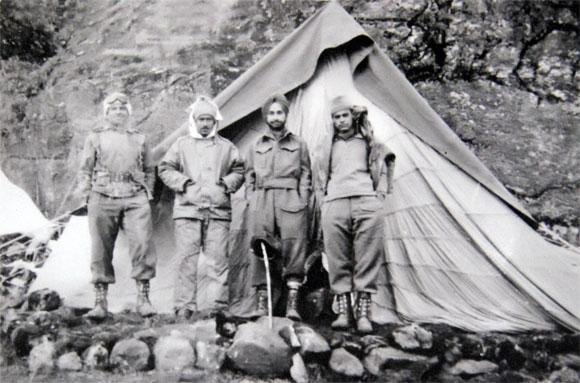 'I will say with pride that at no stage did any of my jawans suggest to me that we should withdraw or tried to run away from the fight... not even one of my men deserted.'
'We had fired all our rounds and the Chinese were coming in. We had only our LMGs and guns. We did whatever we could, but ultimately, we had to surrender.'
Brigadier Amar Jit Singh Behl (retd) speaks to Claude Arpi in an exclusive interview, continuing our new series on the India-China War, 50 years later.
Fifty years after the debacle of the Namkha chu river, very few survivors remain to tell their side of the story of the 1962 India-China war.
Claude Arpi met one of them, Amar Jit Singh Behl, then a young and 'carefree' second lieutenant from the 17 Parachute Field Regiment.
After retiring as a brigadier, Behl lives with his wife in Chandigarh, where he is an avid golfer.
He spoke to Rediff.com about the most harrowing three weeks of his life on a plateau in NEFA (now Arunachal Pradesh), dominating a small, but now famous rivulet, the Namkha chu.
Behl and his men fought well, but were ultimately taken as prisoners of war to Tibet, where for seven months they ate boiled radish.
This is the story of a brave para gunner in a war which inflicted lasting scars on the country.
I joined the elite 17 Parachute Field Regiment on July 2, 1962 at the end of an officer's course at Agra cantonment. I was put through my probation tests, which included very high standards of physical efficiency tests, tactical and technical tests.
I was then allowed to wear the paratrooper's prestigious maroon turban. I also completed my parachute basic course which consisted of six day jumps and one night jump. By September 6, 1962, I was a full-fledged paratrooper with a wing on my right sleeve.
I reported to Captain (later Major General) H S Talwar for orders. He commanded the troop called 'E' troop, from 52 Parachute Field Battery. I was feeling very proud to be given a chance to go to NEFA with my troops.
On September 24, 1962, we were ordered to join the 7 Infantry Brigade with guns for fire support in the Operation Zone.
Captain Talwar was the troop commander and I was the GPO (Gun Position Officer), looking after the firing of the guns and the overall administration of the guns.
The troops with the equipment and 4 guns were loaded in five C 119 Fairchild Packet aircraft and one AN 12 aircraft. Captain Talwar travelled in the latter.
The rest of us moved to NEFA via Lucknow, Barrackpore and Jalpaiguri. On October 3, we reached Tezpur where Captain Talwar received us.
We were given a briefing by Major Narender Singh, the General Staff Officer (GSO 2, OPS) of the 4 Infantry Division. We were told that the Chinese will come in waves, but there was nothing to worry about, because they were not well equipped.
You mean it was known that the Chinese will come in waves?
It was the normal doctrinal tactics of the Chinese in Korea and elsewhere, it is how they proceeded. After the briefing, I was given a sketch of the area.
Not a proper map?
No a blueprint only, a sketch of the Thagla ridge, Dhola Post, Namkha chu (river), etc. We were told that we will go to Tawang by road and later we will be airlifted.
The plans were changed and when we reached Bompu, we were told to come back to be airlifted.
Please click Next to read further...
'We moved to our positions, without acclimatisation and porters'
Last updated on: October 17, 2012 15:30 IST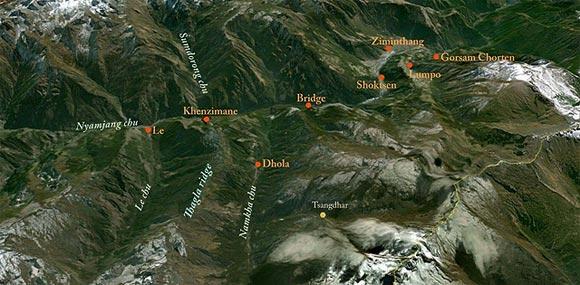 B>It seems there were two beautiful girls, said to be locals, but later suspected to be Chinese spies, at this place.
Yes, I saw them. Everybody wanted to meet them and have a cup of tea in their teashop.
The next morning we were sent to Diranga near the Bhutan border in an Otter aircraft and the next day, we left for Ziminthang by MI 4 helicopters.
Ziminthang was the tactical headquarters of the 4 Infantry Division. I met Major General Niranjan Prasad, my old brigade commander of the 50 (1) Para Brigade, who was the GOC (General Commanding Officer) of the 4 Infantry Division.
Because he knew me, he called me though I was only a second lieutenant. He asked me to put up my best show. He expected very high standards from his para gunners.
The next morning, with my troops (43 men) we moved on towards our assigned positions, without acclimatisation and porters.
The first night we stayed at Karpola pass (16,000 feet). The next day, we reached Tsangdhar where I was to establish my gun position.
Tsangdhar is a flat plateau dominating the Namkha chu. The Dropping Zone (DZ) was a bit ahead; the idea was to bring the equipment as close as possible from the Namkha chu.
Unfortunately, some of the equipment went into Chinese hands and deep ravines.
It means the Chinese were only occupying the Thagla ridge, not places south of the Namkha chu.
Yes, though the 9 Punjab (regiment) was patrolling parts of the Thagla ridge. I established my gun position in two days; it was done by October 8.
Unfortunately, we had recovered only two guns out of four and 80 rounds out of 250 rounds.
It was because the terrain was very tough, there were many trees. But my men did well, they recovered the guns, assembled them, we were ready to launch an attack or defend the 7 Brigade, whatever the scenario would be.
Lieutenant General B M Kaul, the 4 Corps Commander, had planned to take back the Thagla ridge on October 10 (Operation Leghorn).
I don't know about October 10 or 8, but Pandit Nehru on his way to Sri Lanka made a statement: 'The Indian troops have been ordered to evict the Chinese; the time is left to the discretion of the Army.'
It is in this connection that General Kaul said that we will evict the Chinese on October 10. His plans eventually collapsed.
When did General Kaul visit Namkha chu?
Around October 8, when I was putting up my guns in Tsangdhar, 2 to 3 hours walking distance from the river. Later General Kaul went back to Delhi because he was not keeping well.
I believe he told the government that the operations should be called off and that Indian troops should only maintain a defensive posture.
But as a junior officer, I did not know about these things.
Did you meet General Kaul?
I met him on October 3 at Tezpur airport. He saw me, called me and ordered me to ensure that I should be in Tsangdhar before October 10. I said: "I will do it, Sir."
Had he any notion of the terrain and the respective positions?
I was too junior to question him (laughing), I had only nine months of service and he was a very senior officer.
But we completed everything on October 8, collecting the guns, assembling them, digging the gun pits, the ammunition pits, securing the area with machine guns, etc.
We were ready in time. We were 2, 3 hours walk above the Namkha chu.
On October 10 there was a clash in Tsangle (on the north of the river). Orders was that Tsangle should be held at all cost, we did know what it meant (as it was an isolated place).
After October 10, (presumably after General Kaul met with various people in Delhi), it was decided that we should go on a defensive posture.
He must have briefed Pandit Nehru and (then defence minister V K ] Krishna Menon who had selected him for the task (for evicting the Chinese). It was an impossible task.
Please click Next to read further...
'The Chinese had infiltrated through and gone to our rear'
Last updated on: October 17, 2012 15:30 IST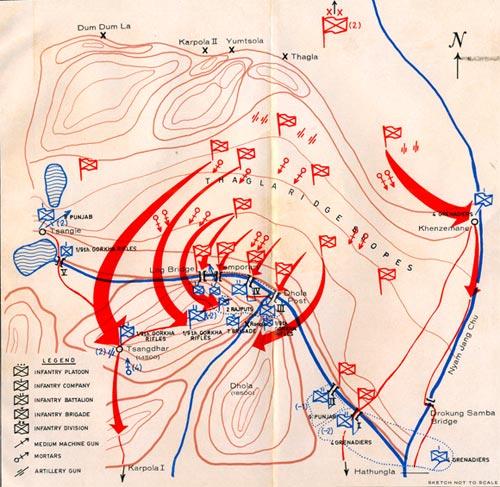 What happened on October 20?
In fact, it started before October 20.
On October 19, with naked eyes, we could see troop movements in certain gaps between Chinese defences.
The Chinese were not trying to hide themselves; in fact they wanted to show: 'Look we are here in large numbers.'
At night, they lit up fires; their objectives were to prove their strength and show that they had come in the rear of our defence too.
All our telecommunication lines were cut. They had infiltrated through and gone to our rear.
You have to realise that the bridges on the Namkha chu were nothing else but a few logs of trees assembled together. They were not bridges in the real sense.
On the night of October, the message was clear, 'We are here.'
That day, my nursing assistant died of pulmonary oedema. Before that, in spite of treatment, my two JCOs and one havildar major were evacuated by helicopter due to high altitude sickness. I was left with 38 halvildars and my jawans.
The communications had been cut the night before, and we could not even use the wireless set due to very thick trees along the Namkha chu.
I had nobody senior to direct me. I could not get through to my commander, Captain Talwar, who was with Brigadier John Dalvi at the Brigade HQ. There was no communication with anybody.
On October 19, I went to Major Panicker who was with the OC (Office Commanding) of the brigade supply depot and asked him: "I don't know what is happening. I have no communication."
That night, I had my dinner, checked the sentries and went to sleep. The next morning (October 20) at around 4:30 am, even before I could check my trenches, the shelling started.
At around 9 am, while the shelling was going on, I saw a helicopter coming, but it did not take off. I sent a small patrol of two people to see what had happened. It was about 400 yards down to my gun position.
My patrol came back and said: "There is a Sikh officer with a maroon turban (Major Ram Singh of the Signals) and a non-Sikh pilot (Squadron Leader Vinod Sehgal)". They were dead.
After one-and-half or two hours, another helicopter came, the pilot went half way through and left.
I later learnt that it was Squadron Leader Arnold Williams; he must have gone back after seeing what was going on. He never landed; he went straight from Bridge II to Ziminthang.
Please click Next to read further...
'There were officers, JCOs, jawans running away'
Last updated on: October 17, 2012 15:30 IST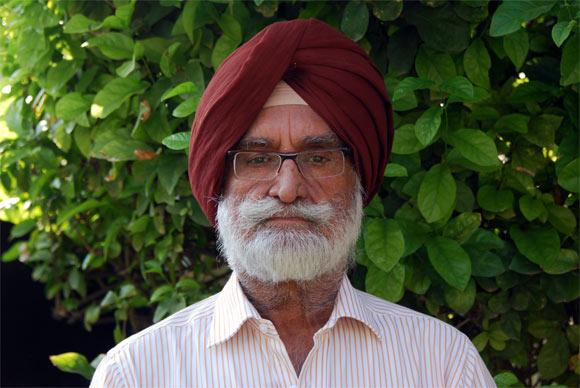 Though we had no communication with anybody, I ordered my guns to start firing direct. There was a prominent area, the Black Rock, where we saw a number of Chinese, we kept firing there.
We fired 20, 30 rounds and kept quiet for a moment. There was one of our mortar batteries not far from us, the havildar major came to see me and ask what was happening. He was hit by an LMG (Light Machine Gun) burst and died.
By that time, troops had started withdrawing from Namkha chu and Tsangle area. These people were telling me, "Don't move, keep firing" (to protect their retreat). There were officers, JCOs, jawans running away. The brigade had altogether 3,000 people.
I was a young second lieutenant; I held my post, kept firing in direct roll, also using my LMGs and guns to control the situation.
I felt ashamed of those who were running away. I felt proud of my troops, everybody wanted to fight it out.
I will say with pride that at no stage did any of my jawans suggest to me that we should withdraw or tried to run away from the fight, though three jawans had died by this time, they all obeyed me till the end.
They saw a large number of all ranks running past our gun position, but not even one of my men deserted.
At about 3:30 or 4 pm, we had fired all our rounds and the Chinese were coming in. We had only our LMGs and guns. A large number of them came by waves.
We did whatever we could, but ultimately, we had to surrender.
In this period of 10, 11 hours, I had lost three jawans, two were seriously wounded, 6 or 7 were more lightly wounded.
I saved two seriously wounded soldiers: Gunner Awtar Singh and Operator Chamkaur Singh had got serious splinter hits. I tried to take them to the ADS (Advance Dressing Station), but it was not possible due to shelling.
I told them, "I have a bottle of brandy, I will give you 2 to 3 large doses and pour one on your wounds. Then, keep your tongue between your teeth."
I cleaned my hands with brandy and pulled out the big shrapnel and tied up a dressing on the wounds. We kept this bandage for one month. Later, the Chinese medical officer treated them in the PoW's camp; today, they are perfectly alright.
I got a splinter in my leg, but I never bothered about it.
By 4:30 pm, the whole thing was over, before this I reluctantly gave order to dismantle the guns and throw important parts in the nullah, so that they couldn't be used again.
We were not free soldiers anymore. I was shocked to realise that I was a prisoner of war, but felt consoled that all my jawans had stood by my orders and fought to the last.
The entire picture in the area did not show any signs of organised action, but showed a state of ad hocism.
To be continued tomorrow: